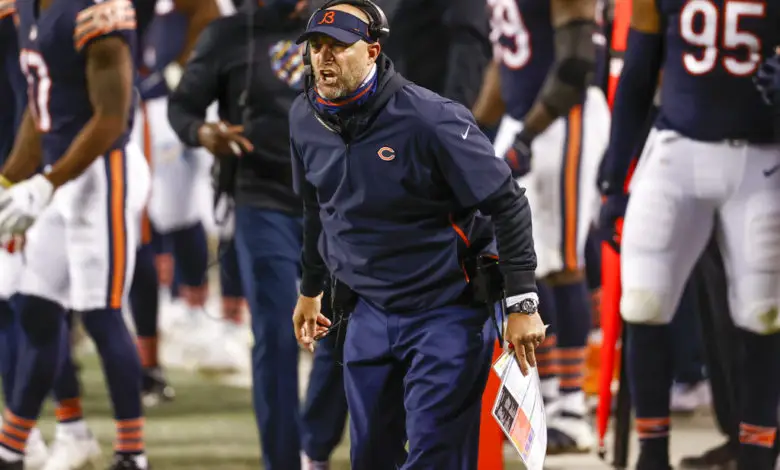 More Matt Nagy Fallout Reveals Bears Could Have Been Better Than Recent Past Suggests
A recent writeup of Mitchell Trubisky by Jeremy Fowler of ESPN (subscriber content) revealed more damning behind-the-scenes turmoil during the Bears' last regime. In fact, more Matt Nagy fallout reveals the Bears could have been a better team than their recent past suggests.
Trubisky was one of the more polarizing signal-callers in team history, and after spending the last year as a backup to Josh Allen in Buffalo, the second-stringer enters free agent as one of the better options in a weak market for young quarterbacks. While with the Bills, the former No. 2 overall pick saw very little action, completing just 6-of-8 passes for 43 yards in a mop-up role during three blowout wins and one very lopsided loss. A guaranteed starting gig might not be available for Trubsky, but anything is possible in a league that values potential more than actual talent at times.
Teammates, coaches, and peers think the best is yet to come for the 27-year-old veteran.
"I could see him going to a situation where he can be a starting option and the team drafts a quarterback," an unnamed AFC exec told Fowler. "He'll have to go out there and earn it, but there's certainly enough there where the right offense can accommodate him. The offense in Chicago was pretty rigid and on-script, and I'm not sure it suited him."
Highest win pct since 2018 among active QB

Patrick Mahomes .790 (49-13)
Lamar Jackson .755 (37-12)
Aaron Rodgers .711 (45-18-1)
Mitchell Trubisky .658 (25-13)

*min 1000 pass attempts pic.twitter.com/lArQHrrXjP

— NFL on CBS 🏈 (@NFLonCBS) February 22, 2022
Trubisky was 29-21-0 while working within the constraints of Nagy's forced and predictable offense. It's fair to wonder how much better the Bears might have been with a competent head coach. It's also further proof that the exiled former head coach found limited, early success in spite of himself rather than because of any coaching insight he may have provided.
"Going to Buffalo really opened my eyes," said Trubisky, who completed 20 of 28 passes for 221 yards and a touchdown against the Bears in the preseason before playing sparingly in the regular season. "After being in Chicago for four years, there was only one way I knew how to do things. [Being] in Buffalo and [having] a different way of doing things, you learn what's possible. It helped me get back to instinctual football and using my talents rather than overthinking."
The success of the 2018 Bears should be credited to a holdover from the staff of John Fox. The defense, whose authority was fully relinquished to Vic Fangio after Nagy took over as head coach, was among the highest-rated in the NFL. The unit led the league in multiple categories such as average points allowed per game (17.7), turnovers forced (36), interceptions (27), interceptions returned for touchdowns (5), opposing passer rating (72.9), and rushing yards allowed per game (80.0).
Fangio left to coach the Broncos after the season ended and everything fell apart. The Bears were 12-4 in 2018, but just 22-27 post-Fangio. Those results were not reflective of the players and playmakers on Nagy's roster, particularly on defense. With players like Khalil Mack, Roquan Smith, Robert Quinn, Eddie Jackson, Eddie Goldman, Jaylon Johnson, and Akiem Hicks, Chicago should have remained at the top of the league's defensive ratings. Struggles against high-powered offense suggest scheme and not personnel may have been the culprit.
That said, the Bears weren't atrocious on defense, and had the team performed better offensively, Chicago could have been a playoff contender every year. After all, Nagy was identified as a generational offensive coach when he was hired away from the Chiefs in 2018.
Kansas City thrived offensively in 2017, finishing fifth in yards per game (375.4) and sixth in points per contest (25.9). Quarterback Alex Smith reinvented his career after throwing for over 3,000 yards just once in his first seven seasons before doing so in five straight years with the Chiefs
Smith threw for career highs in yards (4,042) and touchdowns (26) in 2017, completed 67.5 percent of his passes, and tossed just five interceptions. His quarterback rating of 104.7 was also a career-high and led the league. All of that success was credited to Nagy, who took over the play-calling duties from head coach Andy Reid after a 1-3 start.
"In the four games before Reid gave up play-calling, the Chiefs were 1-3 and had averaged 16 points a game and 300 yards a game," Michael David Smith of Pro Football Talk wrote at the 2017 midpoint. "In the four games since Reid gave up play-calling, the Chiefs are 3-1 and have averaged 29 points and 421 yards [per] game."
So what happened in Chicago? After a one-year grace period of players getting to know Nagy and vice versa, the rookie head coach may have lost the locker room in Year 2. Trubisky reported an end-of-season communications issue that gets more telling with each passing week since the Bears cleaned house in January.
https://twitter.com/BFRMedia/status/1482021446155218951
"'Ultimately, if you really try and define Matt Nagy's offense … with multiple changes they've had, the multiple players they've had at the quarterback position, I think at times it lacks an identity,' said ESPN analyst Matt Bowen, after Trubisky's reveal.
Allen Robinson claimed Nagy similarly blew him off after the 2020 season before Chicago placed a franchise tag on the all-pro wide receiver heading into free agency.
"I was a pending free agent at that point," Robinson said. "I didn't know which direction they were wanting to go. So for me, I'm waiting for that exit meeting so we can talk about [the franchise tag]. Like, what do you all see, or think, in the foreseeable future, just to give me an idea. So for me, it's supposed to be a Zoom link sent out to me, cool. Alright, I'm waiting for that Zoom link so we can chop it up and see what's up. Even from a football side, how do we improve next year? A week [goes] by, no Zoom link. Two weeks, no Zoom. Now January, we're into February, nope."
Robinson was barely an option in Nagy's offense this season. and at times it seemed like he quit on his teammates. It's almost impossible to think that a head coach would sabotage his own future by ignoring his best players, but perhaps Nagy was stubborn enough to hold grudges despite the obvious ramifications. Further, if two of the team's better offensive players were disenfranchised, it's fair to wonder if other players weren't also alienated.
Back to Trubisky, Bills' safety Jordan Poyer believes the free agent should get a starting gig next season. Allan concurred.
"One thousand percent," Poyer said.
"Mitch has been through the ringer," Allen added. "No. 2 pick, how he handled being a professional, coming into a situation where you never thought you'll be in that situation, that's not easy. But he handled it with such class.
"The dude is an athlete. I don't think people really understand that. You give him leeway in an offense to have that mindset of, 'See it, do it, we trust you.' He's going to kill it."
All of which indicates Nagy, who received little love from Bears fans, was more of a problem than any of us realized.