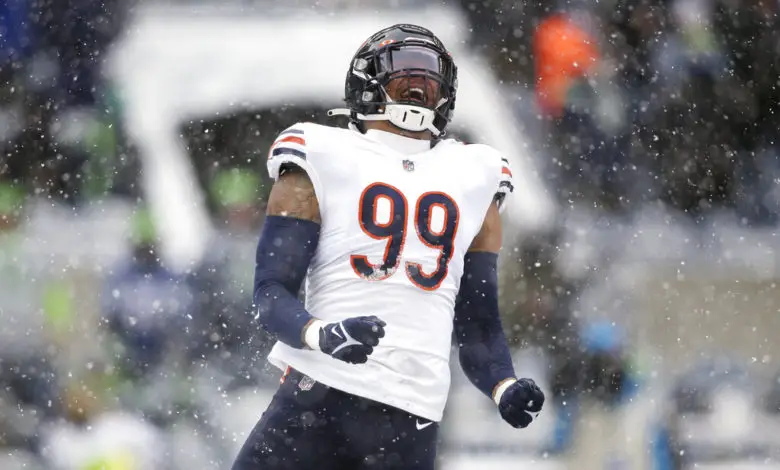 Breakout Games by Five Rising Stars Provide Hope for Bears Future
Chicago's new GM Ryan Poles believes his team can compete as soon as next year and he may be right. The team badly underperformed under Matt Nagy, but breakout games by five of the Bears' rising stars provide hope for the future. Let's take a look at some of those 2021 peak performances.
In Week 2, the Bears beat the AFC Champion Cincinnati Bengals 20-17 and Johnson played a huge role in the victory. Roquan Smith was the defensive star of the game with a sack and a pick-six, but Johnson had a career game. The second-year cornerback had a pick of his own, two solo tackles, and successfully defended four passes against Tee Higgins. Chicago's defense definitely flustered Cincinnati quarterback Joe Burrow, who threw consecutive interceptions after having gone 199 passes without a pick.
Higgins was ranked No. 8 at his position by Pro Football Focus and finished the season with 74 receptions for 1,091 yards. Johnson held the Bengals star to six grabs for 60 yards in that game.
As the 50th selection in the 2020 draft, Johnson has been one of the top two cornerbacks in the NFC North in each of his two seasons according to Bob McGinn of GoLongTD.com.
"Is he a No. 1 (corner)?" said one scout. "No, but he's a hell of a 1-b. I like his attitude. He is willing to come to the line of scrimmage and make tackles against fullbacks, tight ends, or jet sweeps."
The rookie running back took over for an injured David Montgomery for a four-game stretch and averaged 86.0 rushing yards against four playoff teams. In fact, Herbert played so well that Tarik Cohen has been mentioned as a possible salary cap casualty.
The rookie running back's breakout game came in a sloppy 38-3 blowout loss to the Buccaneers in Week 7, a low point in Chicago's 2021 season. Herbert carried the rock 18 times for 100 yards and caught six passes for an additional 33 yards in the game. He needs to block better, but he should be a great option in Luke Getsy's new offense.
The second-year wide receiver electrified Soldier Field with his Week 4 performance against the Lions, catching 5 of 7 targets for 125 yards.
JUSTIN FIELDS AND DARNELL MOONEY CAN'T BE STOPPED
pic.twitter.com/kVx8gncTke

— PFF (@PFF) October 3, 2021
Mooney is quick and has solid hands. In just his second season, the wide receiver eclipsed 1,000 yards though most analysts still rank him as a low WR3. He has a great rapport with the quarterback no matter who lines up beneath center because he runs great routes.
By default, he was Chicago's No. 1 wide receiver in 2021, but the Bears still have to make a decision on Allen Robinson and will probably get help at the position in the draft and in free agency. Mooney would make a great complementary option if Poles can find a true WR1, but he'll still get his catches because he consistently gets open. With stability at quarterback, Mooney is a definite threat to get 100 catches next season after grabbing 81 this year.
The NFL learned the potential of the second-year defensive lineman in a Week 17 win over the Giants. Gipson had the first multi-sack game of his career in the 29-3 win over New York and should be a key front-four player in the new 4-3 defense. He also forced two fumbles in the game and registered a QB hit on Mike Glennon.
It felt good, man," Gipson said after the game. "That's what the defense is about. We want to be about turnovers and getting the ball back to our offense as fast as possible. So just going out there, flying around, after we get a turnover, pointing which way to run and where's the camera at, people slide in. It's just fun man."
Gipson really stepped up after Khalil Mack was injured, earning seven sacks and five forced fumbles in nine starts. He was named Chicago's most improved player after the season ended.
The gun-slinging quarterback had his ups and downs this year but enjoyed his coming-out party in a nationally televised loss to the Steelers in Week 8. The rookie QB threw for 291 yards, rushed for another 45, and threw a spectacular touchdown pass to Mooney that gave the Bears a chance to win.
OKAY. WOW.

WOWWW.pic.twitter.com/3vrpqth7uO

— NFL Network (@nflnetwork) November 9, 2021
"My mindset was just like, 'It's time. We're here,'" said Fields of his thought process when the Bears took over on the eventual go-ahead drive. "You can either be the guy who always gets put in that position and doesn't show up or you can be that guy who shows up in the big moments. So, I mean that's what my mindset was and I was just calm and just focused on showing up."
The seven-play 75-yard go-ahead drive took just 1:01 off the clock and left Pittsburgh with enough time to down the Bears. Chicago was just one defensive stop away from earning a victory, though some reprehensible officiating didn't help. either.