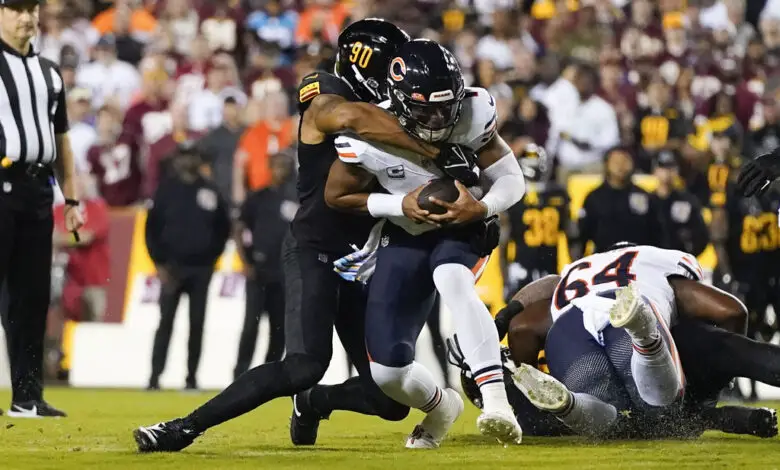 Breaking: Bears Acquire DE Montez Sweat from Commanders
The Bears and Commanders have agreed to a trade that will send defensive end Montez Sweat to Chicago for a 2024 second-round pick, sources told ESPN's Adam Schefter on Tuesday. The NFL trade deadline expires at 3 p.m. CT today.
Montez Sweat sack against the #Bears. pic.twitter.com/PDTsCxuv8G

— ImBearingDown (@ImBearingDown) October 31, 2023
Sweat, 27, is in the last year of his contract, and Washington is taking the safe route by opting for a guaranteed draft pick now rather than the compensatory selection they might receive if Sweat signed elsewhere as a free agent next year. The Bears could extend Sweat, or designate him with a franchise tag once free agency commences in 2024.
Sweat will immediately help a league-worst defensive line that consistently fails to pressure opposing quarterbacks. Chicago has a league-low 10 quarterback sacks through eight games. That puts them at about the same pace as last year when the Bears finished last with 20 sacks. Sweat has 6.5 sacks this season, including 1.5 against the Bears in Washington's 40-20 loss on October 5. The 6-foot-6 end has 35.5 sacks in four-plus seasons with the Commanders after graduating from Mississippi State. He was the 26th overall selection in 2019.
The fifth-year pass rusher was an immediate full-time starter and has had a productive career. Sweat is one of seven players with at least five sacks in each of the last five seasons (since 2019), along with Chris Jones, Myles Garrett, T.J. Watt, Khalil Mack, Maxx Crosby and Brian Burns, according to ESPN Stats & Information research.
Sweat is also considered a strong run defender, an area where the Bears have excelled. Chicago's defense was a top-five unit against the run before Sunday night's loss to the Chargers.
For folks asking why the #Bears would acquire DE Montez Sweat on an expiring contract, the answer is very simple: They can control his rights moving forward. They add an impact player for the defensive front.https://t.co/42MXEo7L8C

— Brad Biggs (@BradBiggs) October 31, 2023
Chicago's 2024 second-round selection is currently the No. 35 pick in the draft. At the trade deadline in 2022, the Bears sent their second-round pick (No. 32 overall) to Pittsburgh in exchange for wide receiver Chase Claypool, who played in 10 games in Chicago. The Bears dealt Claypool to the Miami Dolphins after beating Washington in Week 5. Hopefully, this trade provides a little more value.
For Washington, the move is an admission to an underperforming year. Their front office is also admitting the difficulty of keeping their '23 defensive line intact. Sweat and defensive end Chase Young are both free agents after this season. Washington already has given out big contracts to defensive tackles Daron Payne and Jonathan Allen in the past two seasons. Young has been linked to the Bears, and the team could pursue him in free agency.  Chicago is projected to have an NFL-high $110.1 million in salary-cap space next season, according to OverTheCap, and also has minimal cap space committed to existing contracts for 2025 and '26.
GM Ryan Poles may not be done and could recoup that pick if he decides to trade CB Jaylon Johnson. Johnson has been granted permission to seek a trade, and at least four teams are interested per several NFL analysts.  The 49ers, Bills, Eagles, and Steelers are rumored to be interested in Johnson. The fourth-year cornerback would likely net a similar return as Sweat. San Francisco has five of the first 100 picks in next year's draft and certainly the capital to outbid other teams.