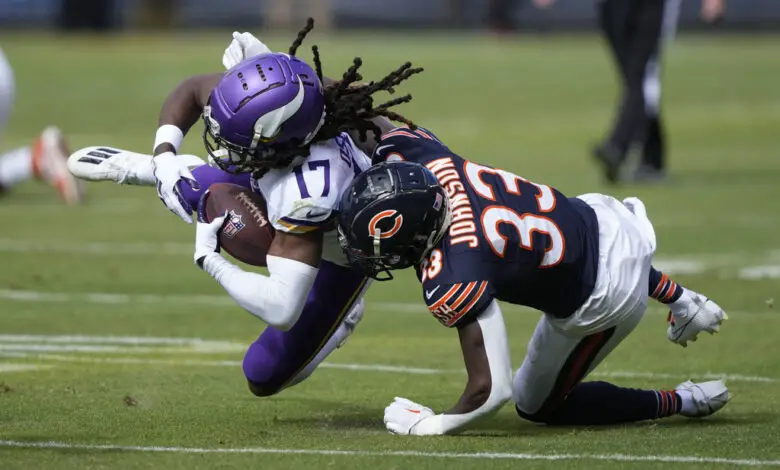 Bears Grant Jaylon Johnson Permission to Seek Trade
Jaylon Johnson was hoping to get a contract extension completed by today's 3 p.m. CT trade deadline. He and the Bears could not reach an agreement, so Johnson requested that the team trade him. The front office then gave the cornerback permission to seek a trade. Johnson is playing in the final year of his rookie contract and after days of discussions, Johnson's agent, Chris Ellison, received permission around midnight, per NFL Insider Ian Rapoport.
Sources: The #Bears have given standout CB Jaylon Johnson permission to seek a trade. In the final year of his deal, a trade would make sense.

After days of discussions, Johnson's agent Chris Ellison received permission around midnight. 16 hours to make it happen.

— Ian Rapoport (@RapSheet) October 31, 2023
GM Ryan Poles spoke about a potential contract extension for Johnson earlier this month.
"We're in a phase where we want to retain homegrown talent," said Poles before Chicago's Week 7 win over the Raiders. "Everybody wants respect. That's important. But…can the team and the player find common ground that makes sense all the way around? We want to retain homegrown talent… but it takes two sides to make something happen."
In other words, if Poles is uncomfortable with Johnson's asking price, he's not going to budge. That's exactly what happened before Poles traded Roquan Smith to the Ravens last season. The Bears received a second-round pick for Smith, who eventually signed a long-term deal with Baltimore.
The top 5 cornerbacks in the NFL make around $18-20M per year.

Are you willing to give that to Jaylon Johnson?

I'm more comfortable w/ the $14M-16M range. pic.twitter.com/6EkN0gHd8F

— Dave (@dave_bfr) October 31, 2023
Fortunately for the Bears, Johnson is having the best season of his career, and his trade value is probably as high as it will ever be. The fourth-year corner has played six games for Chicago this season, recording a career-high two interceptions- including one for a touchdown- with four passes defended. Johnson has started 45 games for the Bears since being drafted in the second round in 2020. He played his college ball at Utah.
Johnson, 24, also has 18 tackles and a forced fumble. He has recorded 43 tackles with three interceptions in his career with Chicago.
Johnson is one of the most talented players available at this time and his market should be robust. A playoff-contending team could acquire him to bolster their defense, or he could go to a rebuilding team that wants to extend him. Veteran defensive backs Kevin Byard and J.C. Jackson already have been traded this season. The Bears also have the option of keeping Johnson and franchising him after the season.
The 49ers reportedly have the most interest in acquiring Johnson. San Francisco has five of the first 100 picks in next year's draft, so they have the capital to complete a deal. The 49ers trail the Seahawks by half a game in the NFC West, and they're scheduled to play each other twice in the next five weeks. The Steelers, Bills, and Eagles are interested in Johnson, too. Pittsburgh is rumored to be the frontrunner, though nothing is confirmed. They're not as flush with draft picks as the 49ers.
Watching these Jaylon Johnson highlights vs Bengals would not only make Bills fans want Beane to trade for him, they'd want him to be on the field Sunday night#BillsMafia pic.twitter.com/tQUoETbOQw

— Mike Catalana (@MikeCatalana) October 31, 2023
Rookie Tyrique Stevenson and second-year player Kyler Gordon will start if Poles trades Johnson. Gordon currently plays nickel in Chicago's scheme. All three were second-round picks, though Johnson was selected by Ryan Pace. Johnson said Monday during his weekly appearance on 670 The Score that neither he nor the organization had taken "a hard stance" in contract talks.
"We're going to see if something gets done by the trade deadline," he said last week at Halas Hall. "If I happen to get traded, I get traded; if not, then I get extended, hopefully. And if not, then I've just got to continue to play. There are plenty of options that this can go in… I'm waiting to see as well."
Poles has options, too, which gives him a great deal of flexibility, but a trade is probably best for both parties at this time. That said, Chicago is projected to have an NFL-high $110.1 million in salary-cap space next season, according to OverTheCap, and has minimal cap space committed to existing contracts for 2025 and '26.