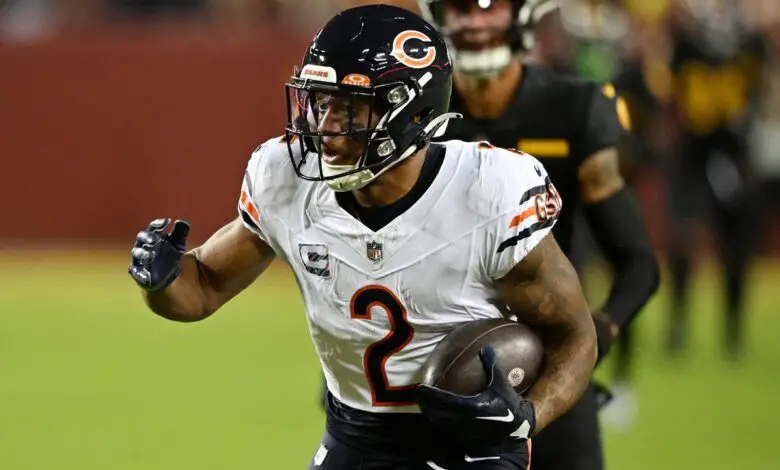 Chicago Bears Score and Recap (Week 5): Bears 40, Commanders 20 – Bears Have Moore Than Enough Offense to Snap 14-Game Losing Streak
The Bears were able to honor the legendary Dick Butkus with their first victory in 14 games Thursday night in Washington. Chicago almost let another big lead get away from them but D.J. Moore would not allow it having a giant night that shows why he was worth trading the number one overall pick for.
The Bears took the opening kick off and drove right down the field to take the lead when Justin Fields threw a 20-yard touchdown pass to Moore. Fields continued to hook up with his number one target chewing up yards and scoring 10 more points including another 11 yard TD to put the road team ahead 17-0.
2nd TD of the day for No. 2

📺: #CHIvsWAS on @NFLonPrime pic.twitter.com/6Vcz2XuC4q

— Chicago Bears (@ChicagoBears) October 6, 2023
The Commanders finally got a field goal in the second quarter but the Bears answered right back with one of their own. Then after a Greg Stroman interception, Fields hit Cole Kmet from 4 yards out and it was 27-3 at the half.
Sam Howell drove Washington right down the field out of the break with a touchdown pass to tight end Logan Thomas to cut the deficit to 27-11. Chicago's secondary continued to lose players to injury and a field goal made the score 27-14 after three quarters.
When a Commanders touchdown made it 30-20 with about 10 minutes left in the contest it look liked another meltdown may be imminent. Once again, D.J. Moore put those fears to rest when a defender made a diving attempt for an interception on an out pattern and missed giving the speedy receiver a wide-open path to the end zone.
The 56-yard touchdown put Moore over 200 yards receiving and sealed a long awaited Bears 40-20 victory. (Box score)
Have a day, @idjmoore ‼️

📺: #CHIvsWAS on @NFLonPrime pic.twitter.com/fY0ztMycQb

— Chicago Bears (@ChicagoBears) October 6, 2023
Why the Bears Won
They made sure to get the ball to their best playmaker and it worked beautifully. They were able to take advantage of a very sloppy opponent and get two crucial takeaways to help secure the win.
Key Moment
Unlike last week, when the Bears were aggressive late they were able to execute and close out the game. Running a pass play on 3rd and long instead of sitting on the ball paid off handsomely on the final touchdown pass.
Stats That Matter
Fields had another game with a much bigger first half than a second half. That being said, it was another outstanding performance with 282 passing yards four touchdowns and an additional 57 yards on the ground.
All but 52 of those yards went to Moore, who had 230 and three touchdowns in a really monster game. He came just 19 yards short of Alshon Jeffery's all-time single-game Bears record of 249.
The running back unit suffered injuries to Khalil Herbert and Roschon Johnson and were forced to rely on fullback Khari Blasingame as the only tailback late in the game.
Bottom Line
The Bears could not lose on the night the legend Dick Butkus passed away and they didn't. Justin Fields is finally establishing the connection with D.J. Moore GM Ryan Poles was hoping for when he acquired the speedy wide receiver. No matter what happens the rest of the season, at least the infamy of a winless season is off the table. Now Fields has a chance to build on two consecutive quality performances.
Next Up
The Bears return home Sunday, October 15 for a match-up with the division rival Minnesota Vikings at 12:00pm CT.