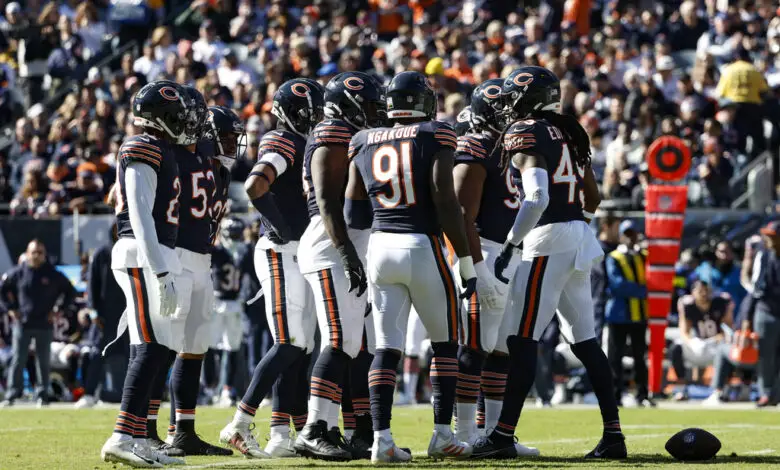 Forget Bears' Alleged QB Controversy, Defense Really Improving
Don't look now, but the Bears are suddenly a top-10 team in run defense, something most of us never dreamed possible in the Matt Eberflus era. Entering Sunday night, Chicago was fifth in the league in rushing defense, surrendering 82.3 yards per game after limiting the Raiders to 39 yards on 14 carries.
While most of Bears Nation debates the merits of starting Justin Fields over Tyson Bagent and vice versa, a couple of key free-agent acquisitions are spiriting a much-improved defense. New linebackers Tremaine Edmunds and T.J. Edwards have found their chemistry with Jack Sanborn, and the result is a 180-degree turnaround at stopping the run. The unit was hapless last season, when the Bears were 31st in the league in yards allowed per game (157.3) and 27th in yards per carry (4.93). Opposing running backs spent so much time in Chicago's secondary last season that teams were able to score at will.
I would be remiss if I didn't mention that the turnaround started once Alan Williams left the team. The Bears had given up 25+ points in 15 straight games until Eberflus took over as coordinator. Under his command, Chicago has allowed a relatively thin 51 points (17 PPG) in its last three contests. That's on pace with the league-leading Bills, who have given up 16.8 PPG this season. It's no coincidence that the Bears won two of those three games.
Suddenly, opponents have been unable to establish a ground attack against Chicago's front seven. The last three opponents have rushed 46 times for 114 yards (2.48 average), sending the Bears' defense climbing in the rankings. Stopping the run has helped the pass defense, too. The Bears put the Raiders into several obvious passing situations and ended up with three interceptions, including a 39-yard pick-six by Jaylon Johnson.
🚨 @NBAxJay1 PICK 6 🚨

📺: #LVvsCHI on FOX pic.twitter.com/UQbV4ZMLlu

— Chicago Bears (@ChicagoBears) October 22, 2023
Rookie Tyrique Stevenson held his own against All-Pro wideout Davante Adams. He was burned on a poor pass interference call but shut Adams down all day. The former Packer finished with just seven catches on 12 targets for 81 yards. Stevenson kept him out of the end zone, too.
That Bagent was efficient on Sunday also helped. The Bears have had just two three-and-outs in a game-and-a-half with the rookie calling the signals. Bagent has also taken just two sacks since replacing the injured Fields. The UDFA from Shepherd University will start again on Sunday night against the Chargers. Los Angeles is favored by eight and a hook as of this morning.
Chicago's running game is also keeping its defense off the field. D'Onta Foreman busted out for three TDs against Las Vegas, and gained 89 yards on 16 carries. Additionally, Foreman caught three passes for 31 yards. The Bears have an impressive three-headed monster at running back, but Foreman is the marquee player while Khalil Herbert and Roschon Johnson recover from injuries.
The Bears aren't clicking on all cylinders, however. The defensive line is playing a lot better, but sacks are still a commodity. Justin Jones had a big one Sunday, but the 2-5 Bears are averaging less than two sacks per game. Edwards and Yannick Ngakoue lead the team with two apiece. If Chicago's front four finds its cohesiveness, the Bears can play with anybody.
.@Twenty7Savage was a man on a mission 💪

📺: #LVvsCHI on FOX pic.twitter.com/178UTcj2Dy

— Chicago Bears (@ChicagoBears) October 22, 2023
"The chemistry, energy and stuff like that," Jones said. "It started out with the first pick of the game and, you know, after that, it was just contagious. We should've had more hits on the quarterback. But, you know, we'll watch film, get better from this week."
The Bears are blitzing more and stuffing the run. They've eliminated chunk plays for the most part and have stopped their opponents on third down. That should lead to more sacks in the coming weeks.
"Defensively, I'm really proud of the guys the last three weeks," Eberflus said Monday. "We held — offensive touchdowns — we held them to four touchdowns over the last three weeks. We've done a good job on third down the last three weeks. We've got to continue to do that. And the rushing yards have been down the last three or four weeks, too, so we've got to do a really good job of that coming up. That's always a formula for good, winning football."
Who knew that playing traditional Bears football would lead to a couple wins and better performances? That's a rhetorical question, but you get it. Chicago is controlling the ball thanks to a strong running attack. They're winning the turnover game, and have found the ability to limit touchdowns. One thing is clear whether Bagent of Fields leads this offense. The Bears are a better team when their defense plays as well or better than their offense.