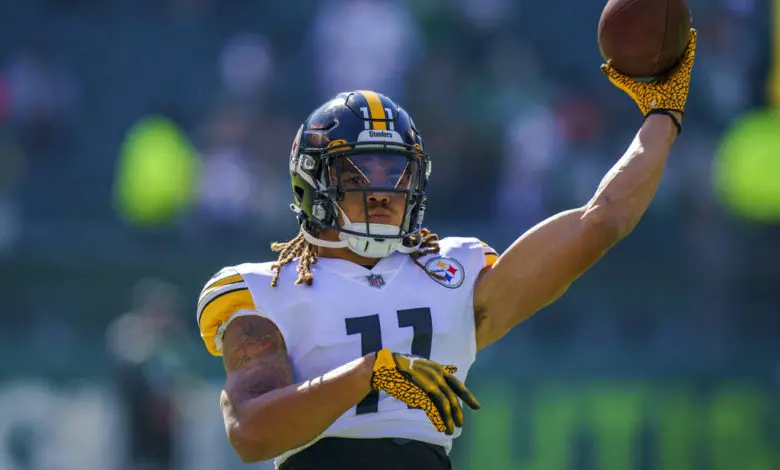 Bears Trade for Steelers WR Chase Claypool [Updated]
The Bears have made another trade ahead of this afternoon's deadline, acquiring Steelers wide receiver Chase Claypool for a second-round pick. Bears GM Ryan Poles has been accumulating picks thanks to trades that sent Robert Quinn to the Eagles and Roquan Smith to the Ravens. Claypool, Pittsburgh's second-round pick out of Notre Dame in 2019, was rumored to be targeted by a number of teams. In the end, Chicago lands the 6'4″ wideout in exchange for one of their two 2023 second-round NFL Draft picks.
The Steelers have struggled behind quarterbacks Mitchell Trubisky and Kenny Pickett, but Claypool has found success in recent weeks. The third-year wideout has caught 32 balls for 311 yards and a touchdown this season. Claypool gives Justin Fields a big target and one with better hands than Equanimeous St. Brown and Dante Pettis. Both have dropped near-certain touchdown passes in the last two weeks.
The Steelers hoped to get more production out of the young receiver and moved Claypool to the slot to create a size, speed, and strength mismatch against smaller corners. Still, his production is down and with a 2-6 record, Pittsburgh is in sell mode.
Poles has attacked the trade deadline with the same late ferocity that he did in the 2022 NFL draft. He's now made three trades in eight days. Chicago's defense is a little weaker as a result, but the offense is better, and Poles has over $120 million in cap space next season. He also has a full boat of 2023 draft picks and then some.
The Steelers will receive a second-round pick that initially belonged to the Ravens, according to Albert Breer. Claypool is signed through next season.
The '23 2nd-rounder the Bears are sending to Pittsburgh for Chase Claypool is the one they acquired from Baltimore for Roquan Smith. So they get Claypool (1.5 years left on his contract) for Smith (.5 years left on his contract) and a 5.

Chicago still has its own second-rounder.

— Albert Breer (@AlbertBreer) November 1, 2022
As of 8am this morning I'm told "it was looking like Green Bay was potentially going to offer the best deal for Chase (Claypool)," per league source. Obviously the #Bears have swooped in and nabbed the #Steelers WR.

— JosinaAnderson (@JosinaAnderson) November 1, 2022
Update
Chicago is sending their own 2023 second-round pick to Pittsburgh for Claypool, not the second-round selection they acquired from the Ravens in exchange for Smith.
Diontae Johnson signed a contract extension with Pittsburgh earlier this year, making Claypool expendable, though the Bears were rarely mentioned as a potential suitor. The Bears likely see the big-bodied receiver as a piece that can help Fields build on a string of promising recent performances.
The Bears still own eight 2023 draft picks, and they might not be done dealing. David Montgomery, Eddie Jackson, and Teven Jenkins are seen as potential trade candidates. Montgomery's contract expires after this season, and Chicago has a capable replacement in Khalil Herbert.
Claypool grew up in British Columbia. He garnered attention from American colleges by posting his high school game highlights on Facebook. Claypool landed a spot in South Bend as a top 20 wide receiver recruit. He started eight of 12 games as a sophomore (29 receptions, 402 yards, 13.9 average, two touchdowns) before lining up full-time with the starters as a junior (50 receptions, 639 yards, 12.8 average, four touchdowns in 13 games, 12 starts). As a senior, Claypool was Nore Dame's leading receiver. He grabbed 66 passes for 1,037 yards (15.7 per) and 13 touchdowns in 2019.
Claypool doesn't have much shake to get separation underneath. But, he's physical inside and adept at making contested catches when needed. He has the size/strength/speed to take advantage of single coverage on 50/50 deep balls. He's also a vertical challenger on outside routes, a possession receiver as a big slot, and an outstanding run blocker. Claypool will take some of the pressure and double teams off of Darnell Mooney. He has 153 catches for 2,044 yards and 12 touchdowns over the course of his career.
According to Chris Halicke of DK Pittsburgh Sports, the Steelers seldom make moves to qualify as "sellers." That partly explains the high cost to acquire Claypool. Additionally, the young man easily becomes a top-two pass-catcher for the Bears. Pittsburgh is in a prime position to land a talented athlete in the second round.
The trade reunites Claypool with TE Cole Kmet. Both were standouts for the Fighting Irish before being drafted into the NFL.