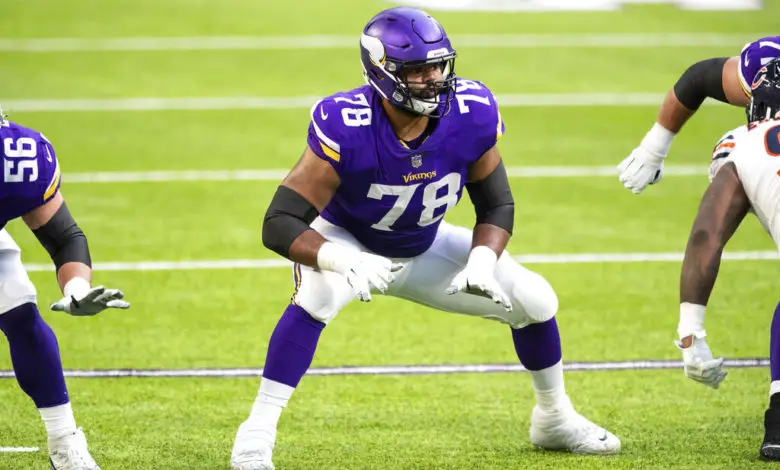 Bears Sign OL Dakota Dozier: Not Everybody Can Be a Starter
The Bears announced another signing today, and fans of the storied franchise were less than thrilled. OL Dakota Dozier, who played for the Vikings last season, agreed to a one-year deal to play for Chicago, and the moral of the signing is that not everybody can be a starter. Dozier will not be a regular unless Ryan Poles sees something in him that nobody else does, and probably won't even compete for a starting position.
If you're upset about the Bears signing Dakota Dozier…
1. Relax
2. Sometimes teams sign backups, and that's OK
3. Some free-agent acquisitions don't even make the 53
4. The Bears still have 15-20 veterans to sign to fill the roster — buckle up
5. Relax

— Kevin Fishbain (@kfishbain) March 23, 2022
The Bears entered the offseason with 26 unrestricted free agents and a new general manager in Poles who wanted to trim every ounce of fat off the roster. Though Chicago was blessed with a significant amount of money to spend, the team also had a lot of holes to fill. Making matters worse, former GM Ryan Pace left the Bears with just five picks in this year's draft.
The numbers game isn't the only challenge Poles is facing. Chicago's offensive line was one of the worst in football last year and one that drew immediate scrutiny from the new GM.
"It [all] starts with the offensive line," Poles told The Athletic just before the NFL's Scouting Combine (subscription required). "It agitates me to see a quarterback get hit and be on the ground. I watch the five guys and their body language."
"If I see my guy on the ground, I'm running over there, getting him up, making sure he's clean, ready to go," the new GM added. "I don't know if I saw that enough in the tape that I watched, and that's critical. And also to protect your guy. If you see something cheap, something dirty, you need to set the tone that that's not gonna happen, because if you do let it happen once, it's going to happen over and over and next thing you know, your quarterback is hurt. So that [nastiness] mentality is critical and is something we need to add."
Cody Whitehair is the only regular starter from last year's line that sits at the top of the team's depth chart this year. James Daniels recently signed with the Steelers, and Sam Mustipher was relegated to second-string when the Bears signed veteran center Lucas Patrick. Things are so bad that guard Willie Wright, who was signed to a futures contract in February, is listed as a starter. With Teven Jenkins and Larry Borom expected to get starts, head coach Matt Eberflus desperately needs line depth. In that respect, Dozier is a noteworthy addition, unless you were counting on Dieter Eiselen to start playing at an all-pro level.
A 4th-round pick by the Jets out of Furman in 2014, Dozier is an athletic, big-bodied guard who has some experience playing left tackle. He lacks technique at times and has trouble getting into the defensive backfield at times. He's been described as tough, gritty, and ornery, all characteristics that Poles is seeking. He can even fill in at center in a pinch.
At the very least Dozier will back up Whitehair at left guard while Chicago continues to seek an inside starter to open holes for David Montgomery and Khalil Herbert. That Poles hasn't signed a right guard in free agency could mean he's hoping to land Boston College standout Zion Johnson in the draft. Johnson's stock is rising, however, and various mocks have him going as high as No. 15 and as low as No. 44. Most experts are predicting a record number of draft day trades and some maneuvering could allow the Bears to land Johnson.
Poles may find another bargain in free agency as he did with Patrick, who is arguably Chicago's best offseason acquisition so far. The draft is deep, too, with at least 10 offensive linemen who could start as rookies depending on who selects each.
As it stands now, here are the Bears' top needs heading into the April 28-30 draft in Las Vegas:
Offensive Line
Wide Receiver
Defensive Tackle
Edge Defender
Cornerback
In the meantime, cut the newly-minted GM some slack. Pace left a mess behind, and that's one of the reasons he was relieved of his duties. Dozier certainly isn't a headline signing, but as we've seen in Chicago, depth is important, particularly on the O-line.