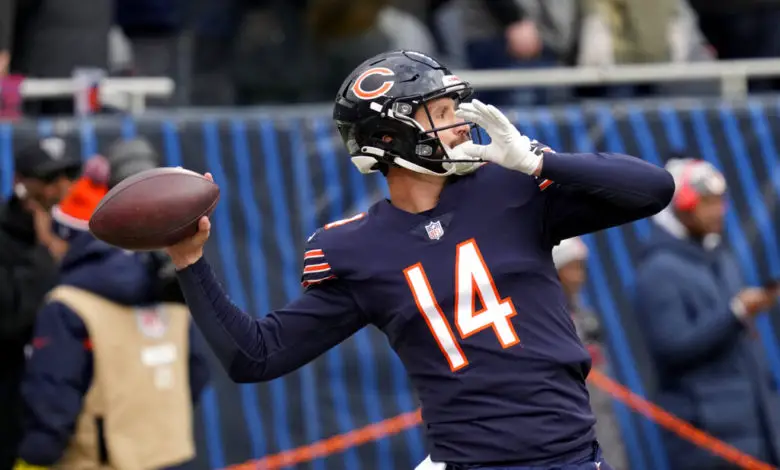 Bears Game Day: Life is Short Even on its Longest Day
The 2022-23 NFL regular season ends today, and mercifully if you're a Bears fan. We were hoping for a transition or rebuilding year, but as GM Ryan Poles proved when he traded Roquan Smith and Robert Quinn, Chicago is still tearing it down to the studs. It will be a busy offseason, and Bears Insider will have complete coverage. With that in mind, let's briefly encapsulate the season.
Most Improved Players: – Cole Kmet, Eddie Jackson, and Teven Jenkins. Kmet had a career year statistically but his blocking has been phenomenal. It looked like Jenkins would be traded or cut when camp started but he was arguably the team's best offensive lineman. Jackson had a huge first half. Justin Fields was on a path to be mentioned here but, except for a few big plays, he regressed a bit toward the end of the season. Equanimeous St. Brown is in the team photo for most improved, too.
Best Game: – The Bears impressed the entire country when they pasted the Patriots 33-14 on national television in Week 7. It was a coming-out party for Fields, the defense had its best game of the year, and Matt Eberflus outcoached Bill Belicheck. Unfortunately, the Bears have lost nine straight since.
Best Drafted Rookie: – Velus Jones made a late surge but Jaquan Brisker has been Chicago's best and most consistent first-year player. Kyler Gordon has had a few ups and downs and it's fair to question whether Poles should have drafted George Pickens instead. Trenton Gill deserves an honorable mention. He's been steady as a punter, but he also holds for Cairo Santos, who has had a tough year.
Best UDFA: – The Bears didn't miss a beat when they replaced Smith with Jack Sanborn. If the Lake Zurich native would have played an entire season, he'd easily be Chicago's most exciting rookie. Sanborn needs improvement in a few areas but could be a centerpiece for years.
Best Offensive Weapon: Fields singlehandedly gave the Bears a shot at winning several games that they lost. That said, he needs to learn how to close. David Montgomery and Khalil Herbert get honorable mentions.
Best Free Agent Signing: It's a toss-up between Justin Jones and Nicholas Morrow. Neither will be long-term Bears, and Chicago could draft their replacements in April. The rest of Poles' open market acquisitions were mostly non-factors.
Least Improved Players: Cody Whitehair and Trevis Gipson had forgettable seasons, and it appears neither will be back in 2023. Santos was trending this way but he seems to have corrected his early-to-midseason flaws.
Worst Game: The Bears basically quit on the season in last week's 41-10 loss to the Lions. Detroit had a 26-9 advantage in first downs, and Chase Claypool lost his mind as a result.
Worst Rookie: I hate to signal Gordon out and he has improved. I'll provide a report card and a final grade during the offseason, but he's a C+ player at best right now.
Least Significant Offensive Weapon: Claypool hasn't done much since he was acquired from the Steelers, but he gets an incomplete for now. The second-round pick that Poles gave up to acquire him seems incredibly significant but that can't be judged until after the draft. Byron Pringle, N'Keal Harry, Larry Borom, and Sam Musitpher need to do some offseason soul searching.
Worst Free Agent Signing: Pringle, Lucas Patrick, and Al-Quadin Muhammad were major disappointments.
Though the 2022-23 season seemed long and unbearable at times, it flew by in a flash. The next season starts tomorrow, and this team and its front office have a lot of work to do. The Bears enter the final week of play as underdogs, naturally. The Vikings are favored by 7.5 points, the over/under is 42.5, and Chicago is +290 on the money line. The safest of the three is total points, but I'd still shy away. Fields is sitting this one out, and third-stringer Nathan Peterman will lead the Bears' offense.
Field Conditions
It will be decidedly autumn-like at Soldier Field today. The game-time temperature is expected to be 35 degrees with light, variable winds. The field should be in as good a shape as possible after a full season of football.
Bears Trends
wanna see a bad rep of RB pass pro pic.twitter.com/z9tM42BUpc

— Derrik Klassen (@QBKlass) January 2, 2023
Chicago has lost nine straight and 12 of 13 and has a lot more to gain by losing than winning. If the Bears lose this afternoon and the Texans win, Poles will secure the top pick in next year's draft. In fact, fans may be more about scoreboard-watching than anything today. Houston plays at Indianapolis with a noon start, and those teams tied in Week 1. The most fortuitous outcome today would be Chicago ending up with control of teh 2023 draft.
The Bears rank 24th in yards-per-drive and 19th in points-per-drive. They may not score at all with Fields out. Montgomery is playing for a contract and could have a big game. The fourth-year running back has struggled to find consistent production averaging just 4.0 yards per carry. He's also struggled in the blocking game. Herbert has been their burst running back, but his body type limits his touches.
Vikings Trends
Minnesota has one of the worst defenses in the game but should look stellar against the depleted Chicago offense. The Vikings are 12-4 but have been blown out in those losses. Believe it or not, Minnesota's losses have been so exaggerated that they need to beat the Bears by 20 to have scored more points than they've allowed — and they would be 13-4! If anything, the Vikings won't be a good postseason bet, though the odds may favor a speculation play.
By the way, last week the Packers provided the blueprint for shutting down Minnesota's offense.
Wow, inside look at @JaireAlexander and the entire #Packers DB group putting a target on #Vikings WR Justin Jefferson before the game. I added highlights from the game at the end.

"18 getting touched all night. Every play."

"We owe him!"pic.twitter.com/gpovlBACu3

— Dov Kleiman (@NFL_DovKleiman) January 5, 2023
Why the Bears Will Win
Chicago has no chance of winning today. Minnesota technically has a chance to move up in the NFC standings on Sunday, but the Vikings know that is an extremely unlikely scenario. The 49ers are a heavy favorite against the Cardinals, but regardless, Minnesota has to win today. The Bears will not be able to contain Kirk Cousins and Justin Jefferson. The best-case scenario for the Vikings is to build a big, early lead, and then rest their starters.
Why the Vikings Will Win
Minnesota is feeling overly gratuitous and wants to help the Bears secure the top pick in the draft. The Vikings have done a good job of masking their flaws on offense with volume. At the surface level, this team is eighth in points per game, 13th in yards per game, seventh in passing yards, and fifth in passing touchdowns. They'll run wild against Chicago's ineffective defense.
Without Fields, the Bears are outmatched here. Add in the extra motivation the Vikings will have to win and the incentive for the Bears to lose and the edge in this one becomes much more clear.
Injuries
Predictions
Sean Holland provided his final game analysis of the season and picked the Vikings in a 24-10 win. I don't believe the Bears will score a touchdown, so I'll take Minnesota 38-3. I'm also picking the Texans to beat the Colts 13-10, and that's the game we care most about anyway.