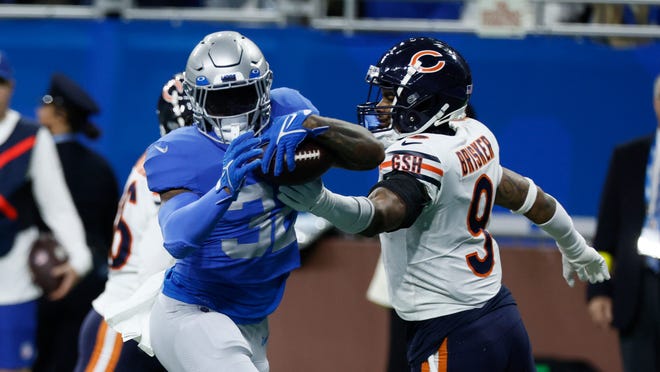 Chicago Bears Score and Recap (Week 17): Lions 41, Bears 10 – Fields Takes a Beating in Blowout Loss
The Bears traveled to Detroit as the calendar turned to 2023 but the results stayed the same as 2022. The Lions rained points on Chicago and Justin Fields took a frankly unnecessary beating behind a makeshift offensive line in a blowout loss.
Fields was running very effectively early in the game, putting up over 100 rushing yards in the first quarter. Cole Kmet pulled down a touchdown pass and Chicago had a 7-0 lead after the first drive of the game.
Jared Goff answered immediately with a touchdown pass to tight end Brock Wright. Cairo Santos kicked goal to put the Bears back ahead by three points but that was the high water mark for the road team who did not score again.
Detroit scored a pair of touchdowns and a field goal in the second quarter to go ahead 24-10. Chicago suffered two more injuries to their offensive line and their franchise quarterback took a beating. Despite appearing injured at several points during the game Fields remained in the contest throughout.
The Lions tacked on two more touchdowns in the second half as they rolled to a 41-10 victory.  (Box score)
Why the Bears Lost
They offered absolutely no protection for their quarterback who was sacked seven times on Sunday. The defense is so hollowed out trying to stop any opponent seems like a hopeless task.
Key Moment
Justin Fields entered the injury tent in the second quarter which probably would have been a good time to remove him from the game. For some reason, head coach Matt Eberflus left him in the game to continue taking abuse.
Stats That Matter
Fields ran for 132 yards and threw for 75 with the vast majority of those coming in the first quarter.
Detroit put up a whopping 504 yards of offense against the Bears putrid defense.
Bottom Line
There is absolutely no justification for leaving the Bears star quarterback in the game after he appeared to be slightly injured in the second quarter. Chicago was trying to lose for draft position and also had an absolutely terrible offensive line situation after two early injuries. They are incredibly lucky Justin Fields did not suffer a severe injury.
Next Up
Chicago wraps up the season at home against the NFC North Champion Minnesota Vikings.