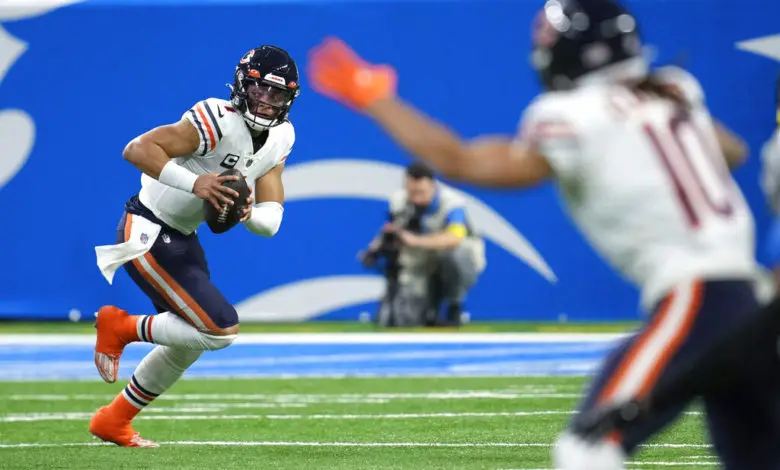 Justin Fields, Chase Claypool Hope to Build Offseason Chemistry
As soon as the 2021 season ended, Justin Fields immediately started working with Darnell Mooney and Cole Kmet in an effort to build on and off-field chemistry coming into this season. The results were positive and obvious, especially with Kmet. The third-year tight end has set career highs in touchdowns, yards-per-catch, and completion percentage with one game left. Fields isn't playing Sunday, but Kmet will be, and he'll have a chance to pad those stats with Nathan Peterman directing the offense.
Chase Claypool has been with the Bears since November and Chicago has yet to win a single game since he arrived. Claypool has also reached the height of his frustration, the 41-10 blowout loss to the Lions pushing him over the edge. He intends to build a camaraderie similar to that of Fields and Kmet.
Here's what Claypool said about his new team after arriving from Pittsburgh.
"It's awesome," Claypool told NBC Sports Chicago of playing with Fields. "He's a quarterback who continues to trend upward. It's exciting. He's special and I think he is showing that in every play that he is out there. "Sometimes they'll be in the perfect coverage and he'll make a play with his feet, extend the play and allow me extra opportunities to go do something. His ability to extend plays is just, it's super awesome for me and all the receivers."
Claypool is still excited to be as Bear, but he's a bit more tempered these days, and rightfully so. He was visibly frustrated in last week's loss, particularly because he and his teammates struggled to sustain offensive drives. The third-year wide receiver has a competitive personality and doesn't want to become accustomed to failing and losing. Claypool had just one target against Detroit, so that powder keg came with a very short fuse.
So about Chase Claypool… pic.twitter.com/6EV7TZbjin

— Bears Talk (@NBCSBears) January 1, 2023
Fields stepped in immediately, exhibiting veteran leadership skills to help his teammate wind down a bit. The quarterback explained to reporters after the game that he empathized with Claypool and was attuned to his frustration.
"He's passionate about the game, but I think he was just showing his emotions, which is good to have emotion in a game," Fields said Sunday, "But you just have to know how to control it, and you can't let it come out like that because, at the end of the day, that's not helping anybody. That's not helping the team.
"Everybody's frustrated. We're getting blown out. Like, just call it what it is. We got punched in the mouth. Everybody feels that way, but I talked to him like, 'That's not going to do anything. That's not helping anybody. That's just spreading everybody apart.' We need to be here for each other, stick with each other, and fight because not many teams in this league are going to fight the way we did."
It's safe to assume their conversations went a little deeper after the loss. The pair discussed training together in Florida or Georgia after the season ends. Claypool spends most of his time in California so that's a significant commitment. Kmet is by far Chicago's most improved player this year. If Claypool and Fields take a similar step forward, the Bears might finally have a No. 1 wide receiver. That's a good thing, too, considering what GM Ryan Poles gave up to acquire the former Notre Dane star. As things stand right now, Chicago will not pick until the end of the second round after their first selection, which will be a top-two pick in all likelihood.
Claypool believes the 3-13 Bears are going to turn things around next season. He said he's learned Fields is "one of those guys that hates losing just as much as I do," and he's thankful to have a quarterback "who wants to win just as bad as [I] do."
"I'm going to link up with [Chase] in the offseason." Fields said. "We're going to get working, and we're going to keep working, and I just know his passion for the game and know his work ethic, and I know that he wants to be great, so we're going to get together, and work out, and just [get] on the same page in the offseason."
Count on Kmet and Mooney being there, too. The offseason can't get here soon enough.