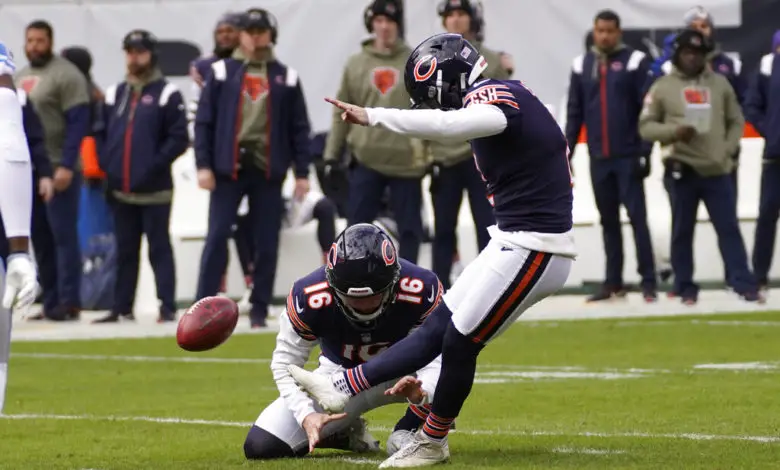 What's Up With Cairo Santos?
The Bears have been blessed with Cairo Santos over the past three seasons. He's been Chicago's most reliable kicker since Robbie Gould was sent packing in 2016 and is nearly automatic. The nine-year veteran is in his second stint with the Bears and made 56-of-62 field goal attempts since 2020. He missed two extra points in 65 attempts across both seasons.
WALKOFF. CAIRO SANTOS. CLUTCH 💪

Bears go 2-1 on the season 🙌pic.twitter.com/97GDnbem5v

— NFL on ClutchPoints (@ClutchPointsNFL) September 25, 2022
In fact, Santos set a team record for the most consecutive kicks made in 2021, and earlier this year he was named NFC Special Teams Player of the Week. He's not enjoyed the same success since. The 31-year-old from Sao Paulo, Brazil has missed five PATs this season and two field goal attempts, most coming at critical times. Santos cost Chicago a victory in Atlanta and hurt his team's chances at home against the Packers last week. His missed field goal against the Eagles might have been a game-changer.
The Bears have lost eight games where they were within one score of winning it tying. Special teams are a big part when a team plays a lot of tight games. Fortunately for the Bears, Santos believes he knows what's going wrong with his PATs and is confident he's got a simple fix in place to get back on track.
"I feel like there's a glitch with my visuals from the right hash for the extra point," Santos said. "To be honest I'm not missing any kicks at practice, so technique, I don't feel like it's that."
Santos has always preferred to kick from the right hash, but his sudden case of the yips has him reevaluating and readjusting. It's just a matter of real estate perhaps. "Location, location, location," as the saying goes. Santos made a half-time adjustment and decided he's a little more comfortable between the hashes, at least for now. The kicker felt a little more comfortable and made both PATs in the second half.
Kickers are creatures of habit, so making a change mid-season, let alone mid-game is unheard of. At least Santos recognized the problem and made the proper adjustment. And besides, it's not like the Bears are fighting for a postseason berth.
"It's a new kick every time," Santos said. "You approach, it's a new yard line every time so I lock into my visuals when I'm lining up, aiming, visualizing ball flight and that stuff. On point-afters it's so clockwork when I go from the right hash. I think a change of scenery keeps things fresh and I'm more locked in that way. Because [with the] field goals it seems like I'm doing a better job than the extra points."
In case you were wondering, the decision not to attempt a 49-yard field goal in the second quarter was not because of a lack of faith in Santos. He and head coach Matt Eberflus determined that Santos' max was 45 yards based on field conditions and cold temperatures.
"We didn't feel like above 45 (yards) was a kick that was good to risk field position," Santos said. "It was just out of [our] range. A kick at the end of the half or the end of the game, I think I could've gotten it from 49, but like I said, not the one to give up field position."
"His kick line was 27 yards with the wind [Sunday]," Eberflus said after the game. "When it was there at the 31, we were out of our kick line there. We were going to take a delay, punt, and pin. Did a pretty good job of punting and pinning today. [Trenton Gill] did a pretty good job."
Santos has been a godsend after a parade of non-stop kickers after Gould left, including the notorious Cody Parkey. The Bears have also gone to battle with the likes of Connor Barth, Robert Aguayo, and Mike Nugent. They also tried the forgettable Chris Blewitt and Elliott Fry. Blewitt is not the most confidence-inspiring name for a placekicker. The Bears had eight kickers competing for one spot during camp after Parker's double-doink attempt in a playoff loss to the Eagles in 2018. Talk about your bad beats.
Cody Parkey's double doink 😳

Bears kicker misses a go-ahead FG as Philly (+240 ML) stuns Chicago on this day 2 years ago

(via @Eagles)
pic.twitter.com/zXTKtjKlvs

— br_betting (@br_betting) January 6, 2021
Let's hope Santos has it all figured out. He's been invaluable until he caught a case of the shanks, and he believes he's found the remedy.
"Just didn't go my way today," Santos said.