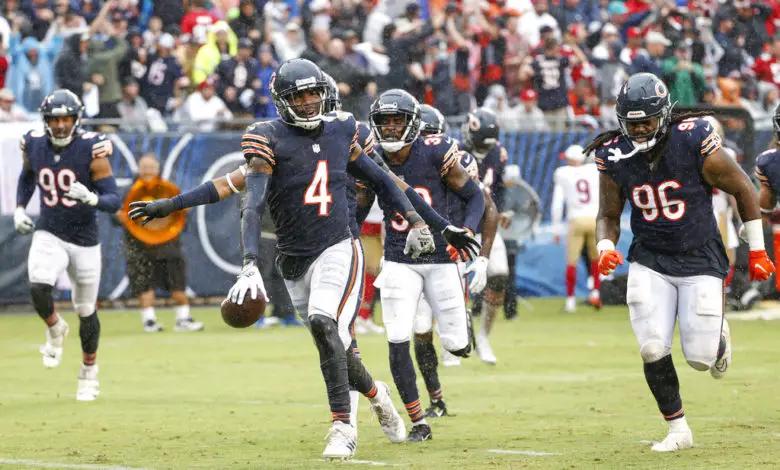 Bears Game Day: Four Nights Will Quickly Dream Away the Time
According to William Shakespeare, liminal spaces are important for shaping the audience's perceptions of the world. Time doesn't always separate what is real from what is an illusion. In the case of the Bears, and particularly Justin Fields, playing on a short week may actually be an advantage. Fields is coming off his best game as a pro, and he'll line it up Thursday night against one of the league's worst teams. Momentum is not a quantifiable measurement but for this game, it doesn't matter. Chicago has it and owns a distinct advantage against the Commanders if they can maintain it.
There was a lot that went wrong for the #Bears in the first half.

But I'm still buzzing about this play. The deep ball from Justin Fields. The adjustment and one-handed grab from Darnell Mooney. Gorgeous. pic.twitter.com/PjaBEMZnM4

— Jacob Infante (@jacobinfante24) October 9, 2022
A week ago, Luke Getsy had to sacrifice his credibility to protect his quarterback. Fields made Getsy look like a genius by posting a career-high 118.8 quarterback rating against the Vikings. He also had a little help from Darnell Mooney. The second-year quarterback had a 76.7 rating against the Giants the week before. Which is real, and which is an illusion? We'll all find out Thursday evening.
The Commanders are favored by a point and the over/under is set at 37.5. Washington is 1-4 against the spread this year, and the total has gone under in five of their last seven games. The Bears are 2-2-1 against the spread this season and have gone over in five of their last six games against Washington.
Field Conditions
It will be a cool, crisp night in Chicago, but otherwise dry, with West winds blowing 10-20 MPH. The game-time temperature will be in the mid-to-upper 40s. Neither team has an advantage based on the weather, and special teams should not be affected.
Bears Trends
The Bears are 2-3, could easily be 5-0, and could just as easily be 0-5. They play well in spurts, but terribly in others. Head coach Matt Eberflus wants his team to start quicker and finish stronger. As mentioned, Fields is coming off his best game as a pro and Mooney has strung together two straight good performances. N'Keal Harry has returned from IR and gives Fields a desperately needed weapon, but it's unrealistic to think he'll have a big game.
The Bears running game was slowed by the Giants and Vikings, but David Montgomery and Khalil Herbert should fare better against the Commanders. Chicago is averaging just over 17 PPG and about 274 yards on offense. Expect Washington head coach Ron Rivera to put eight in the box and force Getsy and Fields to beat his team with the pass. The two will be up to the challenge.
On defense, the Bears need to do a better job of tackling. Their front seven has had trouble finishing, and can't keep leaving the secondary vulnerable. Jaquan Brisker has been a revelation, Kyler Gordon is improving each week, and Justin Jones has been the team's most consistent defensive player. Robert Quinn is playing like he wants to be traded to a contender. Expect big games from Roquan Smith and Trevis Gipson.
It's not all bad news, however. Chicago has forced eight turnovers in five games and is in the top 10 in interceptions (five) and passing yards allowed (197.2 per game). That's worth a double take considering the way Kirk Cousins and Justin Jefferson lit them up in the first half of Sunday's game. Eddie Jackson leads the Bears with three picks.
Commanders Trends
Defense is the key for Washington. The Commanders have allowed only three rushing touchdowns and are in the top five in third-down defense, allowing opponents to convert on only 30.4% of chances. They are in the top 10 in first downs allowed and own an above-average rushing defense (110.6 yards allowed per game).
Rivera said that quarterback was Washington's weakest link, but statistics don't bear that out. The Commanders are in the top 10 in passing yards and have 10 passing touchdowns, a top-five mark in the league. They've only two lost fumbles in five games, and Carson Wentz is in the top six in passing yards (1,390), completions (132), and passing touchdowns (10).
Why the Commanders Will Win

The Commanders had their best game offensively last week, gaining 385 yards in a 21-17 loss to the Titans. Wentz and Co. will try to air it out against the Bears on Sunday. Curtis Samuel has 32 receptions for 281 yards, and Terry McLaurin is averaging 17.2 yards per catch. The Commanders don't have much of a running game. If the Bears play soft coverage again, Wentz will put together long drives that eat up the clock. The Commanders will lead with a short-to-mid-range passing attack. If they accomplish that, it should help their anemic rushing attack.
Washington will have eyes and bodies on Montgomery and Herbert all game. But they've only sacked opposing quarterbacks 14 times this season, so they need to put pressure on Fields and keep him in the pocket. The Commanders have only forced one turnover this season, an interception by Darrick Forrest. If their defense can stop the Bears' running game and contain the quarterback, they'll win this game. But they'll need to win the turnover battle.
Why the Bears Will Win
The Bears will win if Fields carries over the momentum from Sunday and continues to progress. Chicago has been awfully resilient this season. They registered tough wins over the 49ers and Texans and hung with the Vikings and surprising Giants. The Packers game was a little closer than the final score indicated.
Getsy and Eberflus will lean on the running game and defense to win the game. Though Eberflus wants a quick start, there's nothing wrong with using a strong rushing attack to set up the pass. The Bears have a +1 turnover ratio but have struggled to control the clock. If they win both of those battles it's game over for Washington.
Wentz has been sacked 20 times this year, but if the Bears deploy soft coverage again they won't get to the Commanders' QB1 enough to factor in the outcome. Eberflus rarely blitzes, and his front four, other than Jones, has struggled to find consistency. That said, the Bears need to find ways to put Wentz on his back. They'll need to intercept the Washington quarterback a couple of times to neutralize the passing game. It would be nice if Jackson or Gordon can take one to the barn.
Injury Reports
Bears – Dane Cruikshank (ankle) is listed as questionable. Starting cornerback Jaylon Johnson (quad) is expected to play after missing the last two games. The Bears placed linebacker Matthew Adams (calf) on IR so he'll miss at least four games.
Commanders – Cornerback William Jackson III (back) is out. Tight end Logan Thomas (calf), wide receiver Jahan Dotson (hamstring), and running back Jonathan Williams (knee) are also out. So is starting OT Sam Cosmi (finger). Wide receiver Dyami Brown (groin) is questionable. Wentz has been dealing with a sore shoulder but will play.
Predictions
Our own Sean Holland previewed today's game on Wednesday and called for a 21-17 Bears victory. I expect a clean, complete game from Chicago as they ride the wave of momentum to a 27-19 win. The Bears will score at least one defensive touchdown in this game, and Fields, Montgomery, and Mooney will have big games, and fingers crossed, Cole Kmet will, too.