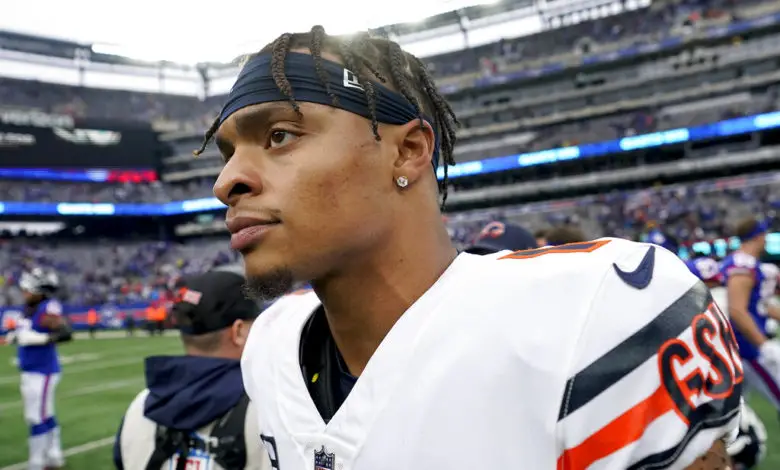 Bears Game Day: Don't Throw the Baby Out With the Bathwater
Right now, Justin Fields is a bad quarterback on an even worse team. The good news is that things can get better for both, and they will. On the surface, offensive coordinator Luke Getsy did a poor job of trying to protect his star pupil, but at least he tried. The local and national pundits are already looking to next year's draft and Franchise QB 3.0, whether that be Bryce Young or C.J. Stroud. The notion is ridiculous.
All this talk about the Chicago Bears drafting a quarterback next year is just a load of crap. Yes let's just chuck a young QB into the same situation and watch how that plays out. The Chicago Bears need to build around Justin Fields not replace him. #DaBears

— Matt Newton (@mattnewts) October 7, 2022
Thank goodness for Getsy.
"I don't think [Fields] has had a rough month," the much-maligned coordinator said Wednesday. "[He's] gotten better each week. I think he's grown tremendously. It's not easy. We're playing good football teams. It's not easy to become the level of quarterback that he wants to become, and I know he can become. The important thing is that we stay focused, keep our eyes on that process and we make sure we get better each and every week. I believe we're in that phase."
Getsy sacrificed his credibility, but he checked every box that needed to be checked. And that's what good coaches should do.
Vote of confidence for Fields.
Praise for Chicago's opponents.
Pointing out that the NFL is hard, especially for a young quarterback learning a new system.
Acknowledgment that he and Fields are on the same page.
Admitting the near-term plan is process over tools (because the Bears have none).
Protecting his quarterback at all costs from the crush of media insanity.
Nobody in their right mind believes the crap Getsy is selling, but they're not supposed to. Those comments were explicitly for an audience of one, namely Fields, and it's shocking to me that nobody else gets that. As I said, the Bears are a bad team. But this is no time to give up on Fields, not after 14 NFL starts. Some fans are just a little too impatient.
The same could be said of Darnell Mooney to a lesser extent. The third-year receiver is playing on his rookie contract and is eligible for an extension after this season. The Bears did him no favors by not finding decent complementary receivers or legitimate pass blockers.
Gambling is an Addictive Hobby
Chicago is +290 on the money line, (meaning you bet $100 to win $290 straight up). The Vikings are 7.5 favorites but over the past two seasons, they've rarely won by a touchdown or more. The over/under is 43.5 but Chicago will need to have a significant advantage in time of possession to keep the score that low given the injuries to their secondary. That said, the Bears are averaging about 16 PPG, the Vikings 21. Both quarterbacks are struggling, too.
Field Conditions
The game will be played in a dome. Both teams have elite speed, but Minnesota also has elite weapons, at least on offense. The Vikings also have the backing of the home crowd in what will be a very loud atmosphere. Chicago rarely plays well inside, but previous Bears teams lacked the speed this year's squad has.
Trends
The Bears have won odd-week games and lost their two even-week games. That trend may die on Sunday. Of course, Getsy, Fields, and the entire Bears offense (and defense, too) would love to make last week's game disappear. It was the team's worst overall effort of the season.
The Bears' passing game has yet to reveal itself. Fields is averaging a paltry 117.8 passing yards per game and has had just one game with double-digit completions and more than 20 pass attempts. Only two of his throws have found the end zone, and both came in the Week 1 victory over the 49ers. He's more likely to run it in than pass it at this point, and the Bears coaching staff actually seems to be encouraging that.
Chicago has glaring issues on defense, too. They're giving up 183.3 yards rushing per game. Expect the Vikings to take advantage of that. Trevis Gipson, Roquan Smith, and Dominique Robinson have each had one outstanding game. Robert Quinn and Nicholas Morrow haven't shown much, and Angelo Blackson is a liability at this point. Justin Jones is the only member of the front seven who's played with consistency. Cornerback Kyler Gordon is also having a rough go at it. Expect Kirk Cousins to test him early and often.
Vikings running back Dalvin Cook has rushed for at least 76 yards in three of his four games this year, topping 90 twice. He should get plenty of carries against the porous Bears' defense, especially if the Vikings jump out to an early lead and try to milk the clock. He doesn't fumble that much, and for that matter, the Vikings rarely turn the ball over.
Justin Jefferson is Minnesota's best and most obvious weapon. The third-year receiver ranks fifth in receptions (28), targets (42), and receiving yards per game (98.3). He has more yards catching the ball than Fields does passing. Jefferson has averaged 33.3 yards per route on pass plays of 20 yards or more, the eighth-best mark in the league. He is also eligible for an extension and could become the game's highest-paid wide receiver heading into the 2023 season.
The Vikings are somewhat vulnerable on defense but can be opportunistic when needed. Minnesota has nine sacks this season, and Harrison Smith, Jordan Hicks, and Josh Metellus all have interceptions. That said, they rarely dominate as a group, and though they look tough at times, Minnesota's defense does just enough to win ballgames.
Why the Vikings Will Win
They're going to win. First-year head coach Kevin O'Connell has the Minnesota offense playing at a high level. That could spell disaster for Chicago's disappointing front seven. If the Bears continue to miss tackles, the Vikings will amass 350 yards or more when they have the ball. Opponents have rushed for 176 yards or more in three of Chicago's four games this season. That means Cook will find the same holes that Saquon Barkley, Dameon Pierce, Aaron Jones, and AJ Dillon did.
Heavy home favorites against the Bears in Week 5.

— Minnesota Vikings (@Vikings) October 7, 2022
The Vikings also outclass the Bears when it comes to playmakers. Besides Cousins, Cook, and Jefferson, wide receiver Adam Thielen is also having a big year. With two top receivers, Cousins notched at least 250 passing yards in three of his four games this year. He also threw for a respectable 221 yards against the Eagles despite being pressured for much of the evening. Expect Thielen to step up if the Bears double-team Jefferson.
Why the Bears Will Win
The Vikings drew 97 yards in penalties against the Saints last week, and that type of self-destruction usually ratios to seven points on the scoreboard. Chicago can keep it close if Minnesota is forced to kick field goals instead of putting the ball in the endzone.
Chicago Bears safety Eddie Jackson currently leads the NFC in interceptions.

— Daniel Greenberg (@ChiSportUpdates) October 5, 2022
The formula to beat the Vikings is pretty simple, though executing it has been difficult. The Eagles are the only team with a win against Minnesota so far. The Bears will have to win time of possession, limit turnovers, and keep the game close until the 4th quarter. If the defense can stop Cook and get to Cousins, they will neutralize Jefferson and Thielen. Failure in any single aspect of that game plan will result in an ugly loss. Asking the Bears to be perfect is unfair, but they'll have to play a complete game on Sunday.
Injury Reports
Predictions
Our own Sean Holland previewed today's game on Friday and called for a 21-9 Minnesota victory. He's been spot-on most of the time, especially with regard to the spread, and it's tough to argue against him this week. The Vikings are stronger than the Bears in all three phases, plus they have the home-field advantage. Missed tackles will hurt Chicago today and the game could get out of hand very quickly if Fields and Co. fail to show up.
With Montgomery out, Khalil Herbert needs to have a big game. Unfortunately, the Vikings will stack the box like the Giants did and force Fields to beat them through the air. If Chicago can't run, Minnesota will control the ball all day. I'd say the first team to get a turnover will win this game, but the Bears need a decisive advantage in takeaways to beat the Vikings. It's not going to be pretty. Give Minnesota a 38-13 win while the Bears try to regroup with a short week of practice. Chicago hosts the Commanders on Thursday night.