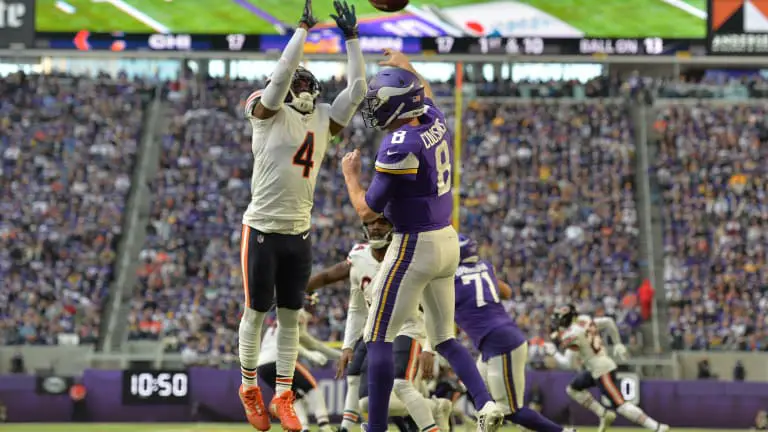 Chicago Bears @ Minnesota Vikings – Week 4 Game Preview: Overview, Keys to Game, Insights
The Bears (2-2) offensive struggles continued in a frustrating loss to the New York Giants in New Jersey last Sunday. Justin Fields has looked like the worst quarterback in the NFL so far in 2022 and he's not getting much help from his supporting cast. The defense held up early but fell apart late as star RB Saquon Barkley got loose on several occasions in the 20-12 defeat.
Things certainly do not get easier for Chicago as they head to Minnesota for a match up with the division rival Vikings. The Vikes (3-1) are off to a good start this season with their only loss coming against the undefeated Philadelphia Eagles.
By far the biggest weapon for Minnesota is stud wide receiver Justin Jefferson who has been tearing up the league since last season. Quarterback Kirk Cousins is his typical inconsistent self, sometimes looking unstoppable and other times like a pedestrian QB.
On defense, the Vikings look like the epitome of bend but don't break. They rank in the bottom third of the league in total yards allowed yet they only surrender 20 points a game. Those numbers of course come against much more competent offenses than the Bears.
Chicago's schedule gets much harder from this point on. So far they have demonstrated nothing that makes you feel like they will play well against tougher opponents. If Matt Eberflus's team wants to stay in the race they are going to have to massively improve their level of play, let's see if they can do it starting Sunday.
Where to Watch/Listen
Sunday, October 9 at 12:00pm CT on FOX, WBBM Radio (English), and WRTO Radio (Spanish).
Keys to Victory
Here are my keys to Sunday's game. If these things happen, the Bears should have a shot to win.
Don't forget about Adam Thielen. With defenses focusing on Jefferson it's easy to forget the Minnesota State product is still a big time weapon. The Bears have had good pass coverage so far in 2022 so they should be able to contain him.
Somehow protect Justin Fields. The Giants only had three sacks going into their game against Chicago, they got six Sunday afternoon. An injury to starting center Cody Whitehair increases the degree of difficulty even more.
Show something in the passing game to keep defenses honest. New York started putting nine defenders up against the line of scrimmage to stop the run last week. Opponents have absolutely no fear of Justin Fields passing against them. NFL teams will absolutely smother any one-dimensional team. Some early completions would at least give the running game a bit more room to operate.
Don't Tell Me the Odds
Chicago is a 7.5 point underdog in the Twin Cities this Sunday. The over/under of 44 is actually higher than recent Bears games, although, it's low for most NFL contests.
It's Football Weather
Sunday's game is inside the Vikings climate controlled U.S. Bank Stadium so conditions will be a perfect 72 degrees.
My Prediction
The Vikings played in London last week and did not get the typical bye week, so perhaps they will be jet-lagged early. With the current state of the Bears offensive unit that feels like about the only way they could win. I think the defense keeps it close in the first half but Minnesota eventually takes home a 21-9 victory.
Official Bears Preview
Here are Bears analysts Jeff Joniak and Tom Thayer with their preview of the Bears' upcoming Week 5 matchup.