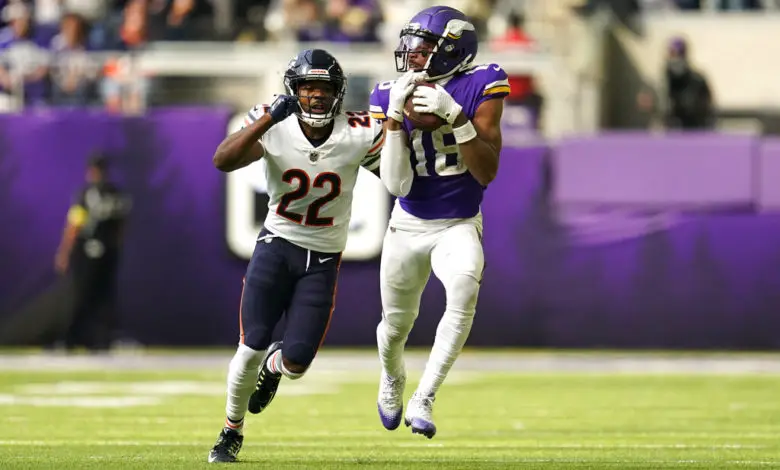 First & Long: Eberflus Wants Bears to Start Quicker and Finish Stronger, Fields Show Marked Improvement
Matt Eberflus has decided to do something to reverse the Bears' trend of poor first-half play. Chicago is averaging just 7.8 points in the first two quarters of the five games they've played this year. It's great that they make great second-half adjustments, but as indicated by the team's 2-3 record, it's not enough.
"We're looking at everything," Eberflus said. "You have to look at everything. I think it's probably a combination of those things. Sometimes it's just a mindset, it's a mentality. Right now we have a great mentality for the second half, coming out and playing tough and playing strong and having stamina and all those things we talk about. But we've got to come out fast and start fast."
That's particularly true of the passing game. Justin Fields has been a much better passer when the Bears are playing from behind. Coincidentally, that's when Luke Getsy calls more passing plays.
One thing Eberflus intends to do is adjust the temp of Chicago's practices. The first-year head coach also said he's going to give more practice reps to his starters. He and his staff are hoping that will have the team more prepared to play once the game starts. And, he's hoping to break what could become habitual inconsistency. Eberflus said they'll still work on how they finish, too, with the goal being to play a complete game.
"We have to finish and finish and make the plays down the stretch to win the game," Eberflus said. "That doesn't mean special plays. You just gotta make the mundane plays normal and make sure that we execute in those moments. Then we'll have good results at the end of those moments."
The slow start prevented the Bears from winning in what would have been a huge upset against the Vikings. Expect the Bears to start fast against the Commanders on Thursday night. Jumping to an early lead is a great way to counter a short week of practice.
Bears News & Notes
There's a Flag…On the Play
Chris Jones got robbed here. The NFL officiating this year is almost as bad as the home plate umpiring in Major League Baseball.
A very, very bad roughing the passer call 🤦🏻‍♂️

— NFL Stats (@NFL_Stats) October 11, 2022
Scout Team
Film Room
Second-year wide receiver  Dyami Brown and rookie cornerback Kyler Gordon will go at it on Thursday night and it's going to be a whole lot of fun.
OMG WHAT A CATCH @deuce2_🤯

📺 CBS pic.twitter.com/e2CMotOgHe

— Washington Commanders (@Commanders) October 9, 2022
Northern Exposure
Green Bay: Aaron Rodgers isn't very happy with all the negativity terminating from the Packers' locker room. Spoken like a true sherpa.
Minnesota: Justin Jefferson leads the NFL with 547 receiving yards and ranks second with 40 receptions. The only player with more catches is the Rams' Cooper Kupp, whose role the Vikings are attempting to replicate for Jefferson under coach Kevin O'Connell, the Rams' former offensive coordinator.
Detroit: The Lions set a dubious NFL record against the Patriots on Sunday by going 0-for-6 on fourth downs.
NFL News & Notes
The Panthers fired head coach Matt Rhule on Monday morning and may start dismantling the team ahead of the November 1 trade deadline. We'll probably hear plenty of Baker Mayfield rumors. Christian McCaffrey and D.J. Moore could be available, too.
The now ex-Panthers head coach went just 11-27 (.289) in his tenure with Carolina, with a remarkable 1-27 record in games where the Panthers allowed 17-plus points.
Rhule's firing yields an important message for college coaches wishing to transition to the NFL.
The Browns, Lions, Chargers, 49ers, and Rams are also expected to be active at the deadline. The defending Super Bowl champs will be looking to upgrade from Allen Robinson at wide receiver if Odell Beckham Jr. signs with another team. Riley Reiff was also mentioned as a potential Rams target, and the Chargers may make a run at Robert Quinn.
Cowboys linebacker Micah Parsons called out the league for poor officiating.
Seahawks head coach Pete Carroll credits former Mankato State head coach Michael Eayrs with quantifying explosive plays. The NFL has standardized 16-yard pass plays and 12-yard runs as the minimum statistical benchmarks.
Seattle's Geno Smith is leading the NFL's growing list of unsung quarterbacks.
The day may be coming when the NFL establishes touch football rules for sacking the quarterback.
The evolution of American football and the explosion of non-contact participation has launched flag football into the conversation for the Summer Olympics and Paralympics. The sport could make its Olympic debut as soon as 2028 in Los Angeles.
Deshaun Watson was permitted inside the Browns' practice facility for the first time since the end of August. The Cleveland QB1 is just about halfway through his 11-game suspension.
Three Yards and a Cloud of Dust
Wilson is 2-of-18 on pass attempts to the end zone this season. That 11% completion rate is the worst in the NFL (min. 10 attempts).
Ravens placekicker Justin Tucker has made 61 consecutive field goals in the 4th quarter or overtime, 27 from 40 yards are longer.
Here's a gentle reminder that Brett Favre is still the NFL's all-time leader in career pick-sixes with 36
From the Podium
"You can feel that Justin's comfortable where he is right now in the offense. He's taking command. I can see him in practice, and I've seen in the last couple of weeks him taking control of route depths and talking to receivers: 'Hey, I want you to run it this way. Run it that way.' Whatever the detail is, he's right there on top of it and he's been growing in that way, and that's been really good." – Eberflus
"Efficiency in the passing game, I think we took a step forward for sure. I felt like the protection was better today, for sure. We definitely handled their blitz better than last week. I felt like we took a step forward in that. Overall, I'm just proud of everybody and the way they fought. We were down 21-3. A lot of the teams in this league would have just laid down and stopped playing. But I'm just proud of our guys and the way they fought." – Fields
Running Out the Clock
I've gotta take the Bears and the hook if I'm betting on Sunday's game.