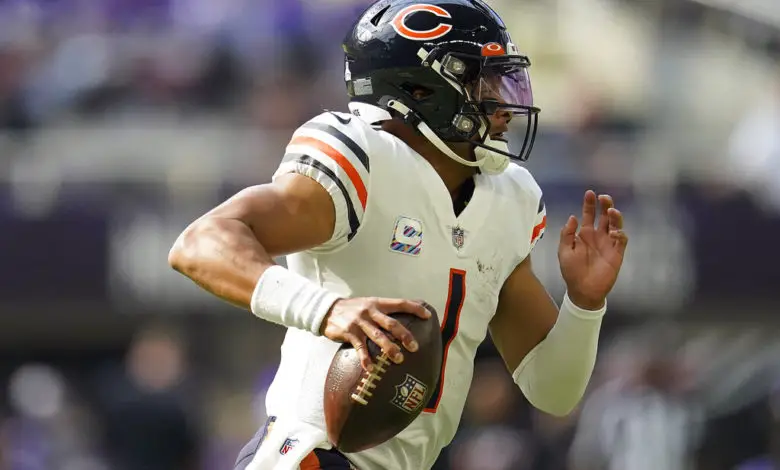 First & Long: What a Difference a Week Makes for Justin Fields, Rivera Excited to Come Home, Brady Recruits Aaron Judge
Many Bears fans are still on the fence regarding QB1 Justin Fields. The sophomore quarterback does have a big fan in Trent Dilfer, though. The former Super Bowl champ thinks Fields is the real deal and said so yesterday on 670 The Score. In fact, Dilfer said the second-year quarterback was the best player on the field in the Bears' loss to the Vikings on Sunday.
I thought Fields had an outstanding second half, but Kirk Cousins and Justin Jefferson had much better games. Superlatives aside, all of us are hoping JF1 will continue to progress. Still, Dilfer's take is positive and refreshing.
🗣If you're not listening to Trent Dilfer (@DilfersDimes) break down Justin Fields progress every week, you're missing out.

🔗 https://t.co/XByuouxBuL@670TheScore | @Audacy pic.twitter.com/0rI87LtW6G

— Chris Tannehill (@ChrisTannehill) October 11, 2022
Offensive coordinator Luke Getsy is right there with Dilfer on Fields' progress. That comes after head coach Matt Eberflus said his starting quarterback "had the best game of his career."
"Tons of progress," Getsy said Tuesday of Fields' play. "I don't like using those adjectives that are extreme; I'm just not that type of person. But there's been progress. And we're sticking to the plan. I thought he did a really nice job in that game in the sense of he kept his composure. They got off to a big lead, he kept the team together."
That's a much better assessment than the one Getsy provided before the Vikings game, and even the offensive coordinator's harshest critics would be stretching to find an argument. Fields will have to carry that momentum into and through Thursday night's game to convince the stragglers and naysayers. He did a fantastic job on Sunday of validating Getsy's trust. Fields said he's "just starting to figure out that [he has] to play within [his]own rhythm."
"That's the experience part of it that's hard for everybody to have patience with," Getsy said. "It's cool that he's seeing that or saying that, but hopefully what he sees and how he views everything 10 games from now, hopefully he can even say that more dramatically. That's part of playing this position."
If anything, the Bears' offense on Sunday afternoon didn't feel like it was trapped in 1977 the way it did through the first four games. Progress, indeed.
Bears News & Notes
There's a Flag…On the Play
There are some things that you can just never unsee, and this dance by Terry Bradshaw is one of them.
Terry Bradshaw doing the Griddy is the content we all needed today 💯 pic.twitter.com/vNH2oCjHpP

— FOX Sports: NFL (@NFLonFOX) October 12, 2022
Scout Team
Film Room
Ihmir Smith-Marsette had a valid beef with the officials here.
What an absolutely horrendous call.

Ihmir Smith-Marsette clearly has one hand in front of Cameron Dantzler who gives a flop Lebron would be proud of. #DaBears #Bears #ChicagoBears pic.twitter.com/eruIZJz2A6

— Clay Harbor (@clayharbs82) October 10, 2022
Northern Exposure
NFL News & Notes
Raiders wide receiver Davante Adams is facing discipline from the league — potentially even a suspension — for pushing a credentialed worker to the ground after his team's loss to the Chiefs on Monday night. The photographer filed a police report.
Adams apologized for the incident on Tuesday.
Giants punter Jamie Gillan is stuck in London due to passport issues.
Troy Aikman told the NFL to "take off the dresses" when it comes to roughing the quarterback penalties and I couldn't agree more.
Tom Brady is recruiting Yankees slugger Aaron Judge to play tight end for the Buccaneers.
In 2021, the Bengals mastered the art of the one-year turnaround. This year, it's the Eagles, Cowboys, and Giants. How did they do it and which team will do it in 2023? I'm betting on the Bears.
Three Yards and a Cloud of Dust
On Sunday, Breece Hall became the first

Jets

running back to have 100+ receiving yards in a game since LaDainian Tomlinson in 2011.
Geno Smith has completed an incredible 75.2% of his passing attempts for 1,305 yards and nine touchdowns this season. He has two interceptions.
Travis Kelce is the fourth NFL tight end to have four touchdowns in one game and the first since 1985.
Two-Minute Drill
It's the Great Pumpkin, Charlie Brown!
Just dropped 🍂 pic.twitter.com/3n0Da7C0JH

— Chicago Bears (@ChicagoBears) October 12, 2022
From the Podium
"We got to get off the field on third down. There were some times when we had opportunities to make plays. And even on some of the second downs, we got to minimize (them), even if they're checkdowns. We got to make sure we come down and tackle and not get back so they don't have a third-and-short or whatever the case may be." – Nicholas Morrow
"The way [Fields] is playing and how he's bringing this aura to have everyone behind him, following, to the way he plays. His poise, how calm he is. If your quarterback can be calm in hostile situations, I have no other choice but to be calm because he's the one calling the shots. So, if he's out there calm and he's chilling, I've got to be the same way. I can't flinch if he ain't flinching." – David Montgomery
"No matter what happens, we'll come out, we're gonna play and we gotta get better. It starts with me from the top. I mean, we've gotta get better and understand what our responsibility is." – Rivera
Running Out the Clock
It's nice to be in a good mood following a Bears loss. Things are looking up, but I'd like to see a win by the All-Orange on Thursday night.