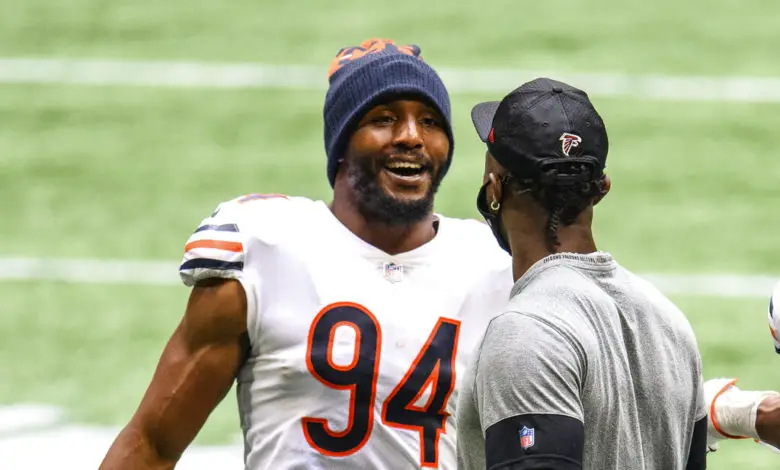 Bears Start Mandatory Minicamp Minus Robert Quinn
Things aren't getting off to a good start for new Bears head coach Matt Eberflus as the team started its mandatory minicamp minus DE Robert Quinn, the team's most decorated and highly-paid player. Though it's not the end of the world, Quinn's absence is an unneeded distraction for a team that is deep in transition. The 11-year veteran stands to lose up to $96,000 in fines if he misses the next two days of practices.
Eberflus tried not to make it a bigger issue, but he didn't seem pleased.
"It's a mandatory minicamp," the first-year head coach said. "We hoped he'd be here. "He's not. Ryan [Poles] and his staff are gonna work through that."
Quinn hasn't reported to any of the Bears' voluntary practices either. There were rumors that teams were inquiring about possibly trading for the All-Pro defensive end just before the draft, and though many thought a trade might make sense after Poles traded Khalil Mack to the Chargers, the first-year GM decided to hang on to Quinn. At the time, the 32-year-old expressed that he'd rather not be dealt.
Last month, Jason La Canfora of CBS Sports indicated "he heard some things" regarding a request by Quinn to be traded, though he did not cite any source, nor did he include a quote from the defensive end. The return value for Quinn would likely decrease if he continues to hold out.
"I continue to hear that Quinn wants out of Chicago – and who could blame him? " La Canfora wrote in a piece about players with ongoing contract issues. "And there are a host of interested teams. [The] Bears brass has told everyone he ain't [sp.] going anywhere, but they will keep asking and that's not lost on the veteran defensive end. The Bears look hapless, they dealt Mack already, and Akiem Hicks doesn't seem likely at all [sp.] to be back. [The] team is in transition under new management, Quinn is coming off a monster season with 18.5 sacks. He just turned 32 and wants to win, and he is also an absolute steal this season ($13M); if he gets dealt the next team would likely sweeten the pot with incentives if nothing else. If the Bears are as bad as I expect, this will only fester, and he could be the prize of the trade-deadline market if nothing else (fetching more than Von Miller a year ago I believe)."
Note: Hicks recently signed with the Buccaneers.
Quinn is coming off one of the best seasons of his 11-year career, logging a team-high 18.5 sacks in 2021. The pass-rushing standout, who's eclipsed double-digit sacks in five different seasons, is due just over $17 million in 2022 on his current contract, a five-year, $70 million deal he signed as a free agent in 2020. The Bears would save just under $13 million this year by trading Quinn.
Conversely, if the Bears cut him, they would absorb dead-cap hits of $4.2 million this season and $8.5 million in 2023 and get out of the remaining $39.9 million they would owe him through 2024.  Chicago carries its largest salary-cap hit of Quinn's contract this season at $17.1 million.
It should be noted that sometimes veterans eat the fines to avoid non-training camp practices, so Quinn's absence might not specifically indicate a power move to force a trade. It can be a bit of an annoyance, especially for a new coach wanting to set the tone for the season, but it's also not the end of the world. As Quinn stated previously, "it's not my first rodeo."
Safety Eddie Jackson didn't think the veteran's absence was that big a deal.
'It's Rob,'' he said with a shrug. ''He's been in the league for a while. I'm sure he has his reasons. We're just waiting on him to come back.''
Quinn is expected to anchor a defensive line that includes newcomers Justin Jones and Al-Quadin Muhammad. Trevis Gipson, who was named Chicago's most improved player in 2021, would theoretically take Quinn's spot if he continues to hold out or is traded. The Bears signed DT Mike Pennel the other day, and he'll compete with Khyiris Tonga for a starting position. Eberflus might prefer Gipson to play linebacker, so losing Quinn would leave a big hole in Chicago's front four. Rookie Dominique Robinson looks like a 5th-round steal so far, but he's not ready to anchor the line.
With seven quarterback sacks last year, Gipson is the only other player on the roster who has registered as many as six in one season.
"At the end of the day, it's a business," Quinn said in April, per Brad Biggs of the Chicago Tribune. "Again, you see Mack getting traded. I mean … again, it's just a business. … I didn't expect to go anywhere, or want to go anywhere, but again, this is a crazy business. … If something's going to happen, it's going to happen, but again, it is what it is."