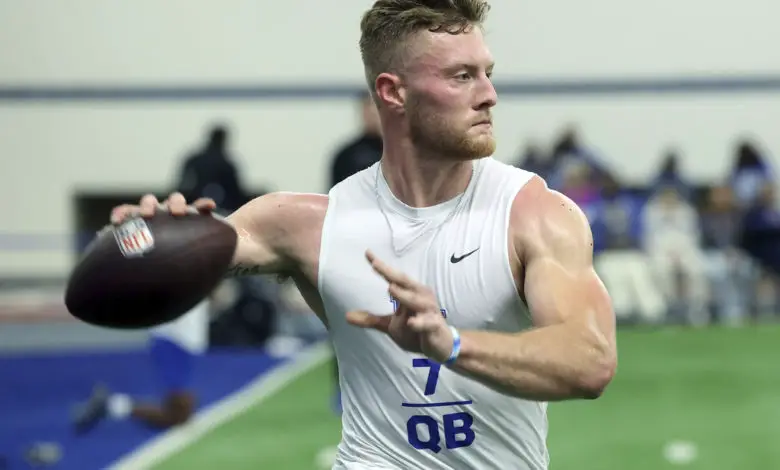 Will Levis, Jalen Carter Could Be Potential Lottery Tickets if Bears Trade Down
The Bears currently hold the No. 9 pick in this month's NFL draft, and by many accounts, GM Ryan Poles is open for business and looking to trade down. He may find himself in an enviable position if Jalen Carter and/or Will Levis are available. Carter was once the consensus No. 1, non-QB pick. Levis could start a bidding war among teams looking for a signal caller if he falls. Suffice it to say, Poles will have plenty of options available once his team is on the clock.
Which team is drafting @UKFootball QB @will_levis? 👀

📺: 2023 #NFLDraft — Starts Thursday, April 27 on NFLN/ESPN/ABC pic.twitter.com/MBKptLP1ER

— NFL (@NFL) March 20, 2023
A lot depends on the Lamar Jackson situation in Baltimore. The Colts pick fourth overall and are likely to take one of Bryant Young, CJ Stroud, or Anthony Richardson. A scenario exists where a team could jump ahead of Indianapolis by trading with the Cardinals. That could mean the first four picks will be quarterbacks unless one of those teams makes a trade for Jackson. The Raiders have the No. 7 pick and could be in play for Jackson, too. If the Ravens trade Jackson, they could draft a quarterback, but will likely roll with Tyler Huntley.
That's a long-winded way of saying that Levis could be available when the Bears make their first pick if the Ravens trade Jackson to get into the top seven of the first round. The Seahawks, Lions, and Falcons are unlikely to trade down unless each decides they want no part of Carter. The Georgia DL3T has been one of the more polarizing players in recent memory. Off-field issues and a couple of poor Pro Day workouts have caused Carter's stock to drop. The Bears could take the three-technique at No. 9 if he's available, but Poles hinted that is unlikely.
I think @thekapman said it best when it comes to the Bears and Jalen Carter. This is Poles' first crack at a first-round pick. He doesn't have the pedigree to justify taking a massive risk.

He can't screw this one up and should go the safer route with so many needs on the team.

— Brendan Sugrue (@BrendanSugrue) April 4, 2023
If Carter and Levis are both available, Chicago will likely find itself with a plethora of potential trade partners. The progress Justin Fields made in 2022 means Poles won't draft a first-round quarterback. Assuming Carter is not on the team's radar, at least six teams could try to acquire the Bears' first pick.
The Texans, Colts, and Panthers are in dire need of a quarterback but we already discussed their options. The situation in Baltimore is a bit tricky because of Jackson's demands and the team's trust in Huntley. The Jets won't pick until No. 13 and would love a shot at Levis if he's available. The Commanders have the 16th pick and have a similar need. The Saints, Falcons, and Titans might all be looking to upgrade, too.
When it comes to Carter, however, all bets are off. Poles loves players who have a chip on their shoulders, and none will carry the boulder that Carter will into the 2023 season and beyond. If you say he's lazy and undisciplined because he had a couple of poor workouts, you haven't seen him play, and you don't know the player. There is a reason he was considered a top-two pick at one time, and that's because he's an elite talent.
Carter was sentenced to 12 months probation after pleading no contest to his role in a previously reported misdemeanor charge of reckless driving and racing. In addition to probation, the Georgia standout was fined $1,000 and must perform 80 hours of community service, as well as attend a state-approved driving course. I suppose he could be suspended by Commissioner Roger Goodell at the start of the season, but that seems unlikely. For those who think Carter left the scene of the crime, the young man's attorney said that is not the case.
"Mr. Carter never left the scene of the accident without being told that he could leave," attorney Kim T. Stephens said. "He stopped his car immediately after the accident occurred and ran toward the wrecked vehicle while his passenger called 911. Even after being informed that he could leave, Mr. Carter returned to the scene at the request of the Athens-Clarke County Police Department to answer additional questions and continued to cooperate throughout the investigation."
The attorney also said that Carter "had not been drinking alcohol and was not under the influence of alcohol or any other illegal substance at the time of the wreck." She argued that, if he had been, police would have taken steps consistent with a DUI arrest after speaking to him at the scene.
Initially characterized by police as a single-vehicle wreck, the accident resulted in the deaths of Devin Willock, a 20-year-old offensive lineman for the Bulldogs, and Chandler LeCroy, a 24-year-old football recruiting analyst for the team. Willock was pronounced dead at the scene, according to police. LeCroy was transferred from the scene to a nearby hospital where she died from her injuries.
An investigation later found that LeCroy, who was driving the car that crashed with Willock inside, and Carter, driving a second car that held two additional people on the same road, "were operating their vehicles in a manner consistent with racing" leading up to the deadly crash, police said.
The accident was unfortunate and immature, but Carter fully cooperated. His sentence would have been much more substantial otherwise. It's also fair to say the young man's workouts were affected by the ongoing investigation and legal proceedings. He is 22 years old, and that's a big weight to carry with a great deal of remorse added for someone that young, no matter what's at stake professionally. Will it affect him during the 2023 season? The Bears are among the teams who have interviewed Carter at least twice, so that's an obvious concern.
.@McShay13 has the Seahawks taking Georgia DL Jalen Carter No. 5 overall in his latest mock ✍️

"You're talking about six teams from 5-10 that all could use Jalen Carter. There's no chance he gets out of the top-10." pic.twitter.com/hVQwlcVebK

— NFL on ESPN (@ESPNNFL) April 4, 2023
That said, the 6-foot-3, 300-pound Carter is still the best defensive tackle available in this year's draft. If Chicago intends to pass on him, almost any team picking below the Bears could be interested. That's if Carter falls that far, by the way. The Lions are reportedly very interested in the young star and could take him with the sixth pick. Don't count the Seahawks out at No. 5, either.
Chicago could net multiple picks in the top 40 of the draft by trading down. Their first pick is worth 387 points according to the DraftTek Bill Belichick model. Sending the No. 9 to the Jets for Nos. 13 and 42 would be a coup of sorts if New York wants Levis that badly. Likewise, Poles could demand picks 19 and 50 from the Buccaneers if they're interested in drafting Carter. Demand always adds upward pressure to the market, and Poles is counting on that this year.
If you're worried that Poles is diluting his draft a little too much, most of the players in the 10-25 range have similar values. Furthermore, one of the more elite prospects in the draft is running back Bijan Robinson. He's considered a generational talent that could fall into the 18-25 range because teams are generally unwilling to draft running backs that high. The Bears have Khalil Herbert, D'Onta Foreman, Travis Homer, and Trestan Ebner on their depth charts. None are on long-term contracts and all could be gone by 2024.
If the Bears are interested in Robinson, they also have the option of trading Herbert for another draft asset. Then again, the whole exercise could be moot if Poles decides Carter is his guy.