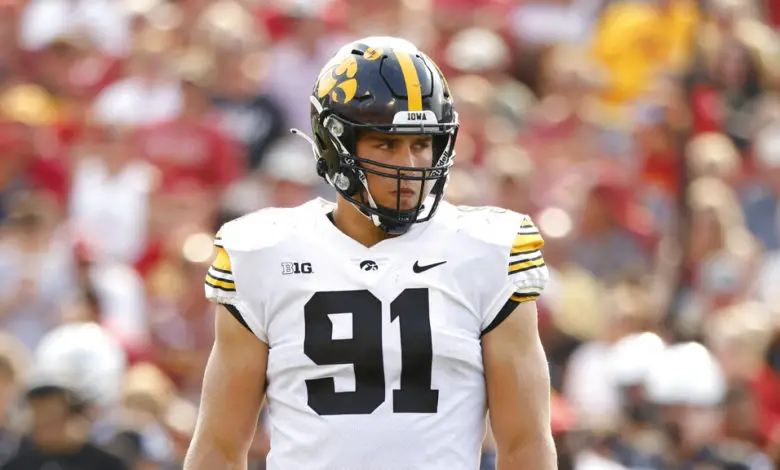 Bears Have Plenty of Great Options With No. 9 Pick
The NFL Draft is one month away, and 99 of every 100 Bears fans will tell you that GM Ryan Poles has to select an offensive lineman at No. 9 or he will have wasted the pick. Child, please. This is a very weak draft for offensive linemen, and the best of the bunch, Peter Skoronski, is a tackle who will play guard at the pro level. Poles will draft the best player available on his board, period. Skoronski might be the best lineman available but he's not the ninth-best player on any board, not even yours.
On top of that, four quarterbacks are expected to be taken before the Bears' selection comes up. Because Chicago has uber-talented and freakishly athletic Justin Fields, Poles will have his choice of the top five players on his board. If you think that means Skoronski or Paris Johnson, you should research a little better. Poles might trade down before he selects either of those players at No. 9.
Additionally, Poles has already said that he wants a playmaker with his top pick if he keeps it. A playmaker, by definition, is someone who can change an outcome by himself, whether it's one play, a series, or the final score. Offensive tackles and guards are not usually considered among that elite group of football players. One thing is for sure, and that's that Chicago's front office will not let needs dictate who they draft.
"It's just adding to the core of players we want to win with here for a long period of time," Poles said earlier this week. "We have some needs that we have to fill. But again, it's also about staying disciplined and using the draft board and the value system that we have to do the right thing in the draft."
In layman's terms, Poles is saying he won't sacrifice a player who is rated higher just to fill a need. That means he may not take an offensive lineman when he makes his first selection. He probably will not. The consensus top-10, non-QB draft-eligible players are:
EDGE Will Anderson Jr., Alabama
DE Tyree Wilson, Texas Tech
RB Bijan Robinson, Texas
CB Christian Gonzalez, Oregon
DT Jalen Carter, Georgia
TE Michael Mayer, Notre Dame
DE Lukas Van Ness, Iowa
Skoronski
LB Nolan Smith, Georgia
WR Quentin Johnston, TCU
All of those players should be at the top of Poles' draft board except Mayer. If Gonzalez, Wilson, or Van Ness are already gone, I would expect the Bears to trade down. According to at least one report, the Bears are actually open to trading the pick. I don't believe Carter interests Chicago's front office.
Of course, Poles could have Skorinski, Johnson, or both at the top of his board. If that's the case, and either is available, he's going to select one or the other. Identifying potential trade partners isn't very difficult either.
The Bears could trade their pick to the Steelers for No. 17 and No. 32, which would essentially give them Chase Claypool for dropping from No. 9 to 17. The Bears sent the first pick of the second round to Pittsburgh for Claypool in November.
The Jets have the Nos. 13 and 42 picks as assets if they are inclined to move up four spots.
Likewise, the Patriots have picks 14 and 46 available, and the Commanders could package Nos. 16 and 47 to jump the pack.
The point I am trying to make is that Poles has options, whether you like them or not. There are about 22 players with top-10 grades who aren't quarterbacks or tight ends. That includes Robinson, who sits behind only Anderson among the top non-QBs in this draft. Some mocks have B-Rob falling into the mid-20s. If Poles can trade down, then draft Robinson, and also pick up an extra selection, that's a home run.
Robinson is an impact back in the same way that Saquon Barkley was when he left college. Even if you think all running backs are interchangeable in today's NFL offenses, Robinson defies that logic. Oddly, the same fans that wanted the Bears to sign Barkley in free agency are against drafting Robinson. It makes no sense. Chad Reuter of the NFL Network thinks Robinson is a perfect fit for Chicago's run-first scheme.
"I don't blame teams avoiding running backs in the top 10 because of how many injuries occur at the positionー but the Bears could make an exception for Robinson," Reuter wrote. "His combination of power, speed, shiftiness, and receiving ability make him a potential star in the Christian McCaffrey mold. Signing D'Onta Foreman does not take the Bears out of the running for this all-around offensive threat."
I know, I know. Poles has to take an offensive lineman. Except he does not unless that lineman is at the top of his board. He's more likely to trade the pick instead, and find value at the position in the second or third round. If he keeps the pick, I'd expect him to actually take a defensive lineman. Van Ness seems like a perfect fit for the Bears, but he has a lot of helium right now. Don't be surprised if he's the third defensive lineman taken after Anderson and Wilson.
In my current mock, which I'll publish Sunday, I have the Cardinals selecting Anderson, the Seahawks taking Wilson, the Lions taking Carter, and the Bears taking Van Ness. I think the Eagles will take Skoronski, and that [Paris] Johnson will fall to the Titans at No. 11. I'd rather see the Bears take Robinson, and I do not agree he would be a reach pick at No. 9. It would be very tough to pass on Van Ness if he's available, however.