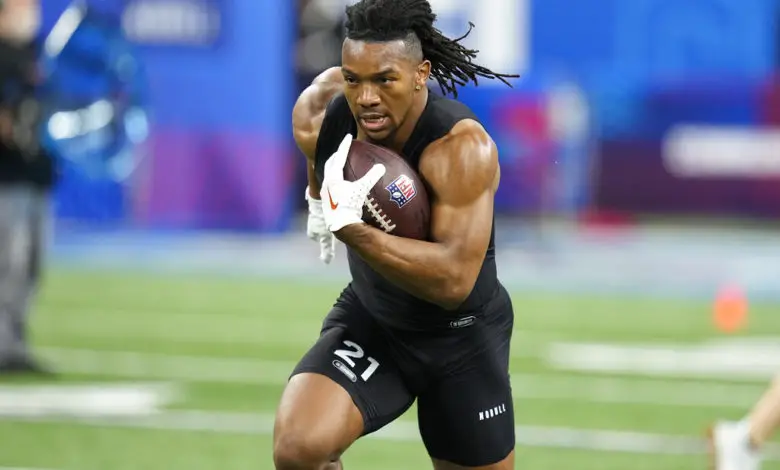 The Bears Could Draft Bijan Robinson or Jaxon Smith-Njigba at No. 9
Most analysts believe the Bears will select an offensive or defensive lineman with the first-round pick they acquired from the Panthers on Friday. If I was placing a wager, I'd bet on one of the following, in order:
I'll get into why I think those four are the favorites in a later post. GM Ryan Poles could decide to trade down again, too. If he has someone like OT Broderick Jones (Georgia), EDGE Myles Murphy (Clemson), or DL Bryan Bresee (Clemson) rated in his top 10, he could trade down to No. 12, because the Texans would love to select WR Jaxon Smith-Njigba (Ohio State).
But what if Chicago's scouts like Smith-Njigba, too? Or how about stud running back Bijan Robinson (Texas)? There is no way the Bears would take either unless they fill those holes in both lines via free agency. Chicago also needs linebackers and is likely to acquire one this week. If we know one thing about Poles, he likes to position himself in the draft to be able to select the best player available. Checking boxes in free agency helps him reach that goal. I'll look at Robinson first because I've heard the front office loves this kid.
Assuming the Bears are not going to take a quarterback and that Will Anderson Jr. won't fall to them, Robinson is among the top three remaining draft-eligible players. ESPN considers players who grade 90-100 as "rare prospects" ($) and the top three that the Bears might consider are Skoronski (93), Wilson (93), and Robinson (93). Poles and his staff also have their own grading system, which is why they felt so highly about Braxton Jones last year. Robinson could very well be at the top of Poles' board. That would explain why he was so comfortable trading down eight slots. It may also explain why he was amenable to making a trade this early in the draft cycle.
Because four quarterbacks will be selected before the Bears pick, you might say Poles holds the No. 5 overall selection. It's doubtful Chicago would select any of the top four QBs.
Making a Case for B-Rob
By most accounts, the Bears aren't going to retain David Montgomery, and though Khalil Herbert is tremendous at times, he's not as good as Robinson. Herbert's trade value is decent, however, especially because he is proven and going into the third year of his rookie deal. It's easy to imagine the Bears signing free agent Jamaal Williams, trading Herbert for a 4th or 5th-round pick, and then selecting B-Rob. Poles could then decide whether or not to keep Trestan Ebner.
Even if you don't follow college football, Bijan Robinson is a name you need to know for fantasy in 2023. He's the closest thing we've ever seen to Barry Sanders. pic.twitter.com/mkYHX73dkt

— Kyle Lindemann (@LuckIsMadeFF) October 15, 2022
Here is what the Pro Football Network says about Robinson:
"Running backs in the modern NFL have to be versatile, but pure elite runners are always in short supply and heavily coveted by extension. Robinson is versatile, but he's also an elite runner. That's at the very core of his game.
"Robinson has great size at 5'11" and 215 pounds. But with his dense, compact frame, he's also a fleet-footed runner who can accelerate instantly out of exchanges. He generates impressive burst on cuts. And, he can throttle up fast with short, urgent strides. Robinson might not have quantifiably elite explosiveness, but his 37″ vertical signals more than enough explosive capacity, and he compensates tenfold with his incredibly urgent play pace."
Robinson is also considered a good pass blocker, something that Herbert nor Ebner will ever be. He's a willing participant who actively squares up opponents and engages at the torso. He's shown he can identify and pick up blitzes quickly, as well as match defenders with his base. Robinson is also an elite pass-catcher, so he's a complete back.
If the Bears choose to pass on B-Rob at No. 9, the Eagles will certainly select him one pick later.
How Does JSN Become a Bear?
Smith-Njigba is a personal choice of Justin Fields. The odds that the Bears will draft him now that they have D.J. Moore aren't very good. ESPN gave him a 90-grade, and he's ranked No. 20 overall. That means that he won't be the best available player at No. 9 no matter what happens. Except, of course, if Poles grades him higher. He probably can't trade down past No. 12 and hope JSN will be there because the Texans are reportedly very high on him, though that could be a bluff.
If the Houston Texans were smart they would draft both CJ Stroud and Jaxon Smith-Njigba with their two first round picks. pic.twitter.com/3aPdCLNFI5

— CleBuckeye (@CleBuckeye23) March 6, 2023
JSN also has quite a bit of helium thanks to a stellar performance at the Scouting Combine. If other teams feel Chicago might select Smith-Njigba, they could trade up, so the Falcons' No. 8 pick could be in play. Most teams grade on the same scale as ESPN does, however, and if Houston passes on him, the Packers might grab him at No. 15. It's important to remember that Darnell Mooney and Chase Claypool are entering their contract years, and Poles said he wants playmakers. Moore and Smith-Njigba fit that description. I wouldn't be shocked if Poles takes the Ohio State wide receiver at No. 9. Heck, I wouldn't be shocked if he traded Mooney, though I'd be more than mildly surprised.
Here's the skinny on Smith-Njigba from PFN:
"Smith-Njigba is a bit of an enigma athletically. But at the very least, he passes the desired threshold for an NFL starter. He has good acceleration off the line and can use fast feet to gain speed as he heads upfield. Smith-Njigba flashes the capacity for great explosion, especially when he's on the attack — either surging into space or pursuing blockers. He's a fairly easy accelerator who generates solid initial momentum. He can freely throttle up and down.
"Going further, Smith-Njigba has enough explosiveness to get out into space and escape congestion after taking short passes. He can also pinch tight angles around defensive backs while accelerating, showing off valuable ankle flexion. Another component that helps Smith-Njigba, however, is his agility and ease of motion. He has very fluid hips. With those hips, he can expertly manipulate short ranges, as well as use abrupt lateral movements to disrupt tackling angles."
Believe it or not, Fields' input means a great deal to Poles and the scouts. You shouldn't disregard the quarterback's influence. A lot of pieces have to fall in place for the Bears to draft Smith-Njigba, and that starts Monday morning with free agency. If the Bears add to both lines and find a starting linebacker, I see no reason why they wouldn't draft another offensive weapon to pair with Fields and Moore, whether it be B-Rob or JSN.