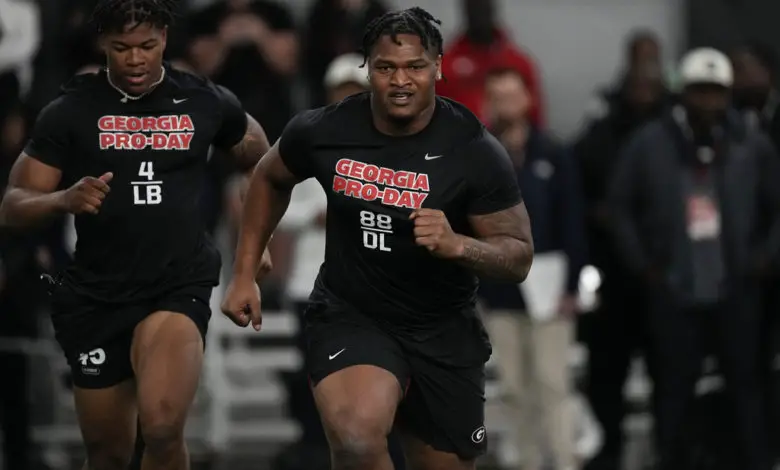 Off-Field Issues and Poor Pro Day Won't Impact Jalen Carter's Draft Status
It's fair to say that this is one of the more critical offseasons in Bears' history, and GM Ryan Poles has been quite busy. A lot of fans are troubled that the second-year executive ignored the trenches, but we have to see how the rest of the offseason pans out. It doesn't look like Poles will continue to be active in free agency. The draft is a month away, and the next wave of roster improvements will come via that route.
"When you get to this point of free agency, it drops off," Poles said according to Courtney Cronin of ESPN. "The salaries drop off, talent, experience drops off. You do have a wave of players offensively and defensively that will go through the draft because they kind of want to see how everything settles. So we'll keep an eye on those players. But right now, to improve our team, I think we've got to look to the draft."
Most fans assume Chicago will take an offensive tackle or a three-technique with the No. 9 pick. Then again, Poles could trade down. The Bears have four of the top 64 selections in this year's draft, but none between Nos. 9 and 53. And though the GM has his own draft board and method for grading players, there are a lot of similar grades from the mid-point of the first round through the early second.
One name that comes up repeatedly is DT Jalen Carter. The 21-year-old is a phenomenal talent who has had on and off-the-field issues for much of the past year. The Georgia All-American was once projected as the No. 1 overall pick in the 2023 NFL Draft, but there are now some who have suggested Carter could fall outside the top 10 despite his potential as an impact player.
There has been a great deal of speculation on where #Georgia All-American Jalen Carter will be selected in the NFL Draft. What do you think? https://t.co/cUiov2QA2S

— MikeGriffith32 (@MikeGriffith32) March 22, 2023
Last week, Carter pleaded no contest to misdemeanor charges of reckless driving and racing and for his alleged role in the January 15 crash that killed teammate Devin Willock and recruiter Chandler LeCroy. The defensive tackle also showed up at his pro day nine pounds heavier than he was at the NFL combine, and he was unable to finish his position drills.
According to Terry Robiskie, Carter will get the benefit of the doubt from most front offices because of his football pedigree. Robiskie is a 38-year NFL veteran who has also coached with eight organizations.
"We can go back as far as you want to go back, and there have been guys that have come into the draft a bit questionable, but very, very talented," Robiskie said during the Ingles on The Beat Show on DawgNation. "We are talking about another guy that's a very talented football player … the guy is coming from a top-notch football program. He's coming from a very respectable school, a very respectable head coach.
"From a societal standpoint, it will bother some [fans], but from a whole, it won't bother those [NFL] people."
Most analysts believe Carter will be selected sometime between picks 5 and 8. Mel Kiper Jr. projected the Lions to take Carter at No. 6 in his most recent mock draft. The mock draft site Tankathon agrees. I don't think Carter will fall to the Bears even with the red flags, and there are many. Still, you're going to hear a lot more about his "football character" than anything else. Todd McShay provided a little more insight.
"I have seven different sources on Carter, and this is prior to the [racing and reckless driving] incident," McShay said recently on the Ryen Rusillo Podcast. "It's my job to let fans know if a player is going to move up or down the board because of an injury or character concerns.
"He had an ankle injury, missed a couple of games in the middle of the season, and he [was] gonna be a Top 5 pick at that point. But he doesn't shut it down. People will say, well he was going for a national championship. Well, [Ohio State WR] Jackson Smith-Njigba was going for a national championship … but I've heard from so many different sources that there was a chance he could have come back and played."
"A month or so later after the semifinal game … [Smith-Njigba] had a 35-inch vertical, 10-5 broad jump 6.57 3-cone, and a 3.93 20-yard shuttle, so [the injury] couldn't have been that bad, "McShay added. "My point is, Jalen Carter – from a football character perspective – chose not to shut it down. He came back and played his best football [during] the last four or five games of this season."
Chicago's defensive line is still a work in progress. Justin Jones and Dominique Robinson are returning, but the Bears need a significant upgrade to their front four. One of those needed upgrades is a dominant tackle. Poles vastly improved the linebacking corps when he signed free agents Tremaine Edmunds and T.J. Edwards. He also added DE DeMarcus Walker and DT Andrew Billings.
Poles was asked yesterday if the Bears are in a better position to select a player with character/immaturity issues. It sounds like Carter may not be a fit for Chicago's locker room, though you are free to interpret what the executive meant when he said "maybe down the road…" or "I'm still going to be a little cautious about bringing in the wrong type of person."
Are the #Bears in a better position now to draft a player with character/immaturity concerns?

Perhaps an important answer here from #Bears GM Ryan Poles: pic.twitter.com/rY1AhUXEFo

— Adam Hoge (@AdamHoge) March 27, 2023
It's important to understand that Poles isn't going to show his hold cards. He's also protecting his asset to ensure he gets value if he decides to move that pick. If Carter is available at No. 9, Poles might be able to make another impact trade. A lot of analysts believe offensive tackle Broderick Jones is Poles' top target. He's projected to go in the 12-15 range. Jones checks all of the GM's boxes when it comes to scouting collegiate athletes.
Jones is a freak athletically.
He has elite quickness and agility.
He plays violently.
Excellent height-to-weight ratio (6-foot-5, 311 pounds).
Nevertheless, Poles will have a tough decision to make if Carter is available at No. 9. Select him, trade the pick, or draft a guy like Jones, Paris Johnson, or Peter Skorinski? Robiskie thinks Carter is the obvious pick for any team that needs an elite three-technique.
"It's not an issue, it won't be an issue," Robiskie said, discussing Carter's off-field issues. "People will talk about it, but at the end of the day, people are trying to win and be up there with Kansas City Chiefs and win the Super Bowl. [A team] will take him and groom him and go, and it's all because of his background and his educational background."