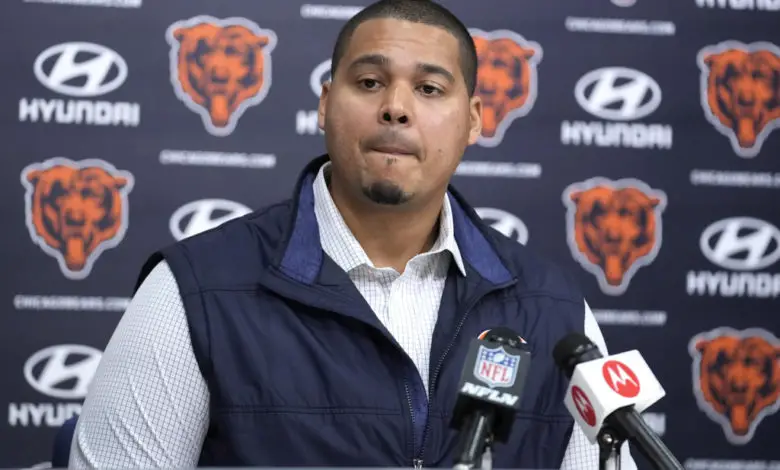 You Don't Dislike Ryan Poles, You Just Misunderstand Him
It has been a long time since the Bears had a front office with a plan. In fact, you have to go all the way back to Jim Finks and Jerry Vainisi to find a front office that had a vision and stuck to it. Those gentlemen are responsible for Chicago's lone Super Bowl championship, nearly 40 years ago. Since then, the NFL's oldest franchise has spent a generation and then some flying by the seat of its pants.
Chicago kicked off free agency with nearly $100 million to spend, filled a lot of holes, and still has more than $40 million in reserve. GM Ryan Poles passed on Orlando Brown Jr., Dre'Mont Jones, and Javon Hargrave and decided Mike McGlinchey wanted a little too much bread to move to the Windy City. But he did sign Tremaine Edmunds and T.J. Edwards, and now the Bears have one of the best linebacking corps in the league. Had he signed Brown and Hargrave instead, fans would be complaining about his failure to find a starting linebacker.
I was a #ryanpoles hater… not anymore. pic.twitter.com/QhqLMZVhpi

— Jermaine Moore (@JermaineMoore37) March 14, 2023
I wasn't a big fan of Poles at about this time last year. I've come around now that I better understand his vision.
That's the way it goes in Chicago because a lot of Bears fans are not happy unless they are perpetually unhappy. The starting quarterback is never as good as the backup, and the grass is always greener blah, blah, blah. Everybody disliked Ryan Pace, and those same fans are complaining because Poles won't jeopardize the future of the organization in a like manner to go 8-9 and just miss the playoffs every year. The second-year GM has a plan and he's not going to waiver no matter how much it upsets you.
He's not going to sign a player who doesn't fit the team's offensive and defensive schemes. Period. Just because a specific player is an All-Pro doesn't necessarily mean he is the right player for his team.
Poles is going to involve Matt Eberflus and his assistant coaches in every decision he makes.
Poles will only sign players who are young, athletic, and still have upside.
He prefers to take the biggest cap hits at the front end of the contracts he hands out to stay financially nimble in the future.
Teams are going to start cutting players that are due bonuses this week. Poles has positioned himself to pursue the best of them, such as DT DeForest Buckner.
He pursued Edmunds and Edwards first because he knew he could find value while other teams were courting linemen.
When it comes to the draft Poles has his own grading system and board. He will take the best player available on his board regardless of position, or he will trade down. He will not reach on a player just to fill a need.
During the previous regime, Chicago's front office spent like they had no idea how to balance a checkbook. They failed too often to protect the future, backloading contracts for the sake of accumulating overpriced veterans with diminishing skills. All of those players are gone now. Yes, it put the Bears in the unenviable position of finishing dead last in the league, but it's unlikely they'll be anywhere near the bottom this year. And Poles has protected his assets so that he can add to his core next year and in the years after.
Look at what the executive did during the draft last year as an example. He turned six selections into 11 picks by trading down, and he's sitting on 10 picks this year. He traded into the 7th round to select punter Trenton Gill. Poles then recouped a 7th-round compensatory pick this year because former punter Pat O'Donnell signed with the Packers.
Here's another great example. Poles traded the No. 1 pick to the Panthers because he could get more value trading that far down. Chicago got the Nos. 9 and 61 picks this year, a first-round selection next year, a second-round pick in 2024, and a No. 1 wide receiver in D.J. Moore. As I mentioned, Poles has his own board, and because he does not need a starting quarterback, he essentially gets a top-five pick from his board in that haul.
A lot of fans were upset that the Bears did not provide Justin Fields with any weapons in 2022, and rightfully so. I'd never accuse a team of tanking, but Poles sure danced that dance last season, especially after trading Khalil Mack, Roquan Smith, and Robert Quinn. But look what happened. Fields actually thrived with no supporting cast, though he did have to often run for his life. To that end the second-year quarterback proved himself, and now Poles has armed Fields like he's football's version of the Pentagon. The Bears had no problems scoring last season when they were healthy.
Chicago got some Moore.@idjmoore | @ChicagoBears pic.twitter.com/bJLWMA0IvE

— NFL (@NFL) March 10, 2023
They could be unstoppable with Moore, Darnell Mooney, and Chase Claypool instead of Byron Pringle, N'Keal Harry, and Dante Pettis. Moore is a monster when it comes to yards after the catch. Imagine pairing Moore with a dual-threat quarterback and a running game that led the NFL last season. With a healthy Mooney and with Claypool finally adjusting to the offense, Chicago will score at will at times. Of course, none of that matters unless the defense can stop opponents from doing the same thing. A strong trio of linebackers will prevent teams from churning up large chunks of yardage.
I don't like that they lost David Montgomery, but I love the D'Onta Foreman signing. If the Bears can add a lineman on both sides of the ball in free agency they could trade down and draft Bijan Robinson, then address the lines with extra second and third-round picks.
No matter what Poles does, fans are going to complain because it's in their DNA. Many don't see the big picture. The Bears are going to build through the draft and supplement the roster in free agency. While some will undoubtedly see that as the more miserly option, that's what teams that win consistently do. Chicago has approached the offseason from the opposite side since 1992. How's that worked out for them?
The Bears have made the playoffs six times and won four of those games in the 31 seasons since 1992. Heading into that season, the Bears had an all-time record of 80-57-6 against their bitter rivals north of the Cheddar Curtain. Since then, Chicago is 15-48 against Green Bay. That's a .238 winning percentage. If you're among the dwindling faction of fans that wants to see the Bears operate with that same ineptitude, yes, you're going to dislike Ryan Poles.
Gone are the days of burning through the budget by signing the three or four most expensive players. It sells tickets, but it doesn't win games. A more sensible approach by Poles provides sustainability and ultimately separates the casual fan from those with real football knowledge. That is not a knock against any fan by any means. It just validates the fact that Poles is misunderstood more than he is disliked. Why? If Poles turns the Bears into annual contenders, those fans will say they trusted the GM from day one. In fact, you can count on it.
This is how a real NFL franchise operates, folks. That said, the jury is out on Poles until his teams prove it on the field.  He's making the moves necessary to make that happen. Jump on board or watch the Bears pass you by.