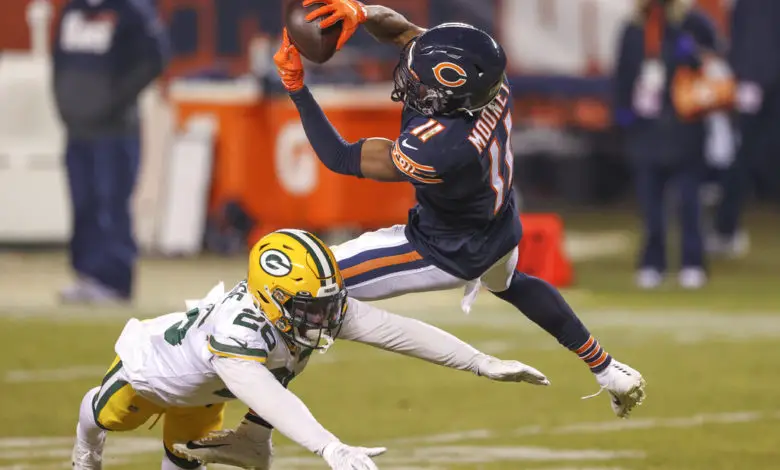 What to Expect From Bears Wide Receivers in 2022
The Bears made a big move this week by trading for former first-round draft pick N'Keal Harry. The 6-foot-4 225-pound wide receiver was selected as the No. 32 overall pick by the Patriots in 2019 out of Arizona State. Harry has appeared in 33 games with 18 starts over three seasons, catching 57 passes for 598 yards and four touchdowns, and his best season was in 2020. Chicago now has 12 pass-catchers who have at least some shot of making the final 53-man roster, so let's look at what we should expect from the Bears wide receivers in 2022.
#Bears are hoping for this version of N'Keal Harry this season. Worth a shot for a 7th rounder. pic.twitter.com/sYLojy1Z4D

— Bryan Perez (@BryanPerezNFL) July 13, 2022
WR1 Darnell Mooney
Mooney will enter the 2022 season as Chicago's No. 1 wide receiver by any definition of that position. He's entering his third season with the Bears and he's caught 142 total passes in 33 games for 1,686 yards and eight scores. He is going to have a breakout year this season, but because he is head and shoulders above every other wide receiver on this team, he's going to have defenses heavily keying on him.
The fifth-round pick out of Tulane doesn't get the love from Bears fans who wanted GM Ryan Poles to pursue Deebo Samuel or D.K. Metcalf, but he quietly put together an 81-catch, 1,055-yard campaign in 2021 while playing in a putrid, often-confused offense. He also worked with three starting quarterbacks last year: Justin Fields, Andy Dalton, and Nick Foles. Even worse, he had at least three coaches running the offense at various times last season in Matt Nagy, Bill Lazor, and 2021 special teams coach, Chris Tabor.
As a third-year player in 2016, Davante Adams caught 121 passes for 997 yards and 12 touchdowns while playing for the Packers in what is universally attributed as his breakout season. I'll set Mooney's bar at 105 catches for 1,300 yards and seven touchdowns despite the extra attention from defensive backs. In full disclosure, the de facto WR1 will earn that kind of production because Fields just doesn't have any proven weapons beyond Mooney.
WR2 Byron Pringle
Pringle signed with the Bears as a free agent after spending his first four seasons with the Chiefs. He started his Bears career with an arrest that – at a minimum – raised a few eyebrows.
After missing his entire rookie season due to injury, Pringle appeared in 46 games with eight starts the next three seasons, catching 67 passes for 898 yards and seven touchdowns. He also averaged 26.6 yards with one TD on 37 kickoff returns. He's a grinder who will be called on to do a lot of the dirty work in Luke Getsy's offense. In addition to running short-to-medium routes, Pringle will be counted on as a blocker on screens and jet sweeps.
Provided he is free of his off-field issues, Pringle appears to be one of several ascending players Poles sought in free agency. His percentage of snaps nearly doubled each of the last two seasons, from 14 percent in 2019 to 27 percent in 2020 to 49 percent in 2021.
"I come to play," Pringle said after signing with the Bears. "I can't speak for every man but I come to play. I'm pretty sure like you've seen on film, Justin [Fields] comes to play, too."
Pringle won't get the 75-80 receptions that Getsy would like to see from his WR2, but anything better than 60 catches for 700 yards and five scores has to be considered a success.
WR3.1 Harry
This is a make-or-break year for Harry, another trait that Poles sought when making roster additions this year. His most productive year was in 2020 when he had 33 receptions for 309 yards and two TDs. Last year the 6-4, 225-pounder played in 12 games with four starts, catching 12 passes for 184 yards. He is only listed as WR3 here because of his opportunity to meet his potential.
Expect Harry to be hungry, but he struggles to get separation and he has a problem holding onto the ball. He is also the third wide receiver from the 2019 draft class to be dealt this offseason. A.J. Brown netted a first and third-round pick in his trade from the Titans to the Eagles, and Marquise Brown went from the Ravens to the Cardinals for a first-round pick. Chicago got Harry for their seventh-round selection next year.
The former No. 32 pick has decent physical attributes and can sometimes out-finesse his defenders, but if he can't get open or hang onto the ball, problems he also had in college, he won't catch passes. Bears fans are overly excited because Harry was a one-time first-round pick. The cost to acquire him shows what a bust he's been so far in his professional career. Still, the Bears ranked dead last in PFF's wide receiver corps rankings last month so there's nothing but opportunity and upside here.
I don't think Harry will survive camp, though I hope I'm wrong.
WR3.2 Velus Jones Jr.
I can't remember the last time that the Bears had a more polarizing draft pick than Jones. Depending on who you listen to, he's either a diamond-in-the-rough with an outside chance at becoming an All-Rookie wideout, or an overaged pass-catcher who took five years and stints at a couple of colleges to blossom.
Let's face it, there aren't many journeymen collegiate players, but Jones qualifies after playing at USC and Tennessee. He redshirted as a freshman in 2016, played three seasons for the Trojans before transferring, and never caught more than 25 passes until he registered 62 as a sixth-year senior in 2021. The skepticism is definitely warranted whether you agree with it or not.
Few receivers on the Bears can match the speed of Jones, though, and he should see plenty of snaps in various offensive formations. His ability to work in space will be a boon for Fields once the third-round pick gets past the NFL learning curve. If Jones can secure a role in three-wide sets with Mooney and Pringle, defenses will struggle to contain Chicago's passing game because Fields will have weapons at all three levels of the playing field.
Jones will also be a factor in the kick return game, so he's probably someone you at least want to stash on your fantasy team. If he can master the nuances of the NFL by Week 8 or 9 he'll go down as a fantastic pick. If not, he'll be the new regime's first reach and first bust.
A combination of athleticism, speed, versatility and the ability to separate from defenders will keep Jones on the field. Expect him to come close to 1,800 total yards with the bulk coming in the return game. I'd set his rookie year offensive ceiling at 40 total receptions for 800 yards and four scores.
Fun fact: Jones and Harry were recruits out of the same high school class, and the rookie is actually older than Mooney.
St. Brown joined the Bears after spending his first four NFL seasons with the Packers, and he is now reunited with Getsy. A 2018 sixth-round pick out of Notre Dame, the 6-foot-5 215-pounder appeared in 37 games over three seasons, including 10 starts, and caught 37 passes for 543 yards and one touchdown.
Expect St. Brown to see the field for 50-55% of the snaps, and as a big-bodied target, he'll compete with Harry for playing time if the new acquisition makes the team. I'd expect St. Brown to catch 30-35 passes for 450 yards and two touchdowns this season.
WR5 Dazz Newsome
Newsome received an incomplete as a rookie in 2021 due to injuries and lack of playing time. He's best suited as a slot receiver but the Bears are set there with Pringle and Jones. That said, he was reportedly one of the team's best wideouts during summer workouts. He was also a playmaker in college, where he amassed the bulk of his receiving yards after he had the ball in his hands.
The second-year wide receiver is a complete wildcard because he lacks the experience of every receiver in camp except Jones. Despite the long odds, I think Newsome will break camp with the team because of his punt return skills and a perceived ability to find the end zone. it doesn't hurt that the 2021 sixth-round draft pick is young, hungry, and cheap. Poles and head coach Matt Eberflus are looking for players that can be counted on beyond this year, so as far as wide receiver depth is concerned, Newsome has a leg up there.
I don't expect Newsome to have a huge impact as a receiver, but he may have at least one breakout game this season, especially if he is called to fill in as an injury replacement. He'll make the team as a punt returner, and everything else is gravy.
WR6 Tajae Sharpe
I'll give Sharpe the nod over Dante Pettis and David Moore as Chicago's final wide receiver. He signed a very modest one-year deal ($1.035 million) and has been a complimentary pass-catcher in five NFL seasons with the Titans, Vikings, and Falcons. Sharpe's best year came during his third season with Tennesse where he hauled in 25 of 35 targets, averaging 21.9 yards per catch with four scores. If the Bears can get similar production from the sixth-year vet it will represent one of Poles' best first-year signings.
Depth Receivers
Webster and Coulter will probably be practice squad additions the former could be picked up by another team if the Bears try to pass him through waivers. Pettis and Moore will likely hang around for most of camp, and it's possible Poles could try to trade either or both before cutting them.