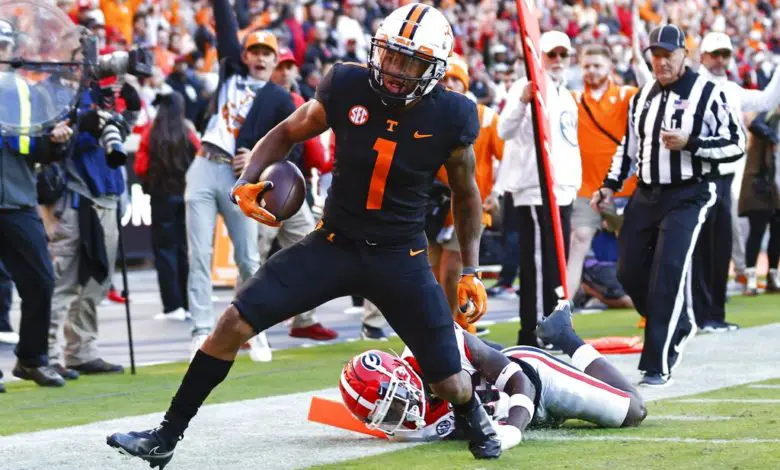 Ranking Bears Wide Receivers
The Bears' wide receivers room has been thinning a bit over the past few years, and when GM Ryan Poles took over the team in February, all he had was pending free agent Allen Robinson, WR2 Darnell Mooney, and untested rookie Dazz Newsome as players with game experience. Poles did not seek to extend Robinson, and now he plays for the Rams. Thanks to the draft and some under-the-radar signings, the room is now a dozen deep. Let's see how that depth will play out by rating the Bears' wide receivers.
Before I get started, here's receivers coach Tyke Tolbert on rookie Velus Jones, Jr.
"I think he has hunger," Tolbert said last week during OTAs. "And you hit the nail right on the head: he has maturity. He already has his Master's degree. So, he's a smart guy, mature beyond his years, and takes his job very seriously. He's in the meetings taking really good notes. He brought his own little whiteboard, erase board. He's taking notes and erasing, and he's drawing plays.
"We've thrown him into the fire pretty quick, put him at two positions immediately. Get him to learn it now. Because we want him to learn the whole concept. But specifically, a couple of positions to get him going, so whenever he can … the more he can do, the more obviously he'll have a chance to play. So, we're going to throw it all at him and see what he soaks in, and hopefully, he'll get out there and make some plays for us."
One word to describe @VelusJr?

⚡️ ELECTRIC ⚡️ pic.twitter.com/Uq9HMTWAXH

— Chicago Bears (@ChicagoBears) April 30, 2022
Mooney – He has the talent to be a WR1, and he will play that role this season though it still feels a bit like a de facto assignment. Last year Mooney finished with 1,055 yards and five scores, though he dropped nine passes, and he's going to have to exhibit better hands this year. Chicago's 2021 offense was overly predictable at times, and Matt Nagy started three different quarterbacks throughout the season, so that makes Mooney's production even more incredible. He's not a prototypical big-bodied receiver you'd expect to fill the top slot, but he should perform well in Luke Getsy's offense and could see a breakout similar to the one Davante Adams had with the Packers in 2018.
Jones Jr. – I have the rookie ranked higher than most just because he's adapted so quickly. We'll know more once the players put the pads on, but Jones combines a high football IQ with elite speed. It's not talked about a lot, but the 25-year-old also possesses some of the best stop-and-go acceleration, burst, and footwork in this year's wide receiver draft class. The physical traits are special, but the real reason Jones is ranked this high is that he was reportedly a personal choice of Justin Fields. The two should work well together, and if you are concerned about his age, remember Cooper Kupp was a 25-year-old rookie chosen in the third round, too.
Byron Pringle – The arrest last month is a little bit of an eye-opener, but if the NFL doesn't deem his hijinx worthy of an early-season suspension, Poles dodged a bullet with the free-agent acquisition from Kansas City. As a WR4 who was pressed into starting duty five times in 2021, Pringle enjoyed his best season as a pro. The 6-foot-1, 200 lb pass-catcher finished the season with 568 yards and five touchdowns. He's an excellent route-runner and has arguably the best hands among his Chicago peers. If he can avoid any further trouble with the law, Pringle should have a breakout season in 2022.
Equanimeous St. Brown – There's no doubt the ex-Packers WR5 is here because of offensive coordinator Luke Getsy, and the 6-foot-5 Notre Dame product should provide one of the more intriguing storylines during training camp. He could end up slotting anywhere from 3-6 in Chicago's hierarchy, if only because the offensive coordinator believed enough in St. Brown to convince him to sign with the Bears. He's just 25, which is rookie-like in Bears years, Getsy loves him in this offense, and he promised Bears fans the wide receiver's "best years are ahead of him."
Dante Pettis – If you sense a common denominator among Chicago's new receivers, it's that Poles loves his underdog players, and the description fits Pettis better than anybody else at the position. The former Giant was once a second-round pick of the 49ers and had his best season as a rookie when he hauled in 27 of 45 targets for 467 yards and five TDs. He's battled through injuries, and a career catch percentage of 57.1 doesn't scream potential star, but the upside is real if you're willing to go back to 2018 to uncover it. He offers blistering speed, and putting Pettis on the field with Mooney and Jones might give defensive coordinators fits this season.
Tajae Sharpe – If the Bears keep six receivers on this year's roster, Sharpe is likely to be the guy that makes the final cut. We'll have to wait to see how other teams' rosters play out, but the Piscataway, NJ native has decent size compared to Chicago's other receivers. He's not really a special teams player, and he has had difficulties making catches. He's had several chances to solidify his projections as a No. 3 receiver but has failed at stops in Tennessee, Minnesota, and Atlanta. He did start seven times for the Falcons in 2021, catching 25 of 37 targets for 292 yards without a score, so there could be some upside. That said, this will be a make-or-break camp for the journeyman wideout.
Newsome – He'll battle Sharpe for a roster spot and it might be one of the better camp battles this summer. You would have thought Nagy might have given the rookie more chances once the 2021 season went off the rails, but the former Bears head coach wasn't one for swimming outside his lane. Newsome is great after the catch, picking up large chunks of yardage with good vision and contact balance. He also shows a strong ability to break tackles and isn't afraid of hard contact.
David Moore – He played for Getsy in 2021 and compared to all of the other Bears wide receivers, Moore is a touchdown machine, hauling in 13 of 78 career receptions for scores. He looked like a breakout star in 2020 when he tallied 35 receptions for 417 yards and six TDs but he hasn't caught a pass since. Like Sharpe, this might be Moore's last chance to stick on an NFL roster.
Chris Finke, Nsimba Webster, Isaiah Coulter, and UDFA Kevin Shaa have little chance to make this year's team, though Finke and Shaa may find their way to Chicago's practice squad. Shaa is intriguing because he is lightning fast and played his college ball at Liberty with QB Malik Willis. He could stick as a special teams player but he'd really have to stand head and shoulders above a lot of other players to grab a spot on the 53-man roster.