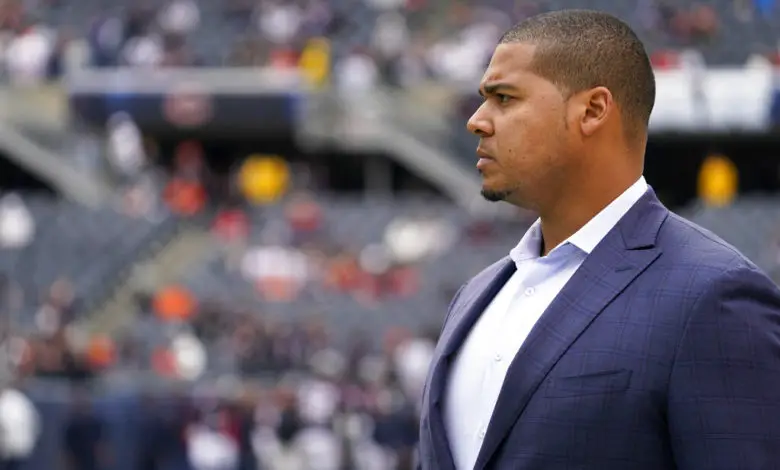 Understanding Ryan Poles' Draft Philosophy
Mention the words "best player available" to most Bears fans and you're likely to be pelted with social media darts and daggers. Why is that such a difficult concept to grasp? GM Ryan Poles believes roster construction begins and ends with playmakers. He's not going to pass on a potentially great player just to fill a need with a lesser player.
There is some wiggle room, however, especially when it comes to quarterback. If one of Bryce Young, C.J. Stroud, Anthony Richardson, or Will Levis are available when the Bears are on the clock, Poles is likely to trade down. He has Justin Fields and doesn't need a franchise quarterback this year. The same might be said of Jalen Carter. Poles may love the player but if he's worried about distractions, he'll find a team that wants Carter more. How far the GM trades down depends on his board, his level of comfortability, and of course, the return.
The philosophy behind drafting the best player available is pretty simple. Former Bears' Scouting Director Greg Gabriel does an exemplary job of detailing the process for Windy City Gridiron. Sometimes, drafting the best player available usually includes the unmentioned benefit of filling a need. Bears fans get flummoxed because they fear an offensive lineman or defensive tackle might not be atop Poles' board at No. 9 and that he'd pass on filling an obvious need. Poles understands that frustrates you but he doesn't care.
There is a caveat, however. With a salary cap limiting the stockpiling of high-end talent, adding the best player isn't always feasible, roster-wise or economically. Often, a team won't pursue a player in free agency or the front end of the draft if it has a player(s) at the same position occupying a sizable percentage of its salary cap. That said, Poles doesn't seem like a value-added type of executive. He also doesn't sound like someone who is willing to compromise to appease fans.
Poles and head coach Matt Eberflus have no conflicts when it comes to drafting personnel. Value is dictated by the grade the team gives to a specific player. It's also a byproduct of how certain players fit into Chicago's scheme or system. Their philosophy will dictate the type of players they draft. For instance, the front office and coaching staff favor athletic offensive linemen vs. road hogs and physical defensive backs vs. corners that can fly.
Put another way, tell me who is the better wide receiver, Justin Jefferson, Davante Adams, or Tyreek Hill? Each has different skill sets, so it's impossible, though I'd take Hill. This is where scheme and fit come into play.
The best team fits for the top offensive playmakers in the '23 draft class.

Bijan Robinson, JSN, Zay Flowers, Jahmyr Gibbs, more.

It's up at ESPN+ https://t.co/K27zehvUwO

— Matt Bowen (@MattBowen41) April 6, 2023
That's why finding playmakers is so important for building sustained excellence. In the link above, ESPN doesn't see a fit in Chicago ($) for any of the top 15 playmakers, and I think that's shortsighted. If you fill roster spots with the best players available you'll also save money in free agency. Understanding market constraints is also key. Poles signed linebackers Tremaine Edmunds and T.J. Edwards because too many dollars were chasing offensive linemen and defensive tackles. That logic could apply to the draft, too.
On the flip side, if Poles believes one of Peter Skoronski, Paris Johnson Jr., or Broderick Jones checks all of his boxes, one will be a Bear. That goes for any player at the top of the draft, even tight end. Cole Kmet had a breakout year in 2022, but if Michael Mayer makes the team better, you shouldn't be shocked if the Bears select the Notre Dame product.
Bijan Robinson is another great example. He's arguably a better running back than any of the players the Bears have rostered, including Khalil Herbert and D'Onta Foreman. Robinson also comes with five years of relatively inexpensive service time. I shouldn't have to tell you he's among the top playmakers in the draft.
Interestingly, you can actually place a prop bet on the pick. The most likely event is that Chicago will trade down because Poles needs/covets extra draft picks. It helps that a lot of players between 10 and 30 are graded similarly. But sportsbooks still handicap the selection by each player. The latest odds are as follows, but they're heavily skewed toward need vs. BPA.
Myles Murphy, EDGE, Clemson
Lukas Van Ness, EDGE, Iowa
Jaxon Smith-Njigba, WR, Ohio State
Quentin Johnston, WR, TCU
Jalen Carter, DL3T, Georgia
Tyree Wilson, EDGE, Texas Tech
The Field
What you do not see there is a single offensive lineman, but in the gambling world, that makes at least some sense. The Bears ranked 29th in total defense en route to a 3-14 record and the well-earned No. 1 pick in the draft, since traded to the Panthers. They filled an offensive need in that trade by acquiring WR D.J. Moore.
From Path to the Draft: A look at #UGA DT Jalen Carter's pre-draft strategy of declining visits from teams outside the Top 10. pic.twitter.com/qBvPgNJSPU

— Ian Rapoport (@RapSheet) April 3, 2023
If you go by the consensus big board, i.e., the best player available, things look a bit different. I'll exclude the quarterbacks because each is considered a top-seven selection.
Carter
Will Anderson Jr., EDGE, Alabama
Devon Witherspoon, CB, Illinois
Peter Skoronski, OL, Nothwestern
Wilson
Robinson
Christian Gonzalez, CB, Oregon
Smith-Njigba
Calijah Kancey, DL3T
Van Ness
In case you're wondering, LT Paris Johnson Jr. is ranked No. 19 overall.
If Chicago's board lines up with the consensus, Skoronski looks like the best option unless one of the three ranked above him is available. If none of those players are at the top of Poles' board, he's going to trade down. He'll also trade down if all are available. At some point, even those teams that select the best player available will select for need. The risk is amplified tremendously in the first round, however. This offseason and next are going to make or break Poles' career, so don't expect him to compromise.
Poles will likely dial in for depth or go after players at a devalued position by the third round. You'll see a run on guards, tackles, running backs, and safeties then. Dak Prescott, for instance, was a fourth-round pick in 2022. The Ravens chose Orlando Brown in the third round in 2018, and Cooper Kupp was a third-round selection by the Rams the year before. Isiah Pacheco and Julian Edelman were seventh-round picks, and Brock Purdy was Mr. Irrelevant in 2022.
All that said, I can't help but return to past quotes from Eberflus and Poles about roster construction. When Poles was introduced to the Chicago press in 2022, he mentioned that building the offensive line was his top priority.
"I think it starts with the foundation of the offensive line and establishing that run game which then leads to explosive plays, the GM said at the time. "We have to continue to work on that, get that to a level and I think you will see more points scored and more efficiency, more explosive plays, everything plays off that. So that's going to be a focal point."
Eberflus probably favors a three-technique over an offensive lineman with Chicago's top pick.
"We call it the engine that makes everything go because in the running game, you can't run at the three and you can't run away from him, so it's hard to really dictate where you're going to run the ball, number one, and it creates a lot of free lanes for your linebackers to run through in the run game," Eberflus explained back in December.
"But in the passing game, a lot of times when you have two of them, you have a three-technique and you have a defensive end opposite of him, it's hard to move your line that way. He creates a lot of one-on-ones, and he's typically overmatched on a guard. Typically your best offensive linemen are on the outside and if you have your best player on the inside, that's certainly an advantage for you."
It should be noted that Chicago now has one of the best linebacking corps in the NFC and that Poles didn't pursue a DL3T in free agency. I don't read tea leaves, and I hate that expression, but it looks like Eberflus may get his wish, though that's based on circumstantial evidence at best. Don't forget, the Lions reportedly love Carter, too, and they have the sixth pick.
2 notes regarding NFL draft prospect Jalen Carter and the Chicago Bears:

1) Jalen was in Chicago for 2 days earlier this week, per sources.

2) The Bears have been doing a lot of homework on Jalen including talking with people from his hometown, per sources.

— Daniel Greenberg (@ChiSportUpdates) April 7, 2023
With that in mind, it's easy to see the Bears trading down, selecting Kancey or Bryan Bresee, and then looking for offensive line help in rounds two and three. I wouldn't rule out EDGE rushers like Wilson, Nolan Smith, or Myles Murphy if Chicago stays put, either. If Carter is available, Poles will have a very tough decision to make. In a perfect world, Levis and Carter would both be available. Poles could then create a draft night bidding war for the No. 9 pick.
The draft is only 19 days away. There are dozens of storylines today, with more coming as the event approaches. The mock drafts and overanalyses are miles from reaching the fervor we'll witness by April 20 or so. One thing you can count on, however, is that Chicago is going to select the best player available on their board, whether they stay put or trade down.