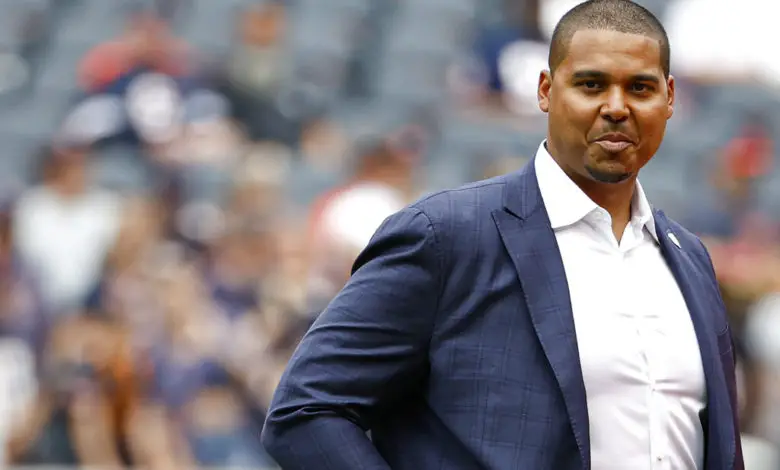 Bears Add Eight New Players to Roster and Practice Squad
The Bears signed six new names to their updated 53-man roster on Wednesday and claimed two more on Thursday. Ryan Poles believes the team still has room for improvement, even after a successful preseason. Poles made more waiver claims than any other GM in the league to address several shortcomings. First and foremost, Chicago managed only 893 offensive yards in three games (21st overall) and had a league-high eight fumbles.
The Trenches
The Raiders cut Alex Leatherwood Tuesday in what was arguably the most notorious of final roster cuts. The Raiders drafted the offensive lineman in the first round of 2021, but he struggled in pass protection. Leatherwood also earned too many penalties. The former Alabama star was moved from right tackle to guard and showed improvement, but it wasn't enough to sway new head coach Josh McDaniels to keep him.
The main reason I think Alex Leatherwood can stay at RT is because his issues don't stem from a lack of athleticism/length. He's getting to his spots in his kick slide but his tendency to bend at his waist gets him into trouble. A move to G doesn't fix that, coaching does #Bears pic.twitter.com/yTMb14VUyH

— Chicago Football Connection (@CFCBears) August 31, 2022
"I think the big thing is going back, talented player, physically gifted for sure," Poles said during a recent presser. "Prototype in his size and movement. And then in terms of like success with him here, I think we all believe in player development here, and we've put pieces in place to allow players to be their best selves. So, we're going to approach that in many different ways, and we're going to give him an opportunity to develop and grow. Forget the draft pick thing. That's over."
Poles, a former practice squad lineman, is highly regarded for his ability to spot talent in the trenches. His acquisition of Leatherwood is low risk but with big reward potential.
Poles also signed defensive end Kingsley Jonathan to play in the defensive trenches. Jonathan was selected number one overall in the CFL Global Draft this year but went undrafted in the NFL. He is undersized and accumulated only 15 sacks and 21.5 TFLs in 43 games at Syracuse. He plays at proper pad level and with good balance. At 24, Jonathan has room to grow as a player if he remains disciplined. Having access to NFL resources will be a big help.
The Bears also added Kellen Diesch to the practice squad. Poles reaffirmed he wants fast, athletic linemen in doing so. Diesch ran a 4.89 40-yard dash at the NFL combine and started all 13 games at left tackle for Arizona State in 2021. He did not get drafted because scouts felt he had short arms and inconsistent footwork.
Poles is happy he landed defensive lineman Armon Watts.
"That was a surprise to us," admitted Poles. "[As] I said with our guys kind of playing GM for each team, he was a guy that was already on and he was going to make it. So that was a name that [popped] up, and everyone looks like 'seriously?'"
Watts had five sacks and 33 pressures last season and will find a spot in the rotation behind Justin Jones and Angelo Blackson if he doesn't overtake Blackson entirely. The coaching staff confirmed their confidence in Watts by cutting Khyiris Tonga the same day. Watts can share insight into the Viking's defense as an added benefit after three seasons with them.
The Second Level of the Defense
The Bears signed defensive back Josh Blackwell on Wednesday after he didn't make the Eagles' final roster. Blackwell ranked seventh in passes defended in the ACC last year but will likely help Chicago more in the return game. He also ranked third in yards-per-punt-return in the ACC last year with Duke. Three fumbles were credited to Bears' punt returners in exhibition play, so that type of stability improves the unit.
Linebacker Sterling Weatherford reunites with his Miami (Ohio) teammate Dominique Robinson. The converted DB showed he will be a great fit in the Tampa-2 defense. Additionally, he offers solid coverage skills as a linebacker. He can blitz, cover, and take the ball away by racking up interceptions and forced fumbles. Weatherford is a stat sheet filler and welcome addition to Chicago's roster.
The Playmakers
The Bears claimed tight end Trevon Wesco off of waivers on Wednesday. Wesco has been with the Jets since 2019 and provides versatility and depth to the tight ends room. The veteran had six receptions for 87 yards and ran the ball twice for two yards while with New York. He played 27.5% of his snaps at fullback, 65.6% of his snaps at tight end, and 6.9% out wide. Jake Tonges was a surprise roster stash for the Bears and has a similar skill set.
Ihmir Smith-Marsette is a perfect example that you don't need to be 6-3 to be an X WR (check out that route vs Jaylon Johnson👀). He can beat press, stretch the field vertically, and his physicality in his routes stands out. Bears have some really nice depth at the WR position pic.twitter.com/ldJvQ30miN

— Chicago Football Connection (@CFCBears) September 1, 2022
Wide receiver Ihmir Smith-Marsette is the second former Viking to join the Bears off the waiver wire. The fifth-round draft choice (2021) was cut by Minnesota on Tuesday. Smith-Marsette adds speed to a banged-up wide receiver group. He's fast (4.23 40-yard) and averaged 23.2 yards per reception. Smith-Marsette had two touchdowns in 2021 and also helped Minnesota's return game, but was scarcely used as a receiver. He could be relegated to the practice squad once N'Keal Harry and Byron Pringle return.