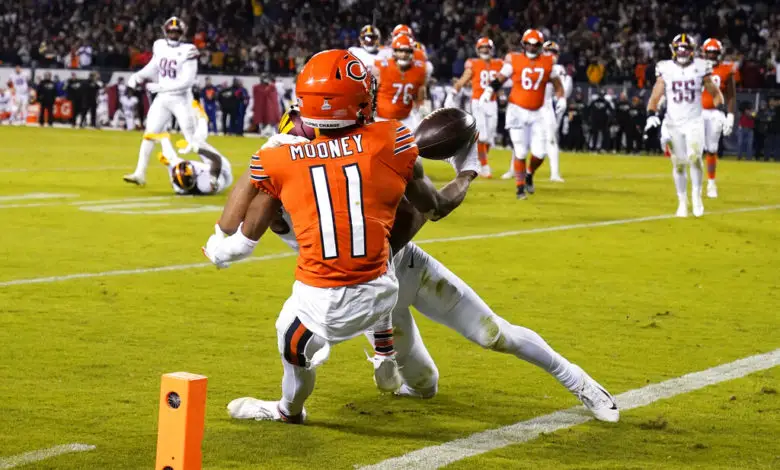 First & Long: Bears Red Zone Offense is Atrocious, O-Line Changes Coming, Scoring Down League-Wide
The Bears are 2-4 and things aren't looking up after the mini-bye. Chicago has to travel to Foxboro, MA for a nationally televised tilt against the surging Patriots, and are eight-point underdogs. It's odd to think about, but the Bears could be 4-2 or 5-1 if they had just executed better in their defeats. They had a legitimate chance to win every game except the loss to the Packers, and that wasn't really a beatdown, either.
In Thursday night's loss, the Bears were inside Washington's 5-yard line three times and came away with zero points. You can blame coaching, lack of execution, or suboptimal talent. It's probably a little of all three, but for the love of George Stanley Halas, the coaches have to do a better job of scheming in the red zone. I understand Chicago is rebuilding, but that's downright embarrassing.
Justin Fields is unarmed in every facet of the offense. He has few playmakers, a bad offensive line, and a coaching staff that regularly chokes in the red zone. Trent Dilfer sides with Fields more often than not, and he's right here, but Fields still has to make this play.
Trent Dilfer just broke this play down for us.

Says not a single part of this is on Justin Fields. Ryan Griffin's 'junk' is turned inside, forcing him to shuffle, giving Fields an inaccurate indicator on what his speed really is.

Dilfer is INCREDIBLE.https://t.co/t7x173W5CI https://t.co/sxTIOeCvaV

— The Parkins & Spiegel Show (@ParkinsSpiegel) October 14, 2022
"You know, it's about scoring," coach Matt Eberflus said about the red zone situation. "This league is about scoring touchdowns."
Chicago has scored in 48.67% of their red zone opportunities this season, which ranks 28th in the NFL. They're actually worse than last season when they scored on 47.92% of their opportunities.
They have run 34 times and passed 11 times inside the 20. Fields has 10 rushing attempts but many of his runs have come on scrambles that were designed as pass plays.
At one point, the Bears ran the ball on 24 of 25 red zone plays.
Fields is 4-of-11 passing in the red zone with two touchdowns and an interception.
One of the completions for a touchdown was essentially a running play. Fields connected on a shove-jet sweep by Velus Jones Jr. in Week 5.
Receivers and tight ends have dropped four catchable touchdown passes this season. Cole Kmet hasn't had a TD reception since 2020.
Khalil Herbert is averaging 6.4 yards per carry this season but just 2.7 inside the 20-yard line. He's rushed eight times for seven yards (0.875 YPC) inside the five. In other words, Chicago's offense is just as predictable as it was last season. Opposing defenses know what's coming, and that's on Luke Getsy.
Against the Giants, the Bears were 0-for-3 in the red zone and settled for four field goals. Chicago has one touchdown in their last 25 red zone opportunities, and they've scored two touchdowns in their last 42 overall possessions. The Bears are last in passing and next to last in total offense.
If you're looking for a positive, the Bears would be in the running for the division lead had they executed better. The games against the Vikings, Giants, and Redskins were all one-score losses. If Eberflus and his staff could have found ways to punch the ball into the end zone, Chicago would be 5-1 and leading the NFC North. That said, their two wins were by a combined total of 12 points, so the Bears could easily be 0-6 right now.
Fields deserves plenty of blame, too. A more experienced quarterback would have executed better. You can chalk it up to growing pains and learning a new offense, but Fields has to be better and he knows it.
"Plenty of opportunities in the game that we just didn't finish," Fields said. "So we've just got to get better with that.
"There were multiple plays in that game we could have made to change the whole game but for some reason or other, we didn't finish. It doesn't matter if you drive all the way down to the 5- or 1-yard line and don't score. That's the same thing as a three-and-out when you punt. Inside the 10, it's the same thing. So I guess the biggest thing is just finishing."
Bears News & Notes
There's a Flag…On the Play
Just when you think things can't possibly get any worse for Broncos QB Russell Wilson…
The #Broncos gave Russell Wilson a $245 million contract to lock him up for 7 years and they're ranked dead last in points per game in the NFL.

They also scarified their future by giving away two 1st round picks, two 2nd round picks and 3 players.

This. Is. Bad.

— Dov Kleiman (@NFL_DovKleiman) October 18, 2022
Scout Team
Film Room
Zappe came out of nowhere just like Tom Brady did in 2001. The rookie QB is 51-of-70 for 596 yards this season, including four touchdowns against just one interception. That's good for a 111.4 passer rating. Here's the rundown on Zappe.
250 yards, 10.0 YPA, 2 TDs

Bailey.

Zappe.
https://t.co/nNHawAUADt

— Warren Sharp (@SharpFootball) October 16, 2022
Northern Exposure
NFL News & Notes
Through the first six weeks of the season, the teams playing in prime time have averaged 19.2 points per game for the second-lowest mark at this point of the season since 2000.
Scoring is down league-wide, but the NFL is not concerned.
The NFL ownership group appears to finally have turned its back on Washington owner Daniel Snyder.
The league announced it will air Black Friday games on Amazon Prime starting in 2023. That's a nice little perk for Amazon's holiday shopping season.
NFL executive Troy Vincent said the league will not relax in its efforts to protect quarterbacks.
The Ravens have signed veteran free agent wide receiver DeSean Jackson.
Ben Roethlisberger thinks that Brady has stopped enjoying football.
Brady said that playing an NFL season is "like a military deployment."
Three-time Pro Bowl TE Delanie Walker has officially retired.
Quentin Hines, a former running back for the Patriots and CEO of the minor league football organization Rivals Professional Football League, was criticized for bringing a stripper to a recruiting event at a Detroit high school. No students were present, and the high school did not sponsor the event.
Three Yards and a Cloud of Dust
The Broncos are the first team in NFL history to have a 1-point loss and two overtime losses within their first six games of a season. It's almost unfathomable that this is happening under Wilson's watch.
Patrick Mahomes now has 33 games with 300+ passing yards, the most in a player's first six seasons. Don't forget, he started just once as a rookie.
On Thursday night, the Bears had three drives of 60+ yards to Washington's 5-yard line and came away with zero points. That hasn't happened in the NFL in 30 years.
From the Podium
"It's really about fundamentals and technique when you're talking to each player. How can he improve on his run technique, his pass technique, and his alignments? Is he getting his alignments down? His assignments, the keys, the techniques, all those things are important because [they create] cleaner football and cleaner execution for our football team." – Eberflus
"Like any other team, there are some things to improve. I feel like if we won our close games, I feel like the conversations around this team would be different. But we've shot ourselves in the foot these last few games." – J. Johnson
Victory Formation
The best thing the Bears can do is leave Thursday night's game in the rearview mirror.
https://www.youtube.com/watch?v=pzozUw1TlDw