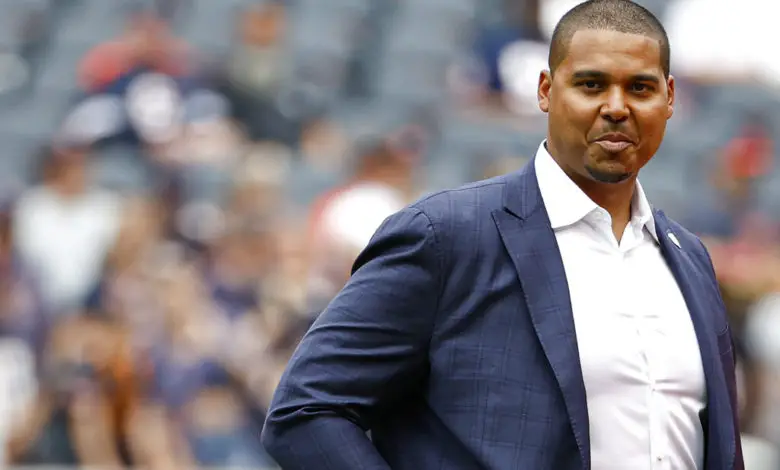 Ryan Poles Should Pursue Trades to Strengthen Roster
The Bears need help. Last Thursday, Chicago lost another close game to the Commanders and showed they lack top-tier talent. The Bears could not execute on two of three units and there's plenty of blame to go around. The coaching and play calling could have been better, especially in the redzone, where heaf Coach Matt Eberflus continues to force the run game. Justin Fields needs to get rid of the ball faster, not take as many sacks, and he missed on a pass attempt to Ryan Griffin in the endzone. 
There won't be a change at head coach or quarterback this year but there could be a change in personnel. Bears' pass-catchers continue to struggle with separation, and Griffin pulled up early on that endzone route. The defense couldn't stop the run and has struggled with containing the edge. The Bears don't have a horrible team, and they are closer to being much more competitive than the eye test may indicate. The NFL trade deadline is November 1st at 3:00 PM CT, and GM Ryan Poles should pursue the following players. 
Pass Catchers
While watching the Bears play this season, there's been a consistent struggle to get open. According to nextgenstats.com, Darnell Mooney is the only wide receiver capable of consistently separating from defenders. Mooney still lands near the middle of the pack of tracked receivers with an average of 3.1 yards of separation per target. The Bears need to trade for a receiver that can find openings and give Fields another target, but with less than seven million in available cap space, this may prove difficult. 
Colts wide receiver Parris Campbell would be a good target. Eberflus has a relationship with the Colts and can help initiate the conversation, and Indianapolis has two receivers ahead of the fourth-year wideout in Alec Pierce and Michael Pittman. Campbell is in his contract year, and the Colts may want to part with his $1.1 million contract. Poles just needs to find the right compensation. Campbell has caught 18 of 26 targets this year for slightly-higher-than 69% completion rate, and on those 26 targets, he's averaging 3.6 yards of separation.
Matt Ryan to Parris Campbell for the @Colts TD! #ForTheShoe

📺: #JAXvsIND on CBS
📱: Stream on NFL+ https://t.co/8OM0dwv0tB pic.twitter.com/iZdWHGMh9D

— NFL (@NFL) October 16, 2022
Nelson Agholor of the Patriots could be another potential target, as there is clearly no attachment to wide receivers in New England. Bill Belichick has many wide receivers that rotate in and out of the lineup. Agholor will need a little more help than Campbell fitting under the cap while carrying about $9 million this year. If the Bears can make the numbers work, his 3.4 yards of separation on 14 of 19 targets would be a welcome addition. The 39-year-old receiver has caught 60% of his career targets and could be a number two to Mooney.
Run Defense
The Bears struggle every week to contain the run. Chicago's secondary seems to have the strongest run defenders, but the Bears are weaker up front. Justin Jones, the biggest free agent signing for the Bears' defense this offseason, has a PFF 38.5 run defense grade. Nicholas Morrow is another notable addition to the defense and carries a 51.4 run defense grade. Poles should look to add a big body that can penetrate up front to help stop the run. 
On Thursday, the Bears saw how good Daron Payne could be. Payne has had four games this year without a missed tackle and has tallied 15 stops already. He's been focusing on pass-rushing for two years, and his grades have shifted upward. The Bears could bring him in to stop the run, and Payne also gets after the quarterback exceptionally well. As his contract is expiring soon, the Bears should think about acquiring and extending him. The Commanders may be willing to reallocate the $8 million Payne is owed into more receiver help or adding a better quarterback. 
Look at Daron Payne chuck the right guard and then decide that he doesn't want the Bears to pick up another inch on the ground all in the span of like two seconds pic.twitter.com/ocnGY2PtJ0

— Pete Hailey (@PeteHaileyNBCS) October 14, 2022
Poles could potentially look into Shaq Thompson or Frankie Luvu of Carolina. The Panthers seem anxious to deal, and the two linebackers rank in the top 17 against the run. Roquan Smith is the Bears' best run defender, and he ranks No. 37. Luvu offers better pass coverage skills and has a lower price tag. Thompson is better at defending the run, ranking third amongst linebackers, but would carry a $24 million cap hit next season. 
It is Poles' responsibility to make this team as competitive as possible. If he's going to stand in front of the fanbase and say this isn't a rebuilding year, then he needs to make a move or two. The Bears are closer to a playoff team than their record indicates. The Bears have come down to the wire in two games against the Giants and Vikings, who are both 5-1. Perhaps Chicago just needs that little nudge to move into the next tier. If Poles can acquire one or two players, the Bears could make a mid-to-late season run at a Wild Card.