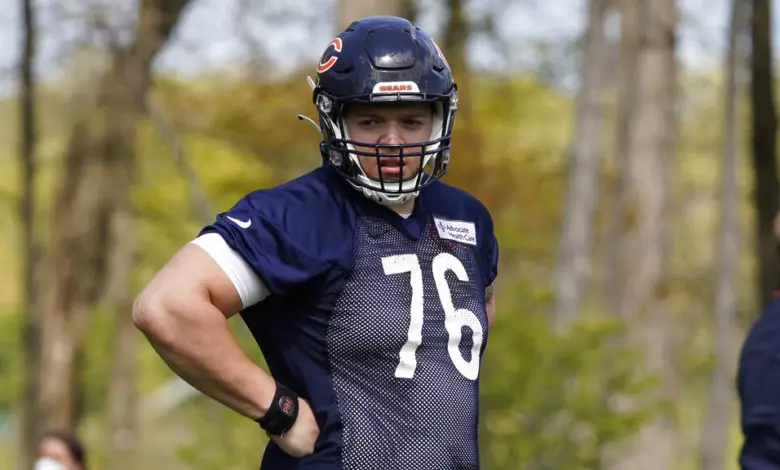 Perhaps Bears and Teven Jenkins Just Not a Fit
The second year tackle was absent from practice today
Teven Jenkins was absent from the practice field on Thursday, but it was business as usual without him. After Ryan Poles signed offensive linemen Riley Reiff and Michael Schofield this week, Jenkins was pushed further down the depth chart, and possibly out the door. At best, things don't bode well for much playing time this season for the second-year tackle. Perhaps Jenkins is just not a fit for this regime, though that hardly makes him a bust.
There's room to be concerned about Teven Jenkins without writing him off as a bust.

His style of play will very likely look better once the pads are on, and it's still early. Still, you should expect your second-round pick to practice with the starters. #Bears

— Jacob Infante (@jacobinfante24) July 28, 2022
Some believed that Matt Eberflus would move Jenkins to right guard. The thought crossed my mind at one point, too. The tackle worked on his fitness all offseason and said he was willing to play anywhere. Jenkins is cognizant of the fact that he is unwanted, though he worked hard to prove himself.
"It's about earning trust that I deserve to be on this team," he said at the time. "I'm working for that trust."
Most teams usually carry eight offensive linemen. Lucas Patrick and Cody Whitehair are locked in as starters. Reiff will have every chance to prove he deserves to start at left tackle. Larry Borom is the team's right tackle, and the Bears really love rookie Braxton Jones. Schofield has the edge to be the starter at right guard. The Bears also have rookies Doug Kramer, Ja'Tyre Carter, and Zachary Thomas in camp. Sam Mustipher is a veteran holdover from last year, but he's also on the bubble. That leaves Jenkins on the outside looking in.
It's doubtful the second-year lineman could transition to guard, but if Eberflus thought it was a possibility, Jenkins would be getting more reps there than anybody else. The head coach has seen the tackle's college tape and the six games Jenkins played last season. Apparently, he's seen enough.
Back in March, Eberflus was vague when asked about Jenkins competing for either tackle position. When spring workouts came, Jones passed him on the depth chart. The other day, the first-year head coach mentioned Jenkins as a possible swing tackle. Today he was a no show, and we probably won't know why until tomorrow. As Chris Berman of ESPN might say, "Back, back, back, back, back, back.."
You get my drift.
Eberflus and Poles should just move on if Jenkins isn't in their plans. That might be why the sophomore lineman was a no-show. Keeping Jenkins off the field will diminish his trade value. He won't accept a position on the practice squad if he can elect free agency instead. I'm sure his agent is already working the phones. Some team will take a shot on his athleticism as long as his back is healthy.
The sooner the Bears cut Jenkins, the better it will be for him. Hooking up with a team this early will give him a better opportunity to prove himself with another organization. Some team will surely take a chance on him. Poles seems like the kind of guy who will cut bait immediately. He has no reason to hold a grudge against Jenkins.
The coaching staff is still tinkering with the line and nobody knows for sure what it will look like when the Bears and 49ers meet in Week 1. Jenkins will have to pass a lot of players to earn a spot on the 53-man roster, but it appears he just isn't a fit. Considering what former GM Ryan Pace paid last year to move up and take the Oklahoma State standout, that's a shame. They could be passing judgment a little too early, but maybe they just never saw Jenkins as part of this team.