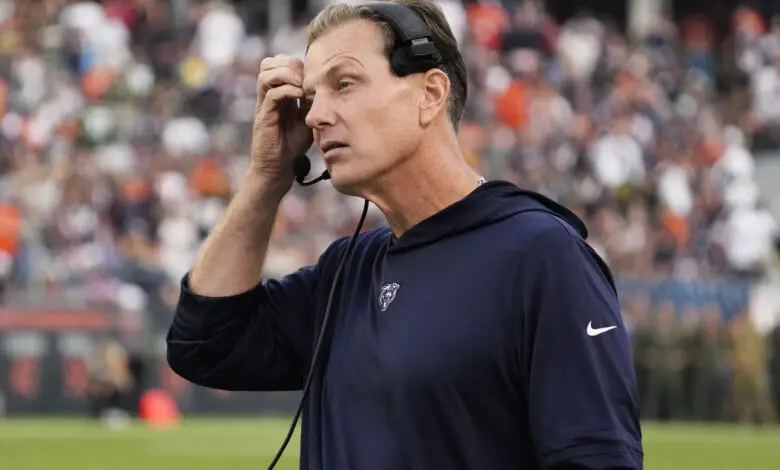 Time to Move on From Loss to Packers
Sunday's 38-20 loss to the Packers was ugly and excruciating. The Bears failed in every facet of the game except kicking field goals, so give Cairo Santos a game ball. Rookies Darnell Wright, Roschon Johnson, and Tyrique Stevenson proved they belong in the NFL, too. Other than that, it's simply time to press the reset button.
Chicago travels to Raymond James Stadium on Sunday to play the Buccaneers in Tampa. Some analysts are calling it a must-win game because the Bears play the Chiefs in Kansas City the following week. The Bears, as the team stands, aren't anywhere close to playing season-defining games. First- and second-year players make up a little more than 40% of the roster, and the coaching staff has just 18 games under its belt. The Bears are still in rebuild mode, full stop.
Additionally, most of the starters sat during Chicago's preseason games. You can blame Sunday's poor showing on that, at least partially. Nine of the Bears' 22 starters weren't with the team last year – including two rookies – and lack of playing time certainly affected their cohesiveness.
Let's, therefore, temper our expectations a little. The Bears weren't prepared to beat the Packers, but they might not have beaten anybody on Sunday. In fact, Chicago looked as bad as Green Bay did in their 2022 season opener when they were throttled 23-7 by the Vikings. Matt LaFleur rested his starters all last summer, too.
The Buccaneers will approach Sunday's contest looking to stop Fields and stall Chicago's ground game while creating turnovers. Tampa Bay's defense got the season off to a good start with three takeaways, eight quarterback hits, and a general commitment to swarm to the football. The Buccaneers held the Vikings to 41 yards on 17 carries, and they'll look to duplicate that performance against the Bears.
The Bears are going to need to establish the run because Justin Fields could be in for another long day passing the football. Fields struggles against zone coverages, and the Bucs had the league's highest zone coverage rate in Week 1. Chicago's offense did not face any man coverage snaps against the Packers. Fields' average depth of target was 3.7 yards and that will have to improve. The third-year quarterback targeted D.J. Moore twice on Sunday, and Luke Getsy said that was disappointing.
"It was definitely a disappointment," Getsy said. "There's a lot of reasons why things happen. Protection could have broken down for a particular play for him. Justin [Fields] maybe didn't see something in a particular way.
"There's a lot of things that go into it. We definitely are calling plays for D.J. and he knows that and he wasn't frustrated by any of that. And sometimes it's just the way the coverage dictates to where the quarterback has to go with the football, too."
Luke Getsy admits he's aware of the pressure in this market for the OC to develop a young QB like Justin Fields, but he doesn't let that affect his decision making.

"I don't really have a chance to listen to all that or read all that."

— CHGO Bears (@CHGO_Bears) September 14, 2023
Getsy needs to do much better at calling plays, too. Chicago's offense looked awfully offensive too often last week.
Chicago also struggled on defense and will need to improve on Sunday. The Bears allowed the Packers to convert 56.3% of their third-down attempts and failed to force a turnover against Jordan Love, who was making just his second NFL start. The Bears did limit Love to 15 completions in 27 attempts, but unfortunately, the Packers averaged 16.3 yards on the balls that were completed. That's a complete breakdown at every defensive position group.
Defensive coordinator Alan Williams did not address the media on Thursday, as he was absent due to personal reasons. The Bears also put Kyler Gordon on the IR, so he'll miss at least four games. That means Stevenson and fellow rookie Terrell Smith will see a lot more action this week.
Like Green Bay, the Buccaneers are playing without a future Hall of Fame quarterback this year. The new QB1 replacing Tom Brady is Baker Mayfield, who overcame a slow start in Minnesota only to find his rhythm in the second half of a 20-17 win over the Vikings. Mayfield threw for 173 yards and two touchdowns on 21 of 34 passing and did not turn the ball over. He also buoyed the offense with several key runs, including one that sustained the Bucs' final clock-killing drive.
Example A on why Baker Mayfield wins over his locker rooms (🐶): pic.twitter.com/ZkRIeSRSbc

— Spittin' Cap™️ (@SpittinCap) September 10, 2023
The Bears are a long way from being a true contender in the NFC. That said, the division is not lost just because of one piss-poor game. Chicago has some pieces in place but will need time to find chemistry with so many new players.
Fields needs to start proving that he is a true franchise quarterback. Moore is a dynamic receiver, but keep your eyes on Darnell Mooney this week. He had significant success against Green Bay's zone coverage in Week 1, earning a 70.8 receiving grade. He should have similar stats on Sunday.
Moore could have a big game, too. Justin Jefferson burned Tampa's defense for 150 yards, catching nine of 12 targets from Kirk Cousins. Minnesota might have won that game had Cousins not lost two fumbles. Turnovers have been a problem for Fields, too, so he has to do a better job of protecting the football.
Cole Kmet will be another option. He matched his season-high from last year on Sunday with seven targets, totaling 44 yards on five receptions.
Watch Khalil Herbert, too. The third-year back racked up 100 yards on the ground to go with five receptions and another 33 yards through the air when the teams met in 2021. Herbert also had two runs of 20+ yards in that game. The Bears' offense is already at a crossroads one week into the season and playmakers like Herbert, Moore, Kmet, and Mooney need to be more involved. The defense needs to do a better job of stopping their opponents, too.