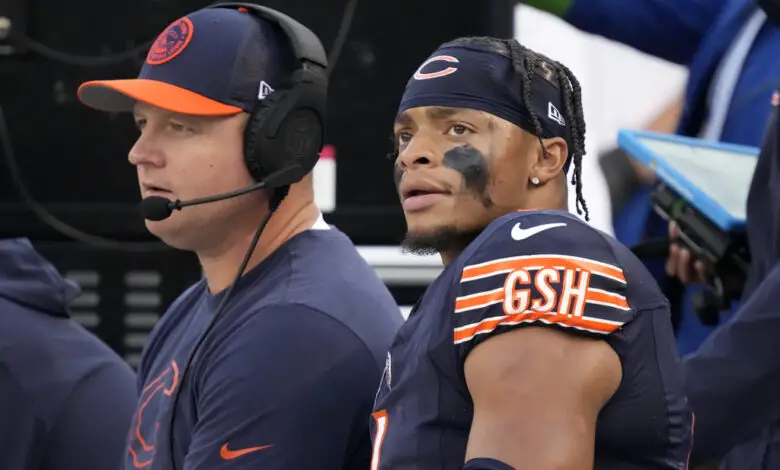 What in the Name of Luke Getsy Is Going On Here?
Aaron Rodgers doesn't own Chicago anymore, but Packers head coach Matt LaFleur does. If you believe in NFL espionage, Bears offensive coordinator Luke Getsy could be his inside guy, too, the mole who co-conspires to help Green Bay regularly embarrass the Bears.
Yes, that's an overreaction on the heels of an ugly 38-20 loss, but it is a well-deserved one. The Bears looked exactly like a team that decided to skip most of training camp, because they did, which took some careful planning by Matt Eberflus and his coaching staff. They went to great lengths to ensure Chicago wouldn't be ready for Sunday's game. It was so bad that Jaquan Brisker made like Henry Hill when he told the media that sometimes everybody takes a beating.
"I feel like we needed this," Brisker said after the game. "I feel like we might have been too high, and we just needed to get slapped in the face one good time. We needed this, especially in the first game, early. The type of team we are, the type of players we have, what we built, we needed this—got to be more disciplined. I felt like we were riding too high."
Maybe, maybe not. Braxton Jones looked like he forgot how to play football. Khalil Herbert struggled to gain yards. Chase Claypool looked like a palooka throwing a fight at one point.
Down goes Chase Claypool pic.twitter.com/1zg5K72Kf3

— Gustavo (@iamvega1982) September 10, 2023
I predicted a two-touchdown victory and looked ridiculous after Sunday's game, though I feel victimized by inept coaching.
The Bears played the Packers close in the first half, trailing 10-6 after 30 minutes. Getsy opted to play conservatively and Chicago's offense looked lost because of it. It is downright alarming that D.J. Moore had just two targets on Sunday. Getsy kept forcing the run on a day when the ground game was decidedly grounded. He showed a complete lack of faith in Justin Fields as a passer. He fell in love with screen plays that continually failed. The Bears were three scores behind by the time Getsy readjusted his game plan.
We've given Getsy lots of credit for the way he rebuilt the Bears' offense. We expected Fields to be more comfortable in the system now that his surrounding talent improved. Instead, it looked like the Bears regressed. Fields didn't attempt intermediate or deep passes with any consistency until late in the third quarter. The unit found a little cohesiveness towards the end of the game, but by then it was too little, too late.
Getsy has faced his former team three times, and in each instance, the offense looked like it was playing way too tight. LaFleur and the Green Bay defense looked like they knew what was coming on almost every play. The lack of faith in Fields is distressing. Playing not to lose is disturbing. Putting Cole Kmet behind center is expert-level malfeasance. Who was Getsy trying to fool besides those who attended the game or watched it on television?
Luke Getsy probably already regrets that first series. Questionable call on third-and-1 to line up Cole Kmet, the TE, under center. Opening drive no time to see if gimmicky play will work. Hand off or sneak on third down. Bad start for offense, which was moving the ball.

— David Haugh (@DavidHaugh) September 10, 2023
Fields may not be the franchise quarterback we are all hoping he will be. We'll never know until Getsy trusts him, however. It's okay if Fields isn't that guy. Bears fans understand that every signal-caller is cursed the minute the team drafts one. But Fields has a lot more athleticism than the average quarterback and should be that guy. If the Bears won't play to his strengths, what's the use of playing him at all?
Eberflus deserves equal blame for not forcing Getsy to alter his playcalling. Then again, the head coach had no proof of concept because he let his starters cruise through the preseason like exhibition football is an unnecessary nuisance. The bulk of their work was a joint practice with the Colts, and Eberflus pulled Fields then, too.
Simply put, the Packers came into Chicago prepared to win, and the Bears were not prepared to stop them. Eberflus and his coaching staff deserve all the blame.
"You've just got to let truth soak in," safety Eddie Jackson said. "As much as it hurts, as bad as it feels we've got to come out. There's still 16 more games left. We've got to come out tomorrow, look at the film, put the corrections in, and just have that in our mindset that we can't ever let that happen again."
That's a nice way of saying the coaches failed.