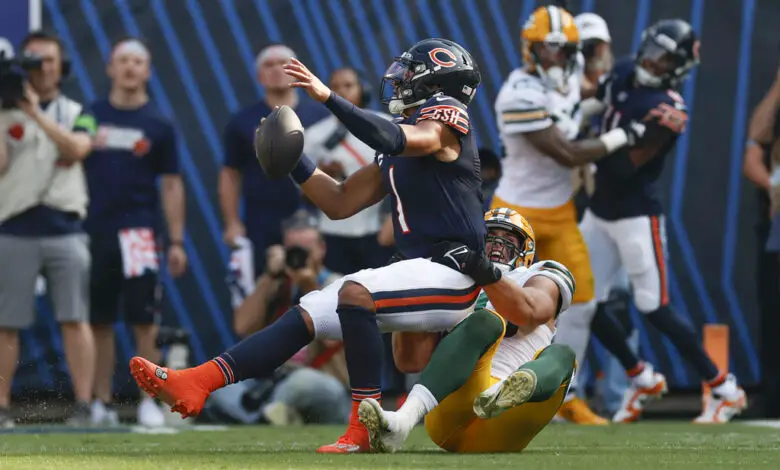 First & Long: Week 1 Reactions, Getsy's Blunders, Defensive Ineptitude, Rodgers Facing Long Rehab
It's incredible how one wretched game can change so many perceptions, right? The Bears were manhandled by the Packers on Sunday and looked like a team that thought it was still playing preseason football. Chicago was out of sync, several steps behind Green Bay, and took far too many penalties. Then again, Matt Eberflus gave his starters the summer off for all intents and purposes.
Things are so bad that The Athletic now projects that the Bears will have two top-five draft picks ($) next April. I suppose the good news is that Chris Burke and Austin Mock project that Chicago will finish with six wins, while the Panthers are likely to win six or seven games. I'll quote the article for you.
The silver lining (if we're doing silver linings with 17 weeks left): Chicago currently is projected to hold two of the top five picks in the 2024 draft — the Bears have the Panthers' first-rounder in their back pocket, courtesy of the '23 draft trade for No. 1 overall.

The reality of that situation, and this exceptionally talented QB class in particular, is it will force GM Ryan Poles to make a call on Justin Fields' future as a franchise QB. But that fork in the road was coming anyway, so may as well reach it with two high draft choices.
Ouch. Yes, Fields looked bad, but offensive coordinator Luke Getsy didn't give him many chances to succeed. Or did he? The Packers defended Fields by deploying zone coverage for nearly the entire game. D.J. Moore finished the game with two targets as a result. That's a growing trend, and one Getsy, Fields, and head coach Matt Eberflus need to address. Getsy, on the other hand, might want to address his playcalling, too, because it makes no sense. There were too many instances on Sunday like the one diagrammed below. Earmuff the kids.
This is so bad on so many levels.
This can't be real.
Just let 85 be an OT if he is blocking.
Clown routes to the bottom.
WTF!#DaBears
Full video: https://t.co/oGkwkwRGrt pic.twitter.com/uLo0Jmw0P5

— The QB School (@theqbschool) September 13, 2023
Teams can zone press because the Bears have a leaky interior offensive line and it forces Fields into shorter routes, an area where he clearly struggles. The third-year starter ranked 29th in the league when targeting zone coverage last season. He threw one touchdown pass against five interceptions in those situations. Fields also ranked 29th in completion percentage against zone coverage. But make no mistake, Getsy isn't doing him any favors.
Fields' average depth of target was 3.7 yards on Sunday, per Joe Ostrowski. In that sense, Getsy tried to help and QB1 failed him. Zone coverage allows for easy throws underneath and between the zones. Getsy called those types of plays, and his quarterback couldn't execute. But the Bears didn't run many hook and flat routes, and I only saw one slant and hitch combo, which fell incomplete.
Those types of plays keep a defense honest and, if successful, force the opposition into man coverage. Getsy opted for short passes to his running backs and tight ends. Cole Kmet, Khalil Herbert, Roschon Johnson, and D'Onta Foreman were targeted in 22 of Chicago's 37 pass attempts.
Running the ball helps, too, but the Bears, who led the league in rushing last year, looked quite pedestrian on Sunday. Fields and Getsy have a lot of work to do. Better playcalling will help, but better execution is just as important.
Bears News & Notes
There's a Flag…On the Play
Getsy and Fields should lock themselves in a room and figure it out.
Seeing a number of all-22 analyses showing that Fields is not seeing it when guys are open, but there are also some plays where the design means nobody is open.

So, uh, I guess it's both. Which is just about the worst possible answer. https://t.co/pCakvdlFky

— Johnathan Wood (@Johnathan_Wood1) September 13, 2023
Scout Team
Film Room
.@justnfields hits @Darnell_M1 for 6 🎯

📺: #GBvsCHI on FOX pic.twitter.com/Cii1xYTRxh

— Chicago Bears (@ChicagoBears) September 10, 2023
Northern Exposure
NFL News & Notes
Former Tampa Bay wide receiver Mike Williams has died at the age of 36, his agent Hadley Engelhard has confirmed to multiple outlets.
Rodgers faces an "uphill battle" in his recovery from his ruptured Achilles tendon given his age and the severity of the injury.
NFL players continue to rip the league over artificial turf in the wake of Rodgers' season-ending injury.
The long pass is trending toward extinction.
Hall of Fame receiver Michael Irvin's extended suspension from NFL Network ended abruptly on Sunday, amid news that he had settled his lawsuit against Marriott.
Three Yards and a Cloud of Dust
The median NFL team receiving grade in 2022 was 73.6. In his NFL career, Fields has played only two games where Chicago's receiving grade was higher than that, both of which occurred during his rookie season.
The Lions are the first team in NFL history to score 20+ points while throwing zero interceptions in 10 straight games.
Bills QB Josh Allen has 83 turnovers since he entered the league in 2018, the most in the NFL.
From the Podium
"It's important for us to be able to get the ball to our best skill. We need to do that, and we need to do that as an offense. We have to do a better job there. Were the plays designed for him to go there sometimes? Yep. And they had some different coverages rolled up to him at times and different things that they were doing, which some teams are going to do, but we certainly have to find ways to feed D.J. [Moore] and feed our skill [players]." – Eberflus
"We've got to block the perimeter better, we've got to sustain our blocks. and we've got to take better angles. That's part of what we need to improve, for sure." – Eberflus
"It's not about putting our head down. I've been in this game for a long time and I understand how it goes. You can't let one game define you and this game is definitely not gonna define us. It's about getting back to work and it's also about taking [this loss] and learning from it. It's not losses, it's lessons. We can take lessons out of this and we can learn from it and get better." – Tremaine Edmunds