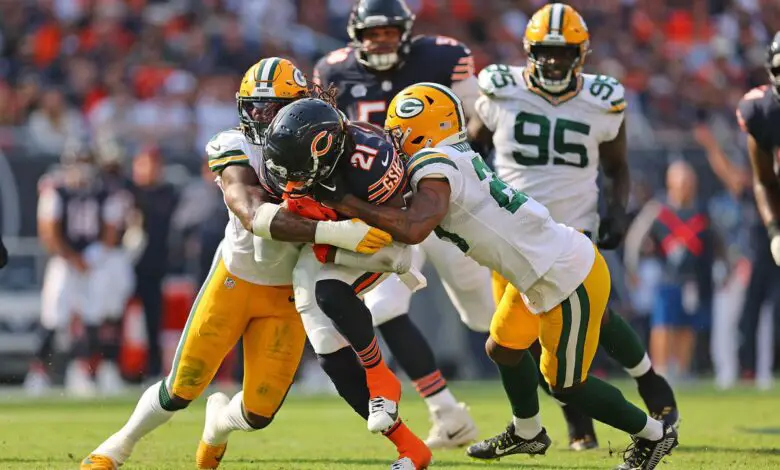 Chicago Bears Score and Recap (Week 1): Packers 38, Bears 20 – Bears Don't Feel the Love in Ugly Week 1 Loss
Aaron Rodgers may be gone from Green Bay but apparently the Packers still own the Bears. Chicago got thumped in the first game of the 2023 season and it raises a lot of questions about just how far they have to go to get back into contention.
The Bears were aggressive in their opening drive going for a 4th down in their own territory but failing to get it. The Packers took advantage and went down the field to score a touchdown on a 8-yard Jordan Love pass to WR Romeo Doubs
Chicago was able to move the ball a bit relying on short passes and scrambles from quarterback Justin Fields. They made a long field goal and then got a red zone opportunity late in the first-half but were unable to cash in on a 1st and goal and had to settle for another field goal  Green Bay was able to kick their own three-pointer with time running out in the half and led 10-6 at the break.
The Packers started the 3rd quarter with a long drive featuring an Aaron Jones 51-yard catch and run that he finished off with a 1-yard touchdown. Jones then had the back-breaker on the next drive, taking a short pass on a 4th and 3 and taking it 35 yards to the house to make it a 24-6 score.
The Bears fans were very frustrated with the lack of big plays from the offense and booed at several points during the game. Fields did connect with Darnell Mooney in the endzone late in the 3rd to cut the deficit to 24-14.
Green Bay responded immediately marching right down the field and using a long Love pass to tight end Luke Musgrave to set up another touchdown as the 4th quarter began. Linebacker Quay Walker added the final insult, intercepting Fields and taking it back for six. Chicago would put up a garbage-time touchdown but it was merely cosmetic in the 38-20 loss. (Box score)
Why the Bears Lost
The defense continues to generate almost no pass rush which gave ample time for the young Packers signal caller Love to find open receivers. Offensively almost no effort was made to push the ball down the field, perhaps, because of concerns about the offensive line which broke down extensively late in the game.
Key Moment
If the Bears had been able to stop the Packers on Jones' 4th down TD catch they would have had the ball in good field position down 17-6, instead they were behind 24-6 and really never got back in the game.
Stats That Matter
It was just not good enough for Justin Fields Sunday with only 216 yards in the air, many of which came in garbage-time, and two costly turnovers. 59 rushing yards helped but not that much to offset the lack of passing yardage.
None of the possible replacements for David Montgomery at running back did anything, combining for 63 yards on 19 carries against a suspect Green Bay rush defense.
DJ Moore was hardly a game changer in this one with two receptions for 25 yards. Amazingly, those were the only times he was even targeted Sunday and he had no rushing attempts! That absolutely has to change the remainder of the season.
Bottom Line
The Bears presumably have been preparing for this game all off-season but they appeared shockingly unprepared for this contest. The defense showed negligible improvement and even more disappointingly, Fields and the offense seemed to take a step backwards. Head Coach Matt Eberflus and especially Offensive Coordinator Luke Getsy need to make major adjustments for next week or this could be a long year again.
Next Up
The Bears travel to Tampa for a Week 2 matchup with Baker Mayfield and the Buccaneers (1-0). Sunday's 12pm CT kickoff is available on FOX.