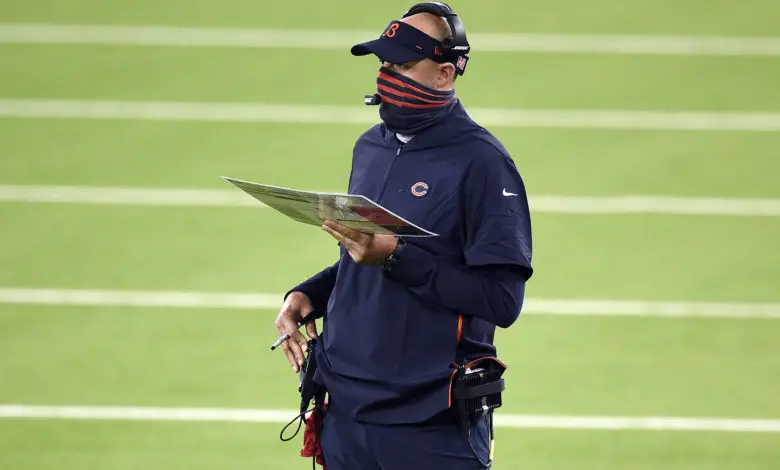 The Disappearance of Cole Kmet Tops 4 Maddeningly Contradictory Themes from Bears' MNF Loss to Rams
You probably want to read a lengthy think-piece detailing the Bears' myriad flaws about as little as I want to write one, so I'll try to keep this bad boy short and sour. It'd be one thing if Chicago had merely lost to the Rams on Monday Night Football, but the bigger issue is that they looked lost throughout most of the game. And on those occasions when it seemed they'd found something that worked, they inexplicably stopped doing it.
Well, there was at least one instance of that, with several other themes dealing more with general lack of talent or competence. Anyway, let's get to the four maddening topics that made me want to turn the game off but led to me hate-watching instead.
Deep ball/heavy coverage
It seems at times as though the Bears run nothing but little underneath routes, with the occasional sideline target that inevitably comes up a yard or two short of the line to gain. However, it appeared as though they were being more intentional about throwing the deep ball to Allen Robinson and Darnell Mooney in particular.
At the same time, Nick Foles was under so much pressure that he wasn't able to make many accurate throws. Even when he was putting it the money, he was throwing into double coverage or worse. His interception in the end zone came with two blue jerseys in the area, then there were four Rams around Jimmy Graham later in the game on the Foles' second pick.
Robinson managed to haul in a 42-yard throw and drew a PI on another deep ball that Foles underthrew badly, but overall it felt as though the QB was just chucking it deep and hoping for the best. It's fitting that the final Bears play came when Foles threw well wide of Javon Wims, who had shaken all-world corner Jalen Ramsey with a double move and was all alone down the sideline.
Forced 5 punts/Ginn wanted nothing to do with them
With the offense mustering only three points, special teams needed to step up to shorten the field and make something happen. The defense created opportunities to do so, forcing five punts from the Rams, but Johnny Hekker plopped his "watermelon kick" inside the 20 all five times. It didn't help that Ted Ginn Jr. – who's only in the role because Tarik Cohen blew out his knee – wanted absolutely nothing to do with returning those booming kicks.
Ginn literally ran away from the ball, thus ensuring his complete absence from the box score. While discretion is most definitely the better part of valor in many cases, it's not very helpful to have a punt returner who can't or won't return punts.
Finally went for 4th down/Coward
The Bears opted not to go for it on fourth and two early in the game when they were relatively deep in Rams territory, choosing instead to kick the field goal that would be their only offensive output on the night. In what ended up becoming a prescient tweet, I called Matt Nagy a coward and said he needed to go for it next time.
And of course it was Coward who ruined it. https://t.co/MNmdqjPz0e

— Evan Altman (@DEvanAltman) October 27, 2020
So after forcing one of those Hekker punts on the ensuing possession, the Bears lined up to go for it on fourth and one at their own 19. And of course, it was left guard Rahaad Coward who was flagged for a false start that ruined the play, making it one of the few times a mention of 69 wasn't followed by "Nice." Maybe Rams fans said it.
Whoa, Kmet!/No Kmet
Rookie tight end Cole Kmet's playing time has remained curiously stagnant this season, though he'd seen an increasing percentage of snaps in the three previous games and seemed primed for a bigger role Monday. That appeared to be coming to fruition when he made an acrobatic catch over the back of his defender on an underthrown ball from Foles – hey, there's another theme – for a 38-yard gain. He then caught a 7-yard pass on the next play, accounting for 45 of the Bears' 58 yards on their lone scoring drive.
Those ended up being the only two times Kmet was targeted the entire game as he was in on just 32% of his team's offensive snaps, his lowest mark since Week 3 against the Falcons. While that's a slightly higher percentage than Demetrius Harris, whose surest grab may have been the holding penalty in the end zone on the Bears' first play of the second half that Rams Coach Sean McVay inexplicably chose to decline, it makes no sense that Kmet isn't getting more run.
"I couldn't agree more with you," Nagy responded when asked about Kmet's lack of playing time. "That's something we're really going to start looking at with him. He's getting better by the day."
Dude, what in the blue hell are you talking about? As the head coach and play-caller, Nagy is 100%  responsible for the formations and personnel decisions and here he is acting as though some other force is working against him in his efforts to put his best players on the field. Along with his questionable situational awareness, from clock management to play calls, this tendency to distance himself from responsibility for his decisions has unfortunately become a Nagy hallmark.
Kmet showed very clearly during his time at Notre Dame that he's a big-time receiving threat, but he's only been targeted a total of seven times through seven games. One might think that a big pass-catcher like that would come in handy against a defense that was giving Foles precious little time to throw. At the very least, you have to figure the Bears would want their second-round pick out there to develop.
But what do I know, I'm just some meatball whose head hurts after watching the Bears beat their metaphorical heads against the wall yet again.