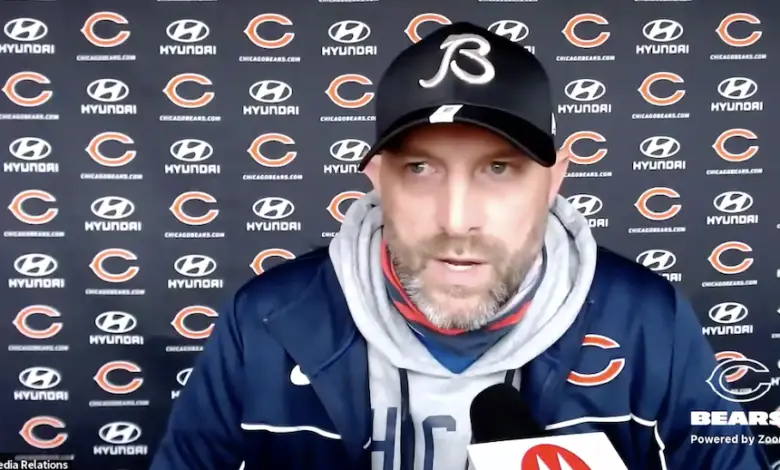 Matt Nagy 'Not Opposed' to Relinquishing Play-calling Duties, Doesn't Believe That's the Issue Now
Matt Nagy held his day-after press conference Tuesday afternoon and, as you can guess after a performance like Monday night's, there was plenty for him to explain. One of the main items in question is that there is something wrong with the team's offensive play-calling, for which Nagy is responsible. That was a hot topic across social media and it has now spread to the actual media as well.
The coach was asked by 670 The Score's Chris Emma whether he would consider giving up play-calling duties to offensive coordinator Bill Lazor or somebody else on staff, which drew somewhat of a passive-aggressive answer.
"I always look at all that," Nagy said. "That's the very first thing I look at, is [play-calling]. I talk to our coaches and we talk through that whole process. I am really honestly not opposed to – there's no opposition from me if we feel like that's what the issue is.
"We look at that. Right now, where we're at, that's not where we think it's at. But at the same point in time, I'll always look each week."
I asked Matt Nagy if he would consider relinquishing the Bears' play-calling duties. He will continue on for now, but spoke honestly about why he would be willing to do so. pic.twitter.com/KwAAyClSfM

— Chris Emma (@CEmma670) October 27, 2020
He went on to acknowledge that even a small change here or there can make a difference when the offense is in a rut and that egos can't get in the way of potential improvements. But at the same time, he doesn't really offer anything concrete in the way of a solution.
The thing that doesn't feel right to me about this is that Nagy knows there's something wrong but deflects responsibility. He says he wouldn't be opposed to a change if that's what the collective felt was best, but then he says the Bears don't need to change because play-calling isn't the issue. Or at least he feels there are other issues that need to be addressed ahead of that one.
While it's true that Nagy handing off some of his duties won't fix the O-line or magically heal Tarik Cohen, it might help to make Cole Kmet a bigger part of the offense. When a team like the Bears is in a rut it could be anything. Hey, maybe they just need a small tweak. It seems like that's an easier position to take when you're 5-2 versus, say, 2-5.
Here's the full interview (starting at 19:00):
Back at Halas Hall, Matt Nagy is addressing the media.@Hyundai | #DaBears https://t.co/lpZaxdUrZw

— Chicago Bears (@ChicagoBears) October 27, 2020