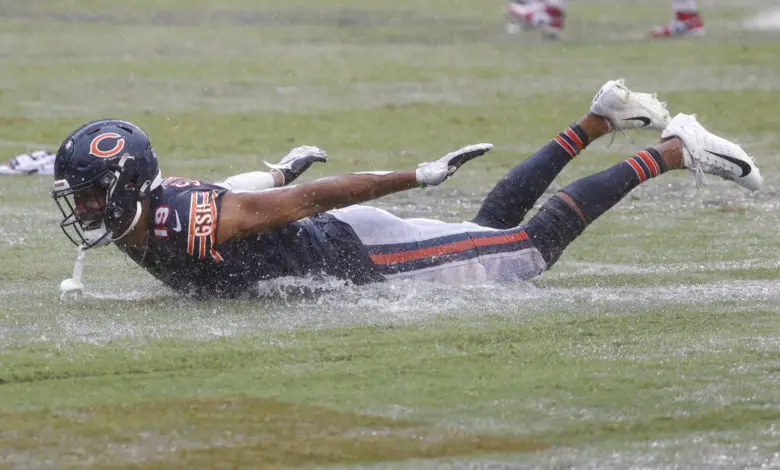 The Chicago Bears Den Podcast: Bears Beat 49ers and a Look Ahead to Green Bay
The Bears defeated the 49ers 19-10 Sunday and hope to build off of that momentum going into Green Bay on Sunday night. After a slow start, the Bears offense scored three times while shutting down San Francisco to end the game in victory formation.
The weather and the field hindered both teams and led to some sloppy football. The plans to have a roof on the proposed stadium for Arlington Park sound much more appealing after watching water shoveled off the Soldier Field turf.
Justin Fields chose to wear gloves because of the weather, though I'm not sure if it helped or hurt. He struggled a lot in the first half but got on track with a third-quarter touchdown pass to Dante Pettis. The broken play seemed to right Fields' confidence. The weather and field conditions didn't hinder everyone, and in fact, some Bears players played well.
WOW🤯

Rivalry week is getting started with some BEEF! #Packers CB Jaire Alexander and #Bears WR Darnell Mooney are trading shots.😳

Who do you got in Sunday night's matchup?🤔 pic.twitter.com/ufRqPtciC9

— NFC North News (@NFCNorthNewss) September 15, 2022
Chicago will need a strong effort from all of the team's starters to beat Green Bay. Star players Darnell Mooney and David Montgomery need to improve over last week's performances for the Bears to stay in this game. Bill and I are confident the Bears can get another victory, but the Packers have a history of bouncing back after a bad loss. We'll dig into the Week 1 victory and make predictions for Week 2.
Make sure you are logged into your Spotify account to hear the entire broadcast.