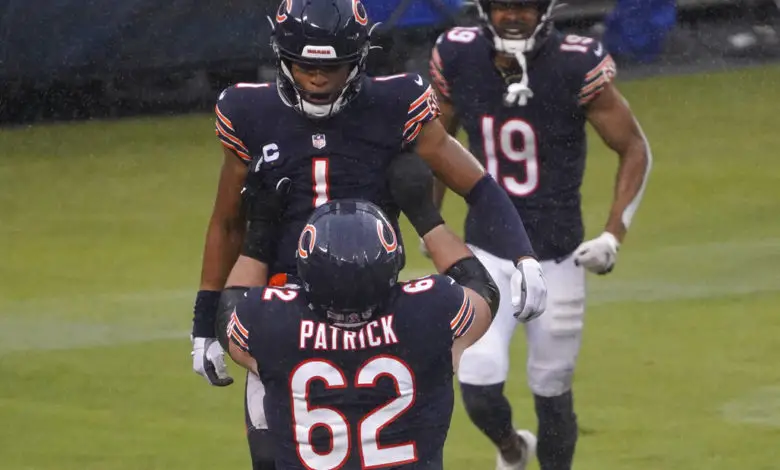 It's Homecoming Week in Green Bay for Lucas Patrick and Luke Getsy
Lucas Patrick will return to Green Bay this weekend as a Bears honorary captain. Patrick, who missed almost all of training camp due to a thumb injury, split time at guard with Teven Jenkins last week. He played 27 snaps in Sunday's 19-10 win, and will make his first start against his former team. The veteran lineman played for the Packers during the previous six seasons. Eberflus told Patrick today he would be one of the team's captains.
Former Packers OL Lucas Patrick will serve as #Bears honorary captain for Sunday night's contest in GB.

— Larry Mayer (@LarryMayer) September 14, 2022
"I mean it's pretty huge," Patrick said today. "Any time you can be a captain and be up there representing your team and this great organization, it means a lot. It's pretty impactful to me. I know it's going to be a storyline – me going back there and all that. But it's pretty cool for me to be an honorary captain for this game and be out there on Lambeau with my guys."
Patrick currently working his way back from surgery on his right hand. But he's feeling better with each week and each practice and, for now, remains comfortable with whatever rotation the Bears use. He expects his return to Green Bay to be an emotional one.
"I had a lot of memories there with close family and friends," the veteran lineman said. "I know you guys probably don't like to hear this, but we have personalities and feelings. And I have some friends still there. So, yeah, I'll definitely have some gratitude and some emotion. But at the end of the day, I have a job to do."
Make no mistake, Patrick is happy to play for the Bears. He's arguably one of the best free agent signings first-year GM Ryan Poles made, and he enjoys working with Justin Fields. He raved about Fields' leadership and athleticism during Chicago's May minicamp.
"[Fields] can get moving pretty quick," he said at the time. "He's a fun guy. He's young, so he likes to have the juice and the energy. And, he's got a live arm. I mean, there were a few throws he made today where the ball – it's like it keeps getting faster and faster in the air. He's soaking everything up… [We] couldn't have a better start to a working relationship."
Patrick passed on several other offers to play for Chicago, and Fields is one of the reasons why. Offensive coordinator Luke Getsy is the other. Getsy was a quarterbacks coach with the Packers before joining the Bears this year. Sunday will be a homecoming for him, too. Green Bay lost to the Vikings on Sunday, and it sounds like the team really misses Getsy. Aaron Rodgers called his former coach a close friend and confidant.
Packers head coach Matt LeFleur praised Getsy for his work with Fields.
"I think he looks more decisive out there, and I think that's a natural progression," LaFleur said of Fields. "Obviously, I know Luke Getsy very well, a guy I have the utmost respect for and I know he's a damn good coach. I'm sure he's really helped his growth. I thought just the resiliency he showed, that's a tough football team. They battled them and were more physical than San Francisco. Most importantly, especially for young quarterbacks, it's just staying resilient, and he definitely did that."
The Packers are undefeated in six games against the Bears under LaFleur. Rodgers has thrown for 16 touchdowns vs. zero interceptions in those games. The Packers are 9.5-point favorites per the Sports Illustrated Sportsbook, the second-biggest spread of the week. A win on Sunday would put the Bears up by two games over Green Bay and assure them of at least a tie for the NFC North lead. It would also fulfill a prediction made by Fields last season.
"It means a lot," Fields said of the rivalry. "Of course, I want to win every game I play. But…it's the tradition of this rivalry. Means a lot to us as a team, to the fan base, to the people upstairs. It just means a lot to everyone in this building."