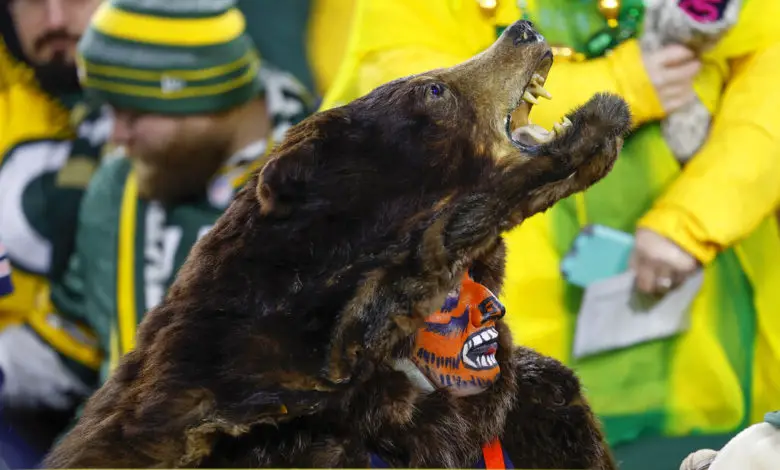 First & Long: Packers Week is Here, Patrick Named Honorary Captain, Eberflus Looking for Improvement
In a surprise move, the Bears had Lucas Patrick split time with Teven Jenkins at right guard in Sunday's 19-10 win over the 49ers. That decision makes a lot more sense today than it may have seemed at the time. Head coach Matt Eberflus named Patrick as the team's extra and honorary captain for Sunday night's nationally televised game.
Patrick played 27 snaps, and he and Jenkins both received high grades for their efforts from Pro Football Focus. When healthy, Patrick is Chicago's starting center, but with a cast on his right thumb, he's unable to snap the ball. Hence, the move to guard. You'd be right to assume that Eberflus wanted Patrick to be game ready for his return to Green Bay. That's the type of coach he is. That's why Patrick and Jenkins split snaps. And you know what? Jenkins was fine with that decision, too. It looks to me like the Bears have a head coach who has earned the respect of his players.
Patrick addressed the media at Halas Hall on Wednesday and indicated that the Bears are going to prepare as hard as they can to beat the Packers on Sunday night. It will be an emotional return for the veteran lineman, but he is squarely focused on helping the Bears win.
Sunday night's game also represents a homecoming for offensive coordinator Luke Getsy. Getsy knows Aaron Rodgers and the Packers well, having spent the past three seasons as their quarterbacks' coach. He was a member of Green Bay's coaching staff for the previous six seasons. That could work to the Bears' advantage. If Chicago wins, they'll go up two games on the Packers. A loss to Chicago would be devastating to Green Bay.
The Packers are banged up and could be without starting tackles David Bakhtiari and Elgton Jenkins. That means Yosh Nijman and Royce Newman are likely to start against the Bears. Wide receiver Allen Lazard has been limited in practice, too, though he's expected to give it a go Sunday night. Green Bay also lost starting guard Jon Runyan to a concussion in their loss to Minnesota.
The keys to beating the Packers are sacking Rodgers and winning the turnover game. Limiting penalties will be key, too. With potentially three backup linemen starting Sunday night, look for offsides and holding infractions to stunt Rodgers at times.
Bears News & Notes
There's a Flag…On the Play
From the mouths of babes.
It was a tough start for Aaron Rodgers and the Green Bay Packers in week one. But what are the fans saying about it?

Take a look here: https://t.co/aQKWedzsgs pic.twitter.com/RzNwKDqyMg

— WFRV Local 5 (@WFRVLocal5) September 13, 2022
Scout Team
Film Room
Roquan Smith loves playing in the rain like kids love puddles while walking home from school.
Never too old to have some fun in the rain 😁☔ @ChicagoBears pic.twitter.com/kSTBLtiDQV

— NFL Films (@NFLFilms) September 14, 2022
Northern Exposure
Green Bay: If you're heading up to Lambeau Field on Sunday, there are a bunch of new restaurants in the community that hosts the Packers on game day. It looks to me like Porky's Ribs & Shakes is a perfect spot for a pregame feast.
Minnesota: The Vikings will play the Eagles as the main event in a primetime Monday Night Football doubleheader. The Titans will battle the Bills in the early game.
Detroit: The Lions are favored to beat the Commanders on Sunday. That's significant because Detroit has been the underdog for 24 straight games.
NFL News & Notes
Thursday Night Football makes its debut on Amazon Prime this week as the Chiefs face the Chargers.
The Bills and Chiefs each registered dominating wins in Week 1, so naturally, they sit atop this week's power rankings.
Tom Brady remarked on his latest podcast appearance that he is "close to the end" of his NFL career as he continued to hint at his retirement. Gisele Bündchen, Brady's wife, told Elle that she had "concerns" about her husband – already the oldest ever NFL quarterback – making a return from his February retirement.
"This is a very violent sport, and I have my children and I would like him to be more present," Bündchen said. "I have definitely had those conversations with him over and over again. But ultimately, I feel that everybody has to make a decision that works for [them]. He needs to follow his joy, too."
Maurice Jones-Drew said a trip to Africa in June "changed his outlook on life."
Minnesota quarterback Kirk Cousins took quite a bit of social media shrapnel for his wardrobe choices after the Vikings beat the Packers on Sunday.
It appears as if football has returned to its pre-COVID level of popularity. Over 121 million fans watched NFL action on Sunday. That's a 5% increase over last season.
Gambling on NFL games also reached a Week 1 high.
The use of guardian helmets in training camps this summer reduced the number of concussions by more than 50%.
ESPN's Football Power Index graded the Cowboys as the league's second-worst team one week into the season. They dropped an amazing 21 spots.
The National Football League was sued for allegedly sharing digital subscribers' personal data with Meta Platforms Inc.'s Facebook, becoming the latest target of consumers claiming companies pass on private information to the social media site without their consent. A class action lawsuit could yield up to $2,500 per claim.
Three Yards and a Cloud of Dust
Per Next Gen Stats, Bears rookie DE Dominique Robinson generated three hustle stops in his impressive NFL debut, the most by a rookie defensive lineman in any game in the NGS era (2016).
The Cowboys were the only team that did not score at least one touchdown in Week 1.
Lamar Jackson is the fastest player to reach 10,000+ career passing yards and 3,500+ rush yards. He did so in only 59 games. The next quickest was Michael Vick in 143 games.
From the Podium
"I just think we played with good effort. It's not good enough. We have to improve that. The instantaneous reactions need to be better. But we need to improve that. It's reading your keys and being faster to the punch. But I thought for the first part of it, the first game, I thought guys played relatively well." – Eberflus
"[Rodgers] is obviously one of the greatest to ever play the game, and you know as a competitor I love going against people like that. I'm sure he will be a little bit pissed off after this last game. Hey, you wouldn't want it any other way. Get the best version of him and then we get the (win), and it will be even sweeter." – R. Smith
"I'm definitely excited to be back, especially after watching that first game," Schofield said. "It kinda sucked watching it from home, but it was pretty cool watching and watching that weather and how the team acted and played and how great they looked." – Schofield
Running Out the Clock
Another upset win on Sunday night and the Bears will be like…