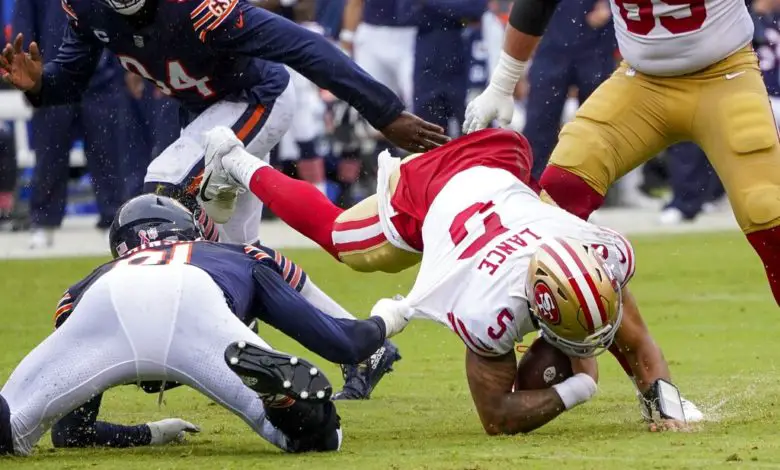 Bears' Best and Worst Week One Performances
The Bears upset the 49ers on Sunday despite a lackluster performance by Justin Fields. That's a little disappointing, but a number of his teammates stepped up to lead Chicago to the victory. I don't agree with my colleague Rick Leen that Roquan Smith had a great game, and it looked to me like San Francisco was really keying on Trevis Gipson while he was in the game. I watched a replay yesterday evening and Gipson was double-teamed on almost every snap. That said, here are the Bears' best and worst Week One performances.
I'll use Pro Football Focus as my guide, though I think they missed a few things, too.
Sunday's Elite
How 'bout those rookies?! 👀 @domrob_22 records his first NFL sack pic.twitter.com/daETqXsbFW

— Chicago Bears (@ChicagoBears) September 11, 2022
Dominique Robinson (89.8), Byron Pringle (84.9), and Jaylon Johnson (83.9) all graded above 80 against the 49ers. Robinson was the best player on the field, and he was guarded by veteran Trent Williams. The rookie edge rusher picked up a "tell" while watching film on Williams and used it to his advantage all game. Robinson's ability to pick up on the veteran's tendencies is impressive because Williams is a nine-time Pro Bowler. To get picked apart by a rookie says more about Robinson than Williams. D-Rob finished with 1.5 sacks and forced a fumble that was negated when the official ruled the ball carrier was down.
Pringle caught just one pass for 22 yards, but he stayed true to his routes and did a better-than-average job on his blocks. The veteran receiver missed almost all of training camp but had a great feel for the offense.
Johnson said the Bears "wanted to make Trey Lance play quarterback" and Lance's 50.3 passer rating says it all. Johnson was so intimidating that he wasn't targeted by Lance a single time. His 26 snaps without a target is tied for third-best by an outside cornerback over the past three seasons, per Next Gen Stats.
Better Than Average
Teven Jenkins (77.9), Eddie Jackson (75.5), and Larry Borom (75.3) just missed elite grades. That said, each of those players is counting on bounce-back seasons so those grades are huge. Jenkins's efforts are an even bigger surprise considering his tumultuous offseason. The second-year tackle-turned-guard earned solid scores in pass blocking (71.7) and run blocking (74.4) while splitting time with Lucas Patrick. I did not see Jenkins loaf a single time, so he probably ranked high in the team's HITS calculations.
Jackson picked off Lance in the fourth quarter for his first interception since 2019. In fact, according to Dan Wiederer of the Chicago Tribune, Jackson recognized the formation the  49ers were in on third-and-5 — with receivers Jauan Jennings and Deebo Samuel bunched together just outside the left hash marks — and knew DC Alan Williams had made the right call. Johnson confirmed it after the game.
"I was juiced," Johnson said. "It was like, 'If we do what we're supposed to here, we're creating a turnover.'"
Eberflus talked about it in Monday's presser, saying that result was a direct result of preparation.
Borom was the 14th-highest graded tackle in the NFL on Sunday. Though the Bears struggled offensively from a yardage standpoint, Borom was impressive at right tackle. Like Jenkins, he graded above 70 in both run and pass blocking.
Players That Struggled
It's no secret that PFF has little love for Smith (28.1). He did lead the Bears in tackles and was all over the field all day Sunday. The caveat here is that Smith was continually out of position. Additionally, as often as Robert Quinn and Gipson were double-teamed, Smith should have been an unstoppable force. He was pitiful in run defense and coverage, and only a steady pass rush and half of a sack kept Smith from getting a lower grade.
Fields struggled too. He was pitiful in the first half, seemed to have trouble reading the defense, and looked a little too excited at times. A tremendous second half elevated his grade to 44.2 thanks to two touchdown passes. Luke Getsy deserves credit for opening up the game plan despite suboptimal field conditions. The 49ers refused to take similar chances with Lance, and that was the difference in the outcome.
Honorable Mention
Justin Fields is playing backyard football out here ‼️ @justnfields

📺: #SFvsCHI on FOX
📱: Stream on NFL+ https://t.co/8gCtJMnwZ7 pic.twitter.com/2ZtvdvwKaz

— NFL (@NFL) September 11, 2022
Dante Pettis earned a 73.1 PFF grade and Equanimeous St. Brown received a 64.9, and both scored touchdowns. However, Eberflus was more impressed with their downfield blocking. The 49ers keyed on Darnell Mooney all game, and that's going to be the story of the season. Pringle, Pettis, and St. Brown can help by continuing to play well. The return of Velus Jones Jr. will help, too.
The Bears won't be successful if Mooney is held to three targets and one reception like he was Sunday. Getsy will need to get a little more creative to get the ball into the primary playmaker's hands. That's especially true for this week's game at Green Bay. If the Packers neutralize Mooney the way the 49ers did, it could be a long night for the offense.