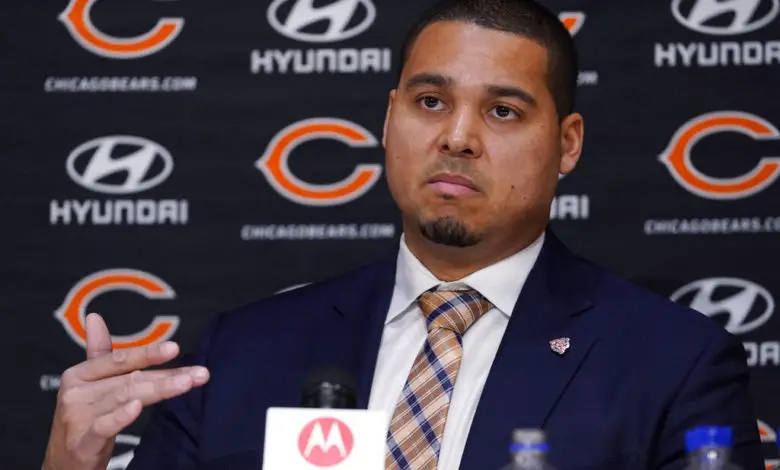 First & Long: Poles Intent on Taking Back NFC North, Offense Will Focus on Fields, Vikings Will Interview Harbaugh Wednesday
The NFL is now down to its final game of the season – and congratulations are in order to the Bengals and Rams – but things are just getting started at Halas Hall. The Bears introduced their new GM and head coach to the media today, and though they recognize the team's history, they're ready to make a little of their own.
Ryan Poles dropped the money quote during today's press conference.
Ryan Poles: "We're going to take the North and never give it back." pic.twitter.com/lS6iZK9vk9

— Chicago Bears (@ChicagoBears) January 31, 2022
That's bulletin board material for the home locker room as well as those in Green Bay, Detroit, and Minneapolis. Under Matt Magy, the Bears were 13-11 against their division opponents, though seven of those wins came against the Lions. Chicago is 1-7 against the Packers since 2018, Nagy's first year at the helm. If they're going to take the North, the Bears will have to start by beating their oldest rivals. That means putting a lot more points on the board than they did this year.
New head coach Matt Eberflus said that he and new offensive coordinator Luke Getsy will build an offense tailored to the strengths of second-year quarterback Justin Fields. First, however, they want to get to know the new face of the franchise. Fields gave them a head start by popping into Monday's presser.
"What does that [offense] look like? I don't know right now," Eberflus said. We have to look at him. We have to evaluate him. We have to see where his skill set is. And then see his camera. How does he see the game? How fast does he process? How fast does he do things and how can we stretch him as we go?"
That doesn't mean the transition year will be strictly about development. Both Eberflus and Poles believe the current roster provides enough of a foundation to be competitive next year.
"Absolutely, I think we can be competitive," Poles said. "The beautiful thing about football is what we just saw with the Bengals. Once the Super Bowl is played [each team] goes back to 0-0 and has the ability to improve their roster, make changes. We all know it's fluid on a yearly basis so we're going to attack it. Our goal is always going to be in contention and win games."
For Poles, that started with hiring Eberflus. For those who think the GM wasn't given full autonomy in selecting his head coach, Poles put his foot down.
"I was given an opportunity [to choose my own head coach], and I found him. You could tell [Eberflus] was a leader. My research told me he was an unbelievable leader."
"This head coach search started way before 2022," Poles added. "The moment I knew I wanted to be a general manager, I began looking for specific traits that would define a successful head coach, and the results were leadership, poise, emotional intelligence, development of mindset, discipline, detail, toughness, and energy."
Poles also added that he wants the Bears to be "tough and violent," which is a far more intense way of saying he expects the team to be more physical. That's a nice change from the last regime, where that type of moxie was generally in short supply. Still, Poles could have earned a couple of fist pumps, high fives, and "hell yeahs" had he worked "Monsters of the Midway" into that sentence. Then again, maybe that's by design as part of the team's new culture and identity.
Making changes on both sides of the ball is another way to shake things up. Besides building an offense around Fields, Bears' fans can expect a new defense in 2022. In an interview with Larry Mayer for the Bears' flagship website, Eberflus said Chicago will be switching to a 4-3 defense next season. The key is apparently in recognizing habits.
"This is going to be the third time that I've had an opportunity to switch a defense from a 3-4 to a 4-3," the coach said. "I'm very familiar with doing it. But it's more about the habits that we're going to entrench into our players and how we measure those habits, and it's really habits for victory. That's what we're going to do with the players, and it's going to be fun."
It may be habitual, but it won't happen overnight.
"Let's grow and grow and grow," Eberfuls reminded reporters today. "What can we execute now? What can we execute down the road? And we have to be creative. You have to be creative on offense. We plan to be."
I'm saving the best for last, but Ted Phillips was not present for the introductions and pleasantries and has not been quoted at all since Poles was hired. Maybe, just maybe, change truly is in the air at the Lake Forest facility.
Bears News & Notes
Poles and Eberflus are looking for explosive athletes to complement Fields.
The Bears know a little bit more about themselves after the conference championship games, and some of it is pretty positive.
Kevin Fishbain of The Athletic talked with University of Akron head coach Joe Moorhead about new offensive coordinator Luke Getsy (subscription required).
Here's why Moorhead sees Getsy as a perfect fit for Fields — he describes his system as an "RPO-based run game that takes advantage of a quarterback's running skill set, combining that with a West Coast system that takes a ton of shots down the field."
Eberflus said Getsy is an 'innovator' when it comes to offense: "He's been on my radar for a while."
As far as the defense is concerned, expect a number of Colts coaches to follow Eberflus to Chicago. Indianapolis will have a new defensive coordinator, and head coach Frank Reich wants to allow him to choose his own staff.
Luke Butkus, nephew of Bears' great Dick Butkus has been named offensive line coach for the Packers. Uncle Dick was not impressed.
There's a Flag…On the Play
The reports declaring the imminent demise of Captain Tom Brady were apparently premature. The story gets crazier by the day.
Tom Brady gives an update on possible retirement. pic.twitter.com/caaOmlLko4

— TSN (@TSN_Sports) February 1, 2022
Northern Exposure
Green Bay head coach Matt Lafleur could be losing another member of his coaching staff.
The Packers are in salary cap limbo while they await a decision from Aaron Rodgers, but it looks like they intend to slap a franchise tag on all-pro wide receiver Davante Adams.
The Vikings completed a second interview with Rams' offensive coordinator Kevin O'Connell today. Second interviews for their head coach opening are also scheduled with DeMeco Ryans and Rasheed Morris.
Minnesota will fly in Michigan head coach Jim Harbaugh for an interview on Wednesday. That's also National Signing Day. Awkward.
Harbaugh is a bit of a mystery when it comes to head coach openings the last few years. He's always mentioned, never hired, and often he's nothing more than a fleeting consideration.
Lions fans are crossing over to root for Matthew Stafford and the Rams in Super Bowl 56.
Apropos of Nothing
By the way, I'm done using Roman numerals, and I hope the NFL will follow suit. It got old once Joe Namath and the Jets pasted the Colts 16-7 in Super Bowl III.
Ironically, the NFL refused to officially name the game its Super Bowl until 1971, so at the time it was played, the Jets-Colts contest was simply called the AFC-NFC Championship Game.
NFL News & Notes
The Raiders have hired Dave Ziegler to be their next GM and Josh McDaniels to be their new head coach.
Every NFL divisional and conference championship playoff game this year has been decided by one possession.
Yes, the State Farm curse appears to be very real.
After surrendering an 18-point first-half lead to the Bengals, Patrick Mahomes is probably a believer.
One bettor correctly guessed the final score of both championship games and turned a $20 wager into a $600,000 windfall.
The officiating was typically horrendous on Championship Sunday.
Doug Pederson and Brian Flores are at the top of the list of potential head coaches to replace Sean Payton of the Saints.
Joe Theismann revealed the new nickname for the Washington Football Team and then retracted his statement. The team's new identity will be announced Wednesday.
Once this year's champion is crowned, expect the league's annual quarterback carousel to start up.
Three Yards and a Cloud of Dust
Joe Burrow is the seventh second-year quarterback to lead his team to the Super Bowl. The others are Dan Marino (1984), Kurt Warner (1999), Brady (2001), Ben Roethlisberger (2005), Colin Kaepernick (2012), and Russell Wilson (2013).
The Rams are the first team in NFL history to host a conference championship game and the Super Bowl in the same season.
Los Angeles sold out to get to the Super Bowl this year and does not have another first-round draft pick until 2024. Last year they traded two firsts, a third-round pick, and QB Jared Goff to Detroit to acquire Stafford.
Two-Point Conversion
I'm already tired of the Bears being compared to the Bengals and it's only been 24 hours. There are few similarities between the two other than the fact that Cincinnati was a steaming pile of dog excrement in 2020. Sadly, most reporters and bloggers are lazy and rely on copycat projections with few artifacts of useful evidence.
When the Bears have a secondary that's as good as Cincinnati's I'll take notice. When Chicago has three clutch receivers, as the Bengals have in Ja'Marr Chase, Tee Higgins, and Tyler Boyd, I'll warm up a little more. Finally, comparing Fields to Burrow is ridiculous, they just aren't the same types of quarterbacks.
Sure, the Bears can theoretically do next year what the Bengals did this year, but it would be more coincidence than anything. I mean nothing disparaging by the way. I'd just like to see Chicago establish its own identity, which also seems to be the goal of Poles and Eberflus.
From the Podium:
"I'm very excited. Having a defensive head coach, I feel like there are some positives to that. I feel like being on the offense, you kind of know what the defense is doing, but you don't know what they're fully doing. When you have a defensive head coach, he's able to explain to you what their jobs are, what their certain assignments are in a certain coverage, so I think that's one plus on having a defensive head coach." – Fields
"It definitely feels good to have a clean slate." – Fields