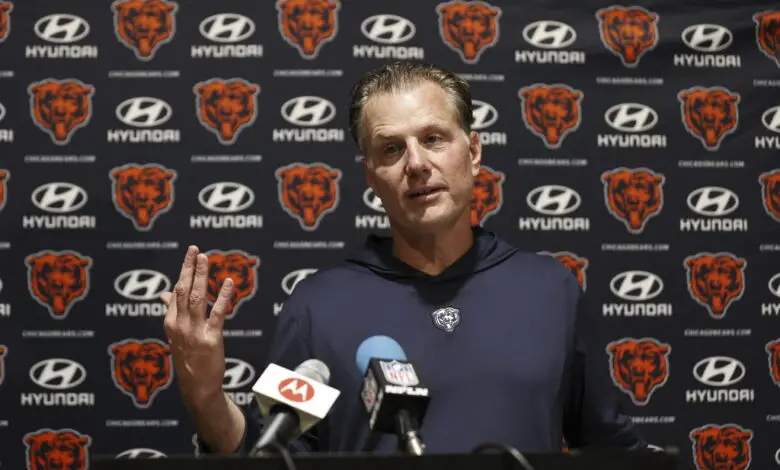 That HITS Thing Ain't Working
Something seems off within the Bears' organization, and I'm not just talking about two consecutive losses to start the season, and 12 straight overall. I'm going to start with the HITS principle, the foundation with which head coach Matt Eberflus runs his team. Hustle. Intensity. Takeaways. Smart (decisions).
The Bears have one sack and have not forced a single turnover this season. They had no sacks, one quarterback hit, and a pathetic three pressures on Baker Mayfield in today's 27-17 loss to the Buccaneers. No team can win with that lack of effort, and it's worth wondering if the players are buying the schtick Eberflus is selling. The four components of his esteemed philosophy have been missing since last October. That's when the Bears last won a game, by the way.
Justin Fields, whose afternoon was another mixed bag of good, bad, and ugly, put it best after Sunday's loss.
"I think we have a long way to go…definitely have a lot to fix…we're going through a storm right now."
Fields has one bad habit that irritates me more than any other. It's not holding the ball too long or processing his reads too slowly, though those are components. I can't stand that Fields can't follow one successful drive with another. More pressing, at least in my opinion, is the way his game diminishes at the first sign of adversity.
Fields started strongly, leading the Bears on a crisp, six-play, 75-yard touchdown drive to give the Bears a 7-3 lead in the first quarter. He looked confident, the Bears ran the type of vertical offense they are capable of, and Fields connected with D.J. Moore on two passes for 64 yards.
On the next six drives, though, the Bears totaled one field goal and averaged four yards per play.
After Rasheem Green blocked a field goal attempt by Chase McLaughlin, the Bears took over at the 50-yard line. Good teams seize that opportunity and go for the dagger. Luke Getsy took that opportunity to shut down his vertical game. The sequence of plays that followed was enough to make me lose my mind.
Fields was sacked, losing half a yard or so.
Getsy called a run by Velus Jones that resulted in a three-yard loss.
Fields took an 11-yard loss on another sack.
Let me pause here for one second. Getsy killed a drive last week by putting Cole Kmet behind center. The run by Jones on second and eleven was another drive killer. I don't understand the coordinator's obsession with lateral football, especially when he should be going for the jugular. The Buccaneers scored in four plays after Chicago punted. The Bears never regained the lead.
That brings me to something else that completely puzzles me. Why doesn't Getsy ride Fields while he is hot? It's not just Fields, either. Roschon Johnson ripped off a 29-yard run later in the game and then Getsy banished him to blocking assignments for the rest of the game. If the Bears have stopped buying into the crap the coaching staff is trying to sell, that's a big reason why. Gregg Braggs Jr. of CHGO says it better than I can, and he has the perfect platform for it.
EPIC @GBraggsJr23 rant incoming … 😡😡😡#DaBears pic.twitter.com/Ww592tsAJe

— CHGO Bears (@CHGO_Bears) September 17, 2023
I'll get to the defensive issues in a moment, but I have a feeling that Getsy and Eberflus are in over their heads. Getsy was successful in Green Bay because he ran an offense that had a quarterback with multiple MVP awards in Aaron Rodgers. Nathaniel Hackett failed in Denver last year with Russell Wilson, who also carries a very impressive resume.
Nobody is comparing Fields to either of those two, but a definite pattern exists. Fields has regressed since Getsy took over, and Eberflus isn't doing QB1 any favors by letting it happen. Team president Kevin Warren should overhaul the front office and coaching staff if the Bears have to go into next year's draft looking for another franchise quarterback.
The sole goal when Eberflus was hired was to develop Fields. That's not happening, and that's clearly beyond the scope of the staff's abilities. Then again, why would you hire a defensive coach to develop your only offensive weapon?
Getsy [or Eberflus] called a middle screen from Chicago's end zone with 2:11 to play while down 20-17 and the Buccaneers looked like they knew exactly what was coming. It was an instance of classic self-subterfuge, something that goes all the way back to the John Fox years.
"It's great when it works," coach Eberflus said after the game. "And when it doesn't everybody's gonna criticize."
You're gonna roll with that, Matt? That's the folly of every failed coach just before his exit interview. You don't call a play that has that high a failure rate from your own end zone in a still winnable game. Yes, the odds were against Fields, but why push the percentages further in favor of your opponent?
Yikes. pic.twitter.com/tv45SZTS18

— Chris Emma (@CEmma670) September 17, 2023
Fields is on a pace for 85 sacks after taking 55 last year. The Bears should bench him, if not for poor play then at least to spare him from inevitable injury. You don't have to be sold on the third-year quarterback right now, but it's still too soon to give up on him. And if Fields isn't the answer, a rookie quarterback next season won't be either. The front office needs to pursue a polished, successful veteran in trade or free agency if they move on from Fields because the current coaching staff is incapable of developing younger talent.
The defense has struggled in 19 games under Eberflus, too. The Bears haven't been able to stop anybody since they traded Robert Quinn and Roquan Smith last year. In fact, Chicago is the only team in NFL history to lose 12 straight games while giving up more than 25 points in each of those losses. The Bears spent $170 million this offseason, almost all of it on defensive players. That's not working out too well, so far.
Absolutely embarrassing to complement ownership's ineptitude along with ZERO accountability! #DaBears

— Joe (@ChiSportsFanJoe) September 17, 2023
A team that has a defensive-minded coach with a historically bad defense is almost too difficult to comprehend. Tremaine Edmunds, T.J. Edwards, DeMarcus Walker, Yannick Ngakoue, and Jaquan Brisker should be the nucleus of a shutdown defensive unit. They're not, and the blame lies squarely on Eberflus. I understand that the secondary is depleted due to injuries and that depth is an issue, but the pass rush is non-existent.
Chicago managed to make Mayfield look like the second coming of Rodgers, a repeat performance of last week's loss to the Packers. I can't imagine how they'll fare next week against Patrick Mahomes. Heck, I didn't hear Walker or Ngakoue mentioned once in Sunday's game. How they managed to combine for three tackles is one of the NFL's greatest mysteries.
But that's the rub. There is enough talent on this team that they shouldn't lose 12 straight games. Chicago looks more like the 2007-09 Lions or the 2020-21 Jaguars than a team intending to "take the NFC North and never give it back." The Bears have a better roster than either of those teams, which points the finger solely at Eberflus and his staff.
Eberflus touts his defensive scheme as one that can hustle, create turnovers, and play with intensity. That defense allowed 437 yards to the Buccaneers — 317 in the air — and failed to create a turnover. The Bears have given up 65 points in two games and are the laughingstock of the NFL. From my vantage point, it looks like Eberflus is in way over his head. You have to wonder how many losses it will take before Warren and Poles make a change.