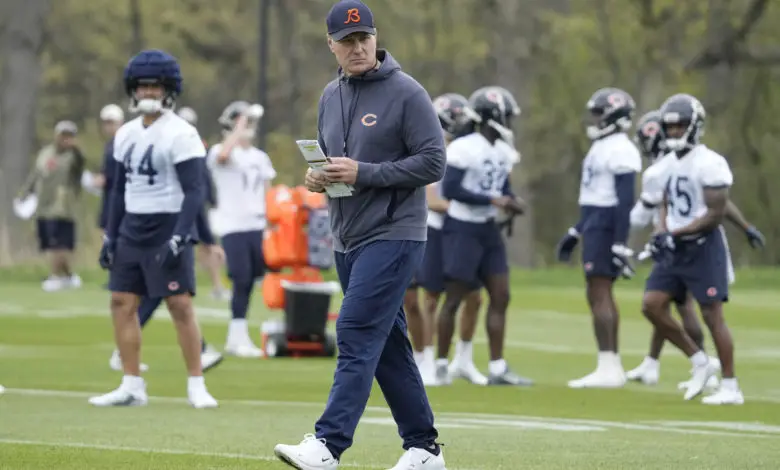 Matt Eberflus Feels a Little Too Much Like Dick Jauron
The Bears have had two consistently successful head coaches in my lifetime, Mike Ditka and Lovie Smith. Both men took the Bears to the Super Bowl, with Ditka leading Chicago to an NFL championship in a 46-10 win over the Patriots in Super Bowl XX. Smith lost 29-17 to the Colts in Super Bowl LXI after a very promising start. Devin Hester ran back the opening kickoff for a 92-yard touchdown. Then, Chris Harris intercepted a pass by Indianapolis QB Peyton Manning on the Colts' first possession. It was all downhill from there, however.
The Bears have had a lot of bad coaches since Ditka, too. Marc Trestman is considered the worst, but the Bears have also failed under Matt Nagy, John Fox, Dick Jauron, and Dave Wannstedt. Jauron was the most nondescript of the bunch, and many fans forget it's only been 20 years since he was fired if they remember him at all.
Matt Eberflus is 3-15 as a head coach, with 7 losses of 16+ pts. There have been almost no bright spots in his tenure. Even the mocked Marc Trestman was 9-9 thru 18 games before the bottom fell out. It's still early but he's tracking to be the worst coach in franchise history. pic.twitter.com/3zHQpDOo7s

— Mike Wilkening (@mikewilkening) September 11, 2023
Matt Eberflus, the team's current coach and owner of a 3-15 record, reminds me a little too much of Jauron. The two have a similar demeanor and both were regarded as defensive-minded coaches. Like Jauron, Eberflus is an X's and O's coach who ran a top defense as an NFL coordinator. Both men hired offensive coordinators who identified with a scheme they found difficult to defend. Both also started as college coaches who held just one coordinator job before becoming an NFL head coach. Eberflus and Jauron struggled as coordinators during the playoffs, too.
I understand if you have difficulty remembering Jauron's tenure. The Bears have lost so much since the turn of the century that most of their head coaches, aside from Smith, remain nameless and faceless in our minds. Jauron was hired in 1999 after Wannstedt was fired and coached the Bears to sub-.500 records in four of his five seasons. He was an average coach on his best days and a poor coach on most days. Jauron did go 13-3 in his third season, but a defensive blunder cost him in the playoffs. Duce Staley was left uncovered when he scored on a six-yard pass from Donovan McNabb.
The Bears were 6-10 and 5-11 in Jauron's first two seasons as head coach. Eberflus was 3-14 last year, but even Mike Ditka struggled in his first season as Chicago's head coach. Ditka was 3-6 in 1982 but had future Hall of Fame players Walter Payton, Richard Dent, Dan Hampton, and Jimbo Covert on that squad. Steve McMichael has a very good shot of joining them this year.
Jauron was 2-8 against the Packers during his tenure, and that includes two losses in the 13-3 season. The Bears were outscored 27-17 on average in those 10 games. Eberflus is 0-3 against Green Bay and his defense has allowed 93 points (31 PPG) in those contests. The Bears played flat and uninspired in the three losses, contradicting what Eberflus said when he was hired.
"We will play at a high tempo," Eberflus said when he was hired last year. "And a high-effort attacking physical style built upon speed, quickness, and explosive athletic ability. We will carry ourselves with an attitude of energy, passion, and intensity, and we will play with maximum effort on every play. And my next piece of advice for the players, for sure, is to get your track shoes on because we're running."
Matt Eberflus has had 110 days since the schedule was released and this is the performance?

If you can't gameplan for this game with all the time that he had might be looking for a whole new staff soon

Players need to execute but the coaching has been absolutely abysmal pic.twitter.com/BGrIpK6qwk

— Herb Lawrence (@Ecnerwal23) September 10, 2023
The inaugural speech is the only way that Eberflus differs from Jauron. In case you forgot, Jauron wasn't Chicago's first choice in 1999. Then-president Michael McCaskey wanted to hire Dave McGinnis but announced the hiring before McGinnis signed. He bolted, so McCaskey pivoted to Jauron. When Jauron held his presser, he seemed as confused as most Bears fans.
"I hope [being the second choice] won't affect [my] acceptance at all," Jauron said. "Two years from now nobody will care. If we're winning, people will think I'm pretty good at what I do. If not, the Bears will go in another direction."
Head coaches can't be properly evaluated after 18 games, so I'm willing to give Eberflus the benefit of the doubt. That said, the 15 losses taint that opinion quite a bit. Ditka's influence didn't lead to consistent winning until Week 11 of his second season, and most head coaches deserve at least three years to get there. The goal this year, as much as the impatient Bears fans hate to hear, is to show week-to-week improvement. The good news is that Chicago can't play any worse than they did in last Sunday's 38-20 loss to the Packers.
The Bears are bad defensively, but lack of offense could be Eberflus' eventual undoing, just as it was for Jauron. An uninspired personality doesn't help when gaffes on the field heavily outweigh the better plays because it makes Eberflus look like he doesn't understand how an NFL offense should work. That's not true of course, but the perception certainly exists. There's nothing wrong with being offensive- or defensive-minded, but Eberflus needs to look like he's bought into Luke Getsy's vision. You can't coach half a team and expect it to win the majority of its games.
Though Sunday's game against the Buccaneers is not a must-win affair, it is a pivotal game for Eberflus. If the Bears get blown out, this season will quickly fall off the rails. Eberflus will be without defensive coordinator Alan Williams, who will be absent for personal reasons. If the defense has another bad game, that puts the spotlight solely on Eberflus and could define his tenure in Chicago when all is said and done.