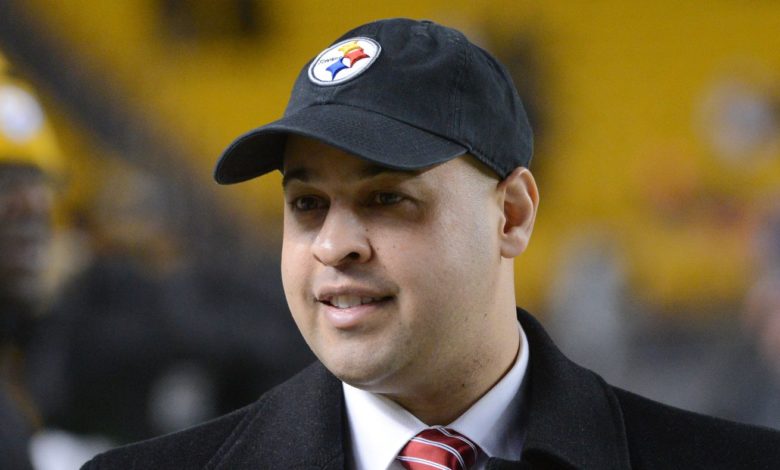 Steelers Executive Omar Khan Wildcard in Bears' GM Search
The Bears are expected to interview Steelers executive Omar Khan today, and he could be a wildcard of sorts in Chicago's restructured front office. Known as a "cap guru," Pittsburgh's VP of Football and Business Administration does not draw the accolades for talent evaluation that some of his contemporaries do. Khan has been with the Steelers since 2001 and has worked for GM Kevin Colbert nearly the entire time.
It has been mentioned by several sources over the weekend that this will voluntarily be Colbert's last season with Pittsburgh, and that he could be considering retirement immediately after April's draft. That's realistic, considering he's put in nine months of preparation for the event. That said, if the Steelers are aware of his imminent retirement, why might they let his potential successor interview with other teams?
The answer could lie in talent evaluation or lack thereof. With the track record that Colbert has, he probably hasn't asked Khan to do much more than make the players he wants fit under Pittsburgh's cap, and by all accounts, Khan excels there. The Steelers also have a potential replacement for Colbert in pro scouting director Brandon Hunt. If Colbert truly is retiring and the Steelers are letting Khan interview elsewhere, it would seem that Hunt has the inside track for the internal promotion.
Then again, the Bears requested the interview 12 days ago, right about the time they cast their net for a new GM and long before any of Colbert's retirement plans leaked. The Rooneys get along well with the McCaskeys, so it might just be that they are being gracious in allowing the interview to be completed as scheduled. Still, one would think Art Rooney II knew Colbert's decision was coming. The Rooneys and McCaskeys are two of three family-owned franchises in the NFL. They, along with the Mara family (Giants' owners) form a tightly-knit triumvirate, so it's very possible George McCaskey has been informed of Khan's immediate availability.
For those in @WaddleandSilvy's "it starts at the top" club, today's interview with Omar Khan should be of serious interest. Khan is not only a candidate for GM. He's a candidate to run the shop.

— DaBearsBlog (@dabearsblog) January 24, 2022
However, if Khan lacks the skills to evaluate talent, he's not much more than an accountant, and the Bears have one of those in president and CEO Ted Phillips. Chicago has poorly managed the cap for years, though some of that blame belongs to recently-fired GM Ryan Pace. McCaskey has said that Phillips is going to transition away from football operations once a GM is hired. No one really believes that, unless McCaskey has a replacement in mind for Phillips.
That's where things get interesting. In theory, Khan could become president of football operations, and if the Bears wanted to avoid paying high salaries for a newly-created position plus a future GM, they could present Khan with an opportunity to promote Champ Kelly.
Kelly is a strong talent evaluator who has no experience managing a cap. He would probably command a lot less in salary than some of the other interviewees, and the two would give Chicago a legitimate football operations department, something the league's oldest franchise hasn't had since the days of Jim Finks and Jerry Vainisi. Further, many current Bears love Kelly, including Khalil Mack and Tarik Cohen and both have openly campaigned on behalf of the assistant director of player personnel. Kelly has thrown his hat in the ring for the opening, and he is said to be a person of interest for the opening with the Raiders.
Chicago Bears players like Khalil Mack and Tarik Cohen have been very vocal about who they want as their next GM.

That person is Graceville alum Champ Kelly, who interviewed with the Bears last week and will interview for the Raiders open GM position tomorrow. pic.twitter.com/exOPuf7lVQ

— Courtney Mims (@MimsCourtney) January 20, 2022
All that would be left after that would be to hire a head coach, whether that's Jim Caldwell, or someone a little more interesting like Brian Daboll. There are about 15 names on Chicago's "short" list, and some of the eight openings will start filling up quickly now that the Bills, Packers, Buccaneers, and Titans have all been eliminated from the playoffs.
Today should be a significant day at Halas Hall. With Khan and Morocco Brown both interviewing, we might get a clearer picture of the direction in which the Bears are heading. Hiring someone like Khan to head football operations would go against the grain for McCaskey, but retaining and promoting Kelly would be very Bears-like. Perhaps it would be incentive enough for McCaskey to accidentally stumble upon a situation that would be best for the team. That would be a nice change.