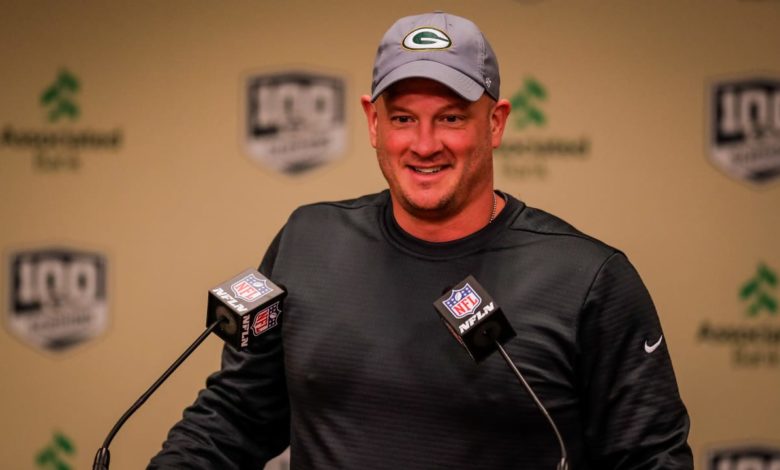 What We Know About Chicago's Head Coach Search
The Bears are in the market for a new head coach, and as many as 27 candidates may pass through Halas Hall before George McCaskey and Ted Phillips, with assistance from NFL lifer Bill Polian, make a decision. Here's what we know about Chicago's search for a new head coach so far:
Leslie Frazier – The Bills stunned the Patriots 47-17 last night and their defense gave New England and rookie quarterback Mac Jones fits throughout most of the game. Frazier, a former Bears defensive back whose last game was Super Bowl XX, serves as Buffalo's defensive coordinator. He'll interview today.
The 62-year-old began his coaching career in 1999 and led the Vikings starting on an interim basis in 2010, posting a 21-31-1 record before being fired after the 2013 season. In 2012, Minnesota earned a Wild Card berth over Chicago thanks to the league's tiebreaker rules after finishing with a 10-6 record. In the eight years since, Frazier has spent time with the Buccaneers, Ravens, and Bills, working under head coach Sean McDermott in Buffalo since 2017.
This season, Buffalo's defense led the NFL in total yardage allowed (272.8 per game) under Frazier's watch. The Bills also tied for third in the league with 30 takeaways, their fifth straight top 10 finish. The former DB is in high demand and will reportedly interview with the Dolphins today, too. The Texans may come calling as well. One year ago, Frazier and Chiefs offensive coordinator Eric Bieniemy were believed to be candidates for Houston's head-coaching vacancy. The Texans hired David Culley instead, who was recently fired after one year at the helm.
Frazier has the support of former Steelers' and Colts' head coach Tony Dungy.
"Leslie is special, "Dungy said. "With his connection to the Bears and knowing that city, the organization, and the mentality there, I don't know how you couldn't give him serious consideration. … Les knows how to galvanize people. He brings players together. And he has always had a good vision for how to get the most out of people."
Hell of an audition tape for Brian Daboll and Leslie Frazier tonight ahead of their interviews with the Bears tomorrow.

— Josh Frydman (@Josh_Frydman) January 16, 2022
Brian Daboll – As impressive as Buffalo's defense was last night, their offense was even better, and offensive coordinator Brian Daboll was the mastermind behind a Bills' gameplan that averaged a ridiculous 8.9 yards per play against the Patriots. He will also interview with the Bears today. The 46-year-old assistant has run Buffalo's offense for four seasons and was named assistant coach of the year by his peers in 2020.
Daboll could be just what quarterback Justin Fields needs to aid in his Year 2 development. Bills signal-caller Josh Allen has thrown for 8,951 yards over the last two seasons with 73 touchdowns and 25 interceptions after a subpar rookie season in 2019.
The coordinator has an impeccable pedigree as an assistant coach. Daboll worked as an offensive coordinator with the Browns (2009-10), the Dolphins (2011), and with the Chiefs (2012). He was the Jets quarterbacks coach in 2007-08 and twice served as an assistant with the Patriots (2000-06 and 2013-16), a stretch that included five Super Bowl appearances.
Daboll is also interviewing for the Dolphins job to potentially work with Tua Tagovailoa, who he coached at Alabama in 2017 under Nick Saban.
Former NFL scout Scott Piccoli said Daboll "knows offense to the core."
"He comes from a family of coaching that's founded in discipline, detail, and the basics and fundamentals of the game," Piccoli added. "Brian was also in a lot of places where there was an emphasis put on accentuating the positive and limiting the negatives."
Jim Caldwell – I was going to write a piece about Caldwell as a potential replacement for Matt Nagy a few weeks ago but I scrapped it because the 67-year-old has had some health issues. I thought that might eliminate the former Lions head coach as a potential candidate, and I was wrong about that. Caldwell interviewed with the Bears yesterday, which caught a lot of people by surprise.
Back in 2019, Caldwell joined the Dolphins as assistant head coach and quarterbacks coach but took a medical leave of absence in June before the season began. He claims to be healthy again and will interview for at least three of the current NFL head coach openings.
"Almost back to fighting weight, you know. I feel good," Caldwell said in an interview with Glover Quin late last year. "I had an issue that popped up that really was something that could be corrected without surgery. Just a matter of getting a little bit more rest and watching my diet and that kind of thing and exercise, as I've always done, which you well know. I constantly exercise but the interesting thing was I had to change my diet quite a bit."
Caldwell went 62-50 with four playoff appearances over three seasons with the Colts and another four seasons with Detroit. As a rookie head coach in 2009, he led the Colts to a 14-2 record and an AFC championship, though Indianapolis lost 31-17 to the Saints in Super Bowl XLIV. He may have a leg up on the other candidates because of his experience and because he has previously worked with Polian, replacing Dungy in '09.
Caldwell has had great success against the Bears in the past. The Beloit, WI native served as quarterbacks coach for the Colts when they beat the Bears 29-17 in Super Bowl XLI, and in four seasons with the Lions, Detroit was 7-1 against Chicago.
The Jaguars interviewed Caldwell for their opening a few weeks ago, and the Broncos are said to be interested, as well.
Of course, Polian loves Caldwell and speaks glowingly of the former head coach.
"If you talk to [his] players, even today, they are 100 percent in his corner," Polian said while Caldwell was with Detroit. "They believe he takes them in the right direction, that he takes care of them, that he gets them to the game in good shape physically, mentally, and strategically."
Brian Flores – The recently-fired Dolphins HC is also under consideration at Halas Hall. Flores interviewed with McCaskey, Phillips, and Polian on Friday. In three seasons with Miami, Flores was 24-25 and his dismissal was somewhat controversial because he did not have a great working relationship with Tagovailoa. In fact, multiple reports have stated Flores' relationships with both GM Chris Grier and his starting quarterback "had deteriorated to a pretty bad place."
That's not all. Flores reportedly stopped communicating to his coaching staff around Thanksgiving, per Marcel Louis-Jacques of ESPN.
"He stopped communicating with his staff somewhere around really Thanksgiving and even about things like daily meeting plans," said Louis-Jacques. "It's my understanding that some of, at least, his assistants felt like they just didn't know what was going on in his head. They didn't know what he was thinking. They didn't know what his plan was. And the incredible thing is that it continued through the winning streak. So they finish 8-1 as he's not talking to people."
Still, several Miami players expressed shock on social media at the news of his firing, and Flores immediately became one of the NFL's hottest coaching candidates, securing interviews for openings with the Bears, Texans, and Giants, with Houston reportedly the favorite to land the controversial coach.
The Texans are hoping that a reunion with Deshaun Watson will help mend fences with the star quarterback, who's also seen his share of controversy during the last year. It is widely known that Watson is a fan of Flores — Miami explored trading for Watson throughout his lost 2021 season while facing numerous allegations of sexual misconduct or sexual assault — which would undoubtedly be a factor in this coaching search as well.
It would certainly be a progressive hire, but one that could backfire badly. The polite way to describe Flores' tenure with the Dolphins would be "complicated."
"An organization can only function if it's collaborative, and it works well together," Dolphins owner Stephen Ross said. "And I don't think that we were really working well as an organization … to really win consistently at the NFL level."
Nathaniel Hackett, the Packers offensive coordinator since 2019, is the latest head coaching interview for the Bears.

"I would hate to lose him," Aaron Rodgers said earlier this season. "But I do feel like he would be a fantastic head coach."https://t.co/UNfwuFqscg

— Chicago Tribune Sports (@ChicagoSports) January 15, 2022
Nathaniel Hackett – If you can't beat the Packers, I suppose you pick off their coordinators, right? It's too bad WR Davante Adams isn't part of a package deal to acquire Hackett's services. Hackett interviewed to be Nagy's successor yesterday. The 42-year-old assistant has eight years of NFL experience, including three with Green Bay under head coach Matt LaFleur. The Packers are 39-10 in that span and are this year's No. 1 seed in the NFC playoffs. Aaron Rodgers is the favorite to win league MVP honors, making it back-to-back seasons under Hackett for the future Hall of Famer.
Over the last two seasons, the Packers' offense has averaged 376.9 yards and 29.1 points per game. Chicago has averaged 319 yards and 20.1 points per game since 2020.
Hackett's coaching career began at the collegiate level in 2002, where he spent a year as assistant linebackers coach at UC-Davis before going to Stanford to work with their offense. He also spent three years with Syracuse (2010-12), the last two years as their offensive coordinator. As a pro assistant, Hackett has worked for Buccaneers, Bills, Jaguars, and Packers. While with the Bills he served as offensive quality control coach under former Bears head coach Dick Jauron.
"He's a great coach, " Rodgers said earlier this season. "I love spending time with him. He's a fantastic teacher. He's incredible in front of the room. I would hate to lose him, but I do feel like he would be a fantastic head coach."
Doug Pederson – The former Eagles head coach was once a Packers quarterback, too, playing seven seasons as the backup to Brett Favre in two stints with Green Bay. He was also a part-time starter with the Eagles in 1999 and the Browns in 2010, winning three of 17 total starts for both teams. Pederson interviewed with the Bears on Wednesday.
As head coach of the Eagles, Pederson finished 42-37-1 with three postseason appearances and a stunning 41-33 upset win over the Patriots in Super Bowl LII. Nick Foles was Philadelphia's quarterback in the title game and was named game MVP, completing 28-of-43 passes for 373 yards and three TDs.
The Eagles fired Pederson a year ago after a 4-11-1 season, one of two losing seasons during his time in Philadelphia. The 53-year-old climbed the coaching ranks under Andy Reid and visited Foles in Chicago during the 2020 training camp. If hired, he may bring in Frank Reich as his offensive coordinator.
"I definitely take a lot of pride in the development of the quarterback," Pederson said last month. "I had a tremendous offensive coordinator in Frank Reich who was a former NFL star in this league at that position, and I think that's important to have guys who played the QB position who know the mindset, can teach the QB. Then you've got to understand the person you're coaching. Your system has to fit his strengths. As coaches, we need to adjust to that."
Chicago has also requested interviews with Todd Bowles, Byron Leftwich, Matt Eberflus, and Dan Quinn. They are also said to be very high on Cowboys offensive coordinator Kellen Moore. It's hard to determine the favorite at this point, though Frazier and Daboll have to have at least a slight edge after destroying the Patriots. One would hope the Bears hire a GM before committing to a head coach, but the McCaskeys and Phillips rarely follow standard protocol.
It's probably safe to also assume that money will be a determining factor. If the past can be used as a guide, expect the Bears to choose from whichever candidates are not hired by other teams, giving the organization the leverage it usually seeks in these circumstances. That might make Hackett and Daboll the likeliest of candidates, as either has yet to be firmly attached to a single opening.