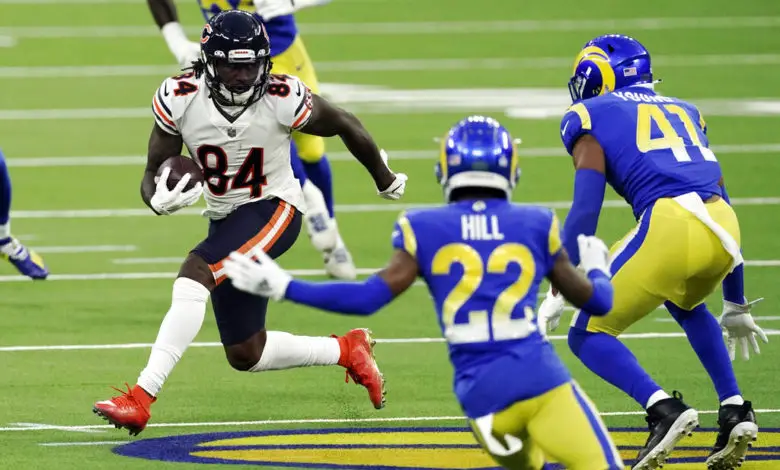 Special Teams Performance Doomed Bears in Monday's Loss
Coming out of Monday's loss to the Los Angeles Rams, Matt Nagy and the rest of the Chicago Bears had plenty of explaining to do. Should Nagy hand over play-calling duties? Is there a rift between Nagy and QB Nick Foles? Why isn't Cole Kmet getting the ball more often?
There were so many questions because it felt like so much went wrong. One thing that hasn't been discussed as much is the Bears' special teams performance.
At this point in the season, the Bears are who we thought they were: A team with a good, not great, defense. One that can move the ball on offense with little consistency and that benefits greatly when their defense sets them up with a shorter field.
Yes, you can easily lay part of the blame on the Bears' alleged punt returner, Ted Ginn. There's a read on that very topic over at Bleacher Nation Bears if you'd like to check into it more, but we'd be remiss not to also mention Cordarrelle Patterson's overzealous effort. Monday's loss highlighted an overall special teams disaster that, if not immediately addressed, could lead to more losses.
The Bears' average starting field position after a punt or kickoff on Monday was their own 16-yard line. Contrast that to the Rams, whose average position started at their own 27-yard line after a Bears punt or kickoff.
The Bears' average field position following five Rams punts was their own 6-yard line, with drives starting at their own 7, 10, 1, 6, and 5. The Rams' average field position following Bears punts, on the other hand, was their own 30-yard line.
Bears punt returner Ted Ginn, Jr. did not field a single punt. In fact, I don't remember even seeing him in the vicinity. Everyone knew losing Tarik Cohen was a big loss to the Bears, but Ginn is proving just how difficult it really is to capably field punts. If he's not a suitable replacement for Cohen and can't make his presence felt on offense, why is he taking up a roster spot?
Things weren't much better on kickoffs, following which the Bears' average field position was their own 22-yard line. They started at their own 30, 18, 19, 20, and 25 as Patterson, who has never seen a ball he didn't want to run with, didn't take a knee and only once made it past the 25-yard line. That was on the opening kickoff, setting the Bears up for a 17-yard drive that ended in a punt.
As you'd expect with the combination of such poor starting field position and an anemic offense, the Bears made it into the red zone only twice in the game. The first of those came in the 3rd quarter with the Bears starting at their own 20-yard line and was greatly aided by a 26-yard pass interference call on the Rams. It ended with Nick Foles throwing an interception in the back of the end zone to squash the best opportunity the Bears offense had to score a touchdown all game.
The second red-zone possession for the Bears came in the 4th quarter with them trailing 24-3. Foles hit Allen Robinson deep downfield for 42 yards, which was the Bears' longest play from scrimmage all night. The drive ended in a turnover on downs.
The Bears aren't doing themselves or their offense any favors when they lose the field-position battle by this much. If their defense isn't forcing three-and-out drives or turnovers, they need to figure out a way to improve their field position. Failure to correct this soon could mean more ugly losses on the horizon.