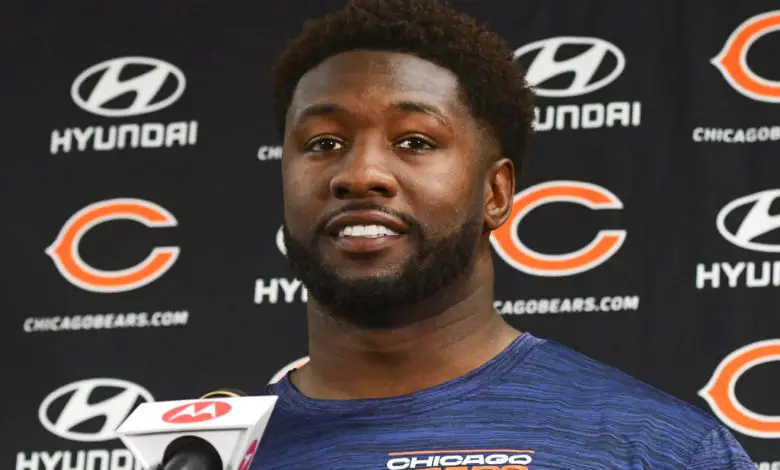 Roquan Smith 'Absolutely' Envisions Long Relationship With Bears
Roquan Smith danced around questions about his current contract and a possible extension, but he did provide one bit of news certain to make almost every Bears fan happy. The all-pro linebacker said he "absolutely" envisions a long relationship with the Bears.
"Absolutely, yeah," Smith said. "That's my plan."
Furthermore, Smith indicated he wants to be the best linebacker in the league, adding that it is his 2022 goal to put the Bears defense in the best possible position to succeed and to help the team win ballgames. He's confident that any contract extension will undoubtedly take care of itself, and he has GM Ryan Poles on his side in that regard, though he may have to wait until after the season before the two sides engage in discussions.
At the NFL owners' meetings last month, the rookie GM acknowledged contract discussions with Smith are on his to-do list before the season starts. Still, Poles is a measure twice and cut once executive, so expect him to rely on his coaches to get the lay of the land first.
"If he's the guy that I think he is, [a new contract] is something we have to address," Poles said. "He's a really good linebacker, and in this defense with Matt and Alan, there's a good chance he's going to have a really good year. So …"
The first-year GM was referring to head coach Matt Eberflus and defensive coordinator Alan Williams, who got their first glimpses of Smith during Chicago's voluntary three-day minicamp this week. As Smith enters the fifth and final year of his rookie contract, his role on the team's defense is as important as ever. The 25-year-old veteran indicated he likes that the defense will emphasize speed this season, and like his teammates, is being indoctrinated into Eberflus' HITS philosophy.
Roquan Smith is SEVERELY underrated. He is that dude. Pick 6 #Bears pic.twitter.com/iCs8hS6n4o

— DRUNK FIELDS 💯 (@DrunkJFields) September 19, 2021
The defense was a strength last season, especially at linebacker, where Smith teamed with Khalil Mack, Alec Ogletree, and Robert Quinn. Mack has since been traded to the Chargers, Ogletree left in free agency, and Quinn will be moved to defensive end in the new 4-3 scheme. The Bears signed Nicholas Morrow as a free agent last month, and Ledarius Mack is currently penciled in as Chicago's SAM linebacker. Yes, he's the younger brother of Khalil. Playing the MIKE, Smith will be the field general in this year's defense, much like Mike Singletary was on all those great Bears' defenses of the 1980s and early '90s.
Smith revealed in August he doesn't have an agent, but he has provided nary an update since about how he's preparing to negotiate his next contract. The NFLPA doesn't list an agent for him as it does for most players. Smith said he has it covered and that it's not for public disclosure.
"It's personal at the end of the day," he said when asked about an agent. "All that business is more so my business [with the front office]. I'm confident we'll get everything taken care of."
Though Smith is currently under contract, most players going into their option year might tread lightly when it comes to voluntary workouts. With winning as many ballgames as possible as his main focus, Smith doesn't see things quite the same way.
"I'll always be this way," he said. "I'm me and I'll stand for what I believe in. And my job and what I believe in is showing up and doing what I have to do. I don't focus on others or anything like that. I just know what I signed up for."
Eberflus has previously met with and worked with Smith because they spent a day together during the 2018 draft process while Eberflus was the Colts' defensive coordinator. Smith was tested on memory retention, and he impressed his new head coach and his staff at that time with his ability to analyze schemes.
"Playing inside linebacker for us is a huge role," said Eberflus, who coached Darius Leonard to three All-Pro seasons at linebacker. "Brian Urlacher and Lance Briggs were big components to the great defense that they've had here in the past, and that's going to be no different. We're looking for those same types of guys.
"We want a pair of guys in there that are really dominant and we're going to work toward that. Roquan is in those plans, so we're excited about where he is."
The Bears rode a dominating defense to a surprise playoff berth in 2018 under then first-year head coach Matt Nagy. After defensive coordinator Vic Fangio left to coach the Broncos, Chicago's defense declined the following three seasons. Eberflus intends to run a defense that is both fast and physical, which is music to the ears of most of the team's fans. Smith said it is a "heck of an opportunity" to lead the Bears under the guidance of the new coaching staff.
"Obviously we're resetting things and starting over fresh, new faces, new regime," Smith said. "So it's a great opportunity to be the face of the new regime, and doing whatever it takes to make this the best regime in Bears history, that's my plan."