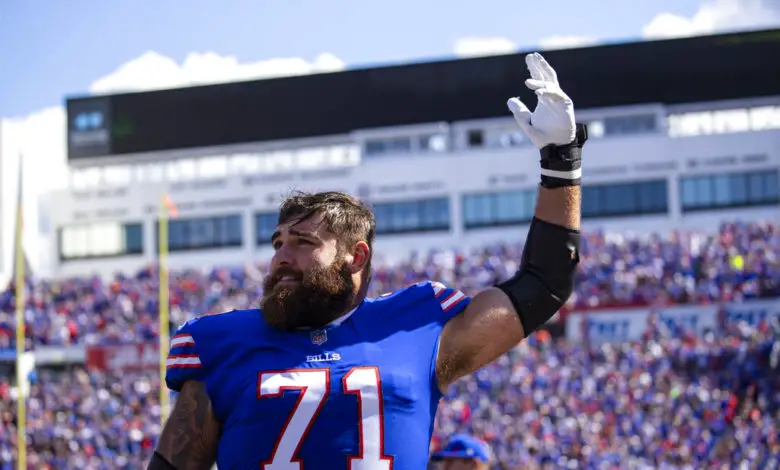 Bills OL Ryan Bates Reportedly Signs Offer Sheet to Play for Bears
Chicago entered the season with a significant amount of cap space but a lot of holes to fill, meaning new GM Ryan Poles has had to shop the secondary market to find skilled, under-the-radar players. One such diamond-in-the rough could be OL Ryan Bates, who signed an offer sheet to play for the Bears on Thursday.
At this point, it's fair to say Poles has a mantra when it comes to shopping the open market for players. He has made just one marquee signing, and that was DT Larry Ogunjobi, whose deal was voided after he failed his physical.
"What I've always loved is … you're going to have some players that, they're motivated, they got a chip on their shoulder, and they want to get back into free agency and go at it again," Poles said about the second and third waves of free agency. "So they play with a purpose. And I've mentioned this before, but it's very hard to stay super motivated. You got to be a special human being to be in that first wave (of free agency) and keep going. You want your name etched in the stadium. That's what kind of mentality you got to have. So I definitely think there's a lot of good value down there, plus … the mentality comes with it."
Poles, who is deftly managing Chicago's cap so far, has pledged to upgrade the offensive line, and he recently signed Packers interior lineman Lucas Patrick to a two-year, $8 million contract. He also added veteran Dakota Dozier on a one-year deal. Patrick said he expects to play center and could be the team's greatest addition in free agency so far. Adding Bates would be another low-key coup for the first-year general manager. The Bills, who have salary cap issues and original-round tendered Bates at the very low rate of $2.433 million, have five days to match Chicago's undisclosed offer. If Bates signed with the Bears, Buffalo will not receive compensation.
The Bears' offer to Bills restricted FA G Ryan Bates has been officially executed, meaning Buffalo has until Tuesday, March 29th to decide whether to match it.

Because Bates received the original round tender, Buffalo does't receive any compensation if it declines to match it.

— Field Yates (@FieldYates) March 24, 2022
Buffalo is still ever-so-slightly over the cap (about $24,000) so a strong offer by the Bears would be difficult to match, Chicago is still about $18 million under the cap per overthecap.com, not including Thursday's signing of backup quarterback Trevor Siemian. If Poles trades Nick Foles, the executive would increase that bounty by about $8 million with $2.67 million in dead money attached.
Poles still has a whopping $120 million in cap space going into the 2023 season.
The 25-year-old Bates is a projection signing, though a number of front offices see the same potential that Poles does. The Vikings and Patriots were also reportedly interested in signing the Penn State product. Though he's only started four regular and two postseason games, Bates saw significant demand in the second tier of free agency. Adding Bates would give the Bears a potential starter at guard. Assistant general manager Ian Cunningham was with the Eagles when Bates signed as an undrafted free agent. in 2019. That UFA status is why no compensation is attached to the three-year veteran. The Eagles later traded Bates to the Bills.
The 6-foot-4, 302-pound Bates spent the past three seasons primarily as a backup in Buffalo. Because of injuries along the offensive line, Bates started the final three games of the 2021 regular season and two postseason contests and played 223 total snaps between left and right guard. He has never allowed a sack as a professional, and also has experience as a center.
For the season, Bates had a 93% pass block win rate at guard, which hovers around league average, and a 59% run block win rate, according to ESPN Stats & Information research.
If the Bills let Bates go, the Bears' offensive line takes on a new dynamic. Teven Jenkins and Larry Borom would be the starting tackles, with Patrick at center flanked by Bates and Cody Whitehair at guard. Acquiring Bates would probably mean Poles can wait until the later rounds of the draft to select an offensive lineman. That means Chicago might focus on bigger areas of need, such as defensive backfield and wide receiver. A number of analysts predict Chicago will take SS/CB Jalen Pitre if he is available at No. 39. Poles could also trade down to acquire more picks this year.
Rest assured, Poles ensures that his entire front office staff buys into the players he intends to sign, One such player is Siemien. His skill set is similar to Justin Fields, which means OC Luke Getsy won't have to double-gameplan for Foles as his backup.
"Now my style was a little bit different, our meeting structure [is] different. It's a culture of candor. It's open. We have an order in the way we watch the tape. But after that everyone can speak their mind. If I see something different than you, then I bring it up to the room and we work through it. You can tell me where you saw it differently and we'll go find it. That group effort I think [is] refreshing to everyone."