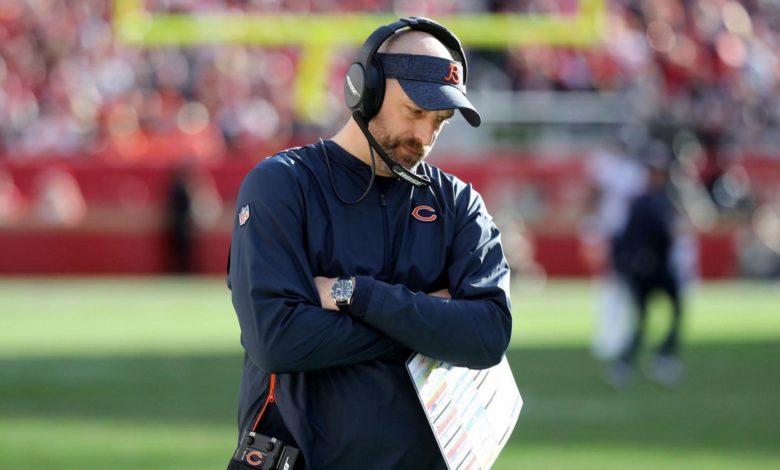 Report Claims Matt Nagy to be Fired After Lions Game: Updated
Speculation over the fate of Bears head coach Matt Nagy continues to grow after a fifth-consecutive loss to Baltimore on Sunday. Many have assumed Nagy will not be back next season, but a new report claims Chicago may pull the trigger on firing him after the Thanksgiving game in Detroit.
Matt Nagy will coach his last @ChicagoBears game on Thanksgiving in Detroit, a top source tells Patch. https://t.co/algfPc5nHg

— Mark Konkol (@Konkolskorner) November 23, 2021
Mark Konkol, an award-winning local news reporter who has never covered the Bears, posted the scoop on his website Patch. Konkol says Nagy has been informed of the move and it seems plausible after a separate claim that players have turned on their coach in the locker room.
That said, I'm skeptical about the validity of this article. The Bears have never fired a coach mid-season and they have had several very deserving candidates over the years. Hard to imagine the McCaskey's breaking tradition sans crisis.
Another issue, why tell Nagy he was fired before the game yet still let him coach it? Also, the Lions are horrible, what if the Bears win big? Does that force a reprieve for another week? Publicly, Chicago's HC denied the report at a media session.
Speaking to the media at Halas Hall #Bears head coach Matt Nagy calls the report that he will be fired after Thursday's game in Detroit "inaccurate" and he has not spoken with ownership this week. Nagy says his focus is on Detroit. https://t.co/eE2o4IYw70

— Ryan Baker (@RyanBakerMedia) November 23, 2021
Either way, it adds some drama to a battle of backup quarterbacks likely to induce more sleep than the Thanksgiving turkey.
Update:  after his press conference denial of the rumors surrounding his fate, Matt Nagy canceled all further team meetings for the rest of the day Tuesday. Chicago Tribune reporter Brad Biggs said team sources considered the move very unusual, especially during a short week. Nagy apparently also met with team executives during the afternoon. The executives would not comment on the meeting or the rumors.
The rumor, which seemed a bit flimsy at first, is starting to look more substantial the longer management continues to stay quiet. As with everything around the Bears recently, this situation is not being handled very well. If GM Ryan Pace intends to fire his coach he should just do so and not let him twist in the wind. Wednesday is going to be a very interesting day at The Walter Payton Center, keep your eyes on this space.