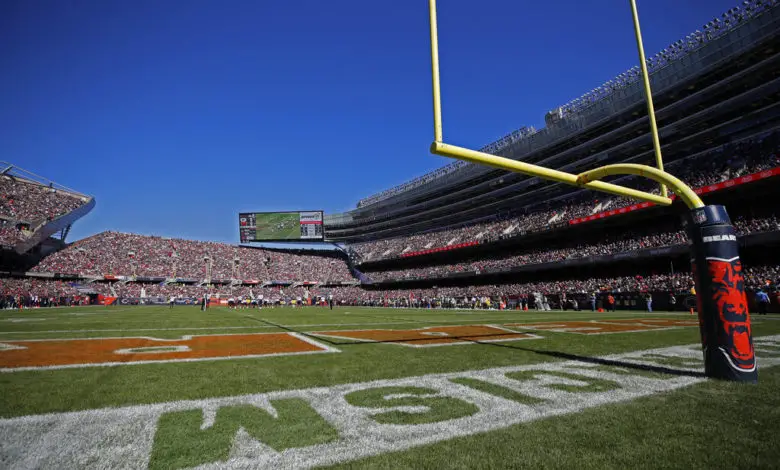 Chicago Could Be Ceding Bears to Arlington Heights
Efforts to keep the Bears in Chicago appear to have gone into hibernation, with neither City Hall nor the team showing any urgency toward a new or long-term lease agreement. That raises the question of whether or not Chicago is ceding the Bears to Arlington Heights.
In an article published by Greg Hinz of Crain's Chicago Business (subscription required), it appears the two sides have met just once since the team announced its intention to purchase the former site of the Arlington International Racecourse for $197 million. According to emails and text messages obtained by Crain's through a Freedom of Information Act request, Hinz verified that several meetings between Ted Phillips and Samir Mayekar have been postponed or canceled. Mayekar is the city's deputy mayor for economic and neighborhood development.
The Arlington Heights Bears? Here's what to know about the team's possible move from Chicago's Soldier Field. https://t.co/3jBciSxCBj

— Tim (@stadiumTim) January 29, 2022
In their first meeting, Phillips was instructed to submit a wishlist of sorts to the office of Mayor Lori Lightfoot. Instead, Phillips specifically addressed improving their existing lease, known as a permit and operating agreement, or POA. That deal is due to expire in 2033, and the Bears are reportedly seeking greater control of revenue distribution resulting from home games played at Soldier Field.
In separate statements, both parties said discussions are ongoing, though nothing has been decided.
"The emails suggest nothing more than communication with the city," said the Bears in response to Hinz. "We continue to have an open dialogue with the Chicago Park District and the city, but we're not going into the timing or details of those conversations."
The Mayor's Office also contends that Lightfoot and the Bears have had discussions regarding the team's future in Chicago, as well as the forward plans for the city's Museum Campus.
Here's more from Hinz:
"But the statement went on to discuss the broader subject of improving the campus, which Lightfoot has expressed a desire to turn into a bigger, year-round entertainment center: 'We will continue meeting with the team and hope to take positive steps to address their requests and keep the team in Chicago' said the mayor. 'We will continue to work on the larger issues about the campus to maximize these valuable assets.'
An attachment to the email includes a long list of capital improvements and financial tweaks, many of which since have leaked out. Included: granting the team naming rights, expanded signage and a sports betting book at Soldier Field; replacement or repair of thousands of dilapidated seats; an upgraded video board and other internal systems; and joint sponsorship of unspecified off-season events."
The Bears have called Soldier Field home since moving out of Wrigley Field after the 1970 season.
Despite that, there is little to indicate that the city has put together an official proposal, one that might induce the McCaskey family to use the Arlington Heights property for something other than the development of a new stadium. Phillips has also yet to indicate that the McCaskeys are interested in extending or rewriting their current deal.
All of that is consistent with what McCaskey had to say about Phillips at the press conference announcing the firing of head coach Matt Nagy and GM Ryan Pace. The team chairman described the potential Arlington Heights development as "a full-time initiative," one in which the organization is "adding vendors and outside experts to help evaluate."
McCaskey added that Phillips, who will stay on despite the front office shake-up, will focus strictly on the Arlington Heights project. In the team's new front office hierarchy, GM Ryan Poles will report directly to McCaskey instead of Phillips.
The Bears are currently valued at $4.075 billion, a 16% increase over the previous year when games were played in empty stadiums due to the global COVID-19 outbreak. That's 2% higher than the average increase. The Bears are seventh overall among all NFL franchises, while the Cowboys, valued at $6 billion, sit atop that list. Dallas has been on top for 15 consecutive years.
Getting out of their POA and into their own stadium, with team-owned amenities surrounding the new facility, could increase Chicago's valuation to $6 billion or more while unseating the Cowboys for the No. 1 slot. Don't think for a minute that's lost on the McCaskey family. Matriarch Virginia McCaskey just turned 99 on January 5, and a new stadium deal could allow her to one day sell the team for a record price.
In building a new stadium, the Bears would likely seek to add a campus of their own, much like Titletown in Green Bay or similar to what Tom Ricketts did with Wrigley Field's 1060 project. What would a new stadium cost to build? Los Angeles is home to the league's newest stadium, and it cost $5.5 billion to build. They are hosting next Sunday's Super Bowl between the hometown Rams and the Cincinnati Bengals. SoFi stadium seats 70,000 fans for football and up to 100,000 for non-football events, such as concerts and trade shows.
If the Bears wanted something new on a smaller scale, Allegiant Stadium in Paradise, Nevada cost the Raiders $1.9 billion to construct. They'll host Super Bowl LVIII in 2024.
A domed stadium, or one with a retractable roof, would allow the Bears to also host a future championship tilt. As the league's charter franchise, hosting Super Bowl LXVIII in 2034 would be a monumental occasion. Chicago hasn't hosted a title game since the Bears beat the Giants 14-10 at Wrigley Field on December 29, 1963.